Let me start this week's blog out by apologizing to those who look forward to this series for not producing a blog last week. Things got a bit busy and by the time I had a moment to write it, there was no point (it would have been dated).
So, let's start this week by looking at last week's ballot:
1 – Babson
2 – Whitman
3 – Rochester
4 – Christopher Newport
5 – Amherst
6 – Ramapo
7 – Whitworth
8 – North Park
9 – UW-Eau Claire
10 – Denison
11 – UW-River Falls
12 – New Jersey City
13 – Tufts
14 – Salisbury
15 – St. Norbert
16 – Benedictine
17 – Endicott
18 – Neumann
19 – Hardin-Simmons
20 – Hope
21 – Marietta
22 – Middlebury
23 – Swarthmore
24 – Carthage
25 – Guilford
Dropped Out:
Wesleyan (Previously 10)
Brockport (Previously 22)
Wartburg (Previously 23)
Williams (Previously 24)
With that information now out there, let's move on to this week, shall we?
The Top 25 continues to be a blood bath. There were 15 losses featuring 13 teams in the overall Week 6 D3hoops.com Top 25. My ballot featured 13 losses amongst 11 teams. In the last two weeks, 28 losses involving 19 teams. I don't want to go further back and do that math. All in all, it leaves a voter like myself scratching my head so hard I might start losing hair! In the last few weeks, I have also basically thrown a grenade at the entire thing and waited for the dust to settle. I am using too many grenades.
This week I just shook my head, erased the previous week, penciled in the top two and went back to the drawing board. However, I didn't move teams as much as I thought I would. I noticed that a bulk of the losses have happened at the top of bottom, not in the middle. That ends up providing a bit of a cushion for teams like Amherst who lose two in a row and makes me get aggressive in removing others with only one loss when I want to get new teams on the ballot.
The other challenge is staying consistent on my thinking. I gutted Wesleyan the week before for losing three straight after I put them tenth. This year I have been more aggressive and simply removed the Cardinals from ballot. I have treated those who lose once every week or two a little less harshly, sometimes not moving them at all (depending on the circumstances). Then suddenly I realize they have four or more losses and maybe I haven't been harsh enough. And how do I treat Amherst who lost twice (including once to Wesleyan)? Harshly like Wesleyan? Gently like Babson? Suddenly the thinking and the plan are being challenged from all directions? Do I change my methods? Do I adapt? Do I just go with what my gut tells me each week? Neither of them make it easy.
Usually, I try and go on a case-by-case basis, but that starts to get murky when you are talking about 30-50 teams, and countless losses or results, under consideration at any one time.
So, I tried a bit of a hybrid. Look at each team on a case-by-case basis, but also have the bigger picture in mind when it comes to consistency. I'll admit, I am not sure how well I did this week. Like a lot of weeks, I could have gone around and around and around with teams and rankings. I could have changed my ballot every ten minutes and still be doing it right now if there hadn't been a deadline. I was even thinking about different options while hanging out with my kids at the science center for part of the day on Monday.
The end result is what I am thinking this week, but I may blow it all up again next week and start over. The fact teams at .500 could have a legitimate chance to defeat a Top 10 team used to be pretty rare. It simply isn't these days. There are very good teams who for whatever reason have taken more losses than expected and pose a real threat to what appear to be dominating teams. At the same time, some of the dominating teams just aren't as superior as we are accustomed which allows their flaws to be even more revealing.
I cannot say with any confidence I know who the top teams in the country are right now. I can give you who I think they are, but already in the last few weeks those thoughts have been completely second guessed. Marietta is a damn good team, but can you explain why they are 11-4? Amherst has looked good, but suddenly they drop two games in a row! There is a good chance the best teams in the country don't have a resume to match. Those teams in the 10-20 range very well could be who we see in Salem come the third weekend of March. The teams up top may not have had their "moments" that show us who they really are – stumbling for a few games after being revealed. The trick will be if those "moments" come in the next few weeks or ill-timed in March.
With that in mind, here is my attempt at gauging who the Top 25 teams in the country are.
1 – Babson (Unchanged)
2 – Whitman (Unchanged)
3 – Rochester (Unchanged)
Surprise! Yeah. I didn't move the Yellow Jackets despite a rough weekend including a loss to WashU. The more I tried to move to Rochester, the less likely it became. I simply don't see who I would put them behind after just their first loss of the season. Now, I will not say I am comfortable. I have liked Rochester all year, but losing at the Palestra and having to come from behind in the first game of the weekend has me uneasy. It is only going to get tougher from here since they have to travel to Chicago and WashU later in the season… not to mention play the rest of the UAA schedule.
4 – Christopher Newport (Unchanged)
I'll be honest. I have seriously thought about moving the Captains down despite the fact they keep winning. However, I keep in mind the fact they only have a second loss because of a lucky heave from Salisbury right before the holiday break. That leaves just a dismantling by Marietta at the beginning of the season. I have tried to take more stock in that loss considering the struggles Marietta is now having, but I have leaned on thinking the Marietta squad I saw then is drastically different than the one currently playing and the same goes for CNU. However, the Captains have their flaws, especially inside and I know their opponents will try and expose those flaws. Top five feels too high.
5 – Denison (Up 5)
The Big Red have skyrocketed the last few weeks in my poll. I have tried to remain a bit subdued at the fact they have only lost one game, but at the same time there is a thought that if a team has gotten this far in this season without more losses they must be good. This isn't exactly true across the board. Denison's strength of schedule right now is surprisingly low. However, while the wins over Wooster, Ohio Wesleyan, and DePauw aren't staggering… I do know those are good programs who appear to be gaining strength after a difficult start to the season. My thinking is Denison may be better than advertised, so I am riding the wave. Unfortunately, we probably won't get a chance to see if I am right until February 1-8 when Denison plays at Ohio Wesleyan, vs. Wooster, and at DePauw. The NCAC season will be decided that week.
6 – Ramapo (Unchanged)
Surprise again! Another team takes its first loss and doesn't move. In this sense, I remain consistent. Like Babson earlier this season, I didn't punish Ramapo for losing to New Jersey City, on the road, in overtime. Yes, NJCU is not at full strength which some could read into and say that means the Roadrunners aren't that good if they barely got by the Gothic Knights. However, I also know NJCU will take you out of your offensive game no matter their personnel, so I chalk this up as expected. I did not expect any NJAC team to get through the conference unscathed. That is the case with Ramapo and thus one of the better teams I have seen in person isn't going to get dinged for taking a loss I pretty much expected.
7 – Whitworth (Unchanged)
8 – North Park (Unchanged)
9 – UW-River Falls (Up 2)
10 – Tufts (Up 3)
Tufts is tough to read. I almost feel like it is smoke and mirrors. Are they really a top ten team as I have had for quite a bit of the season? Or have they just floated there because I have to put someone tenth. The win over Middlebury gave me confidence the Jumbos may be for real, but Wesleyan and Connecticut College loom large this week.
11 – UW-Eau Claire (Down 2)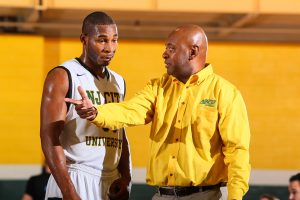 12 – New Jersey City (Unchanged)
Odd week for the Gothic Knights. Lose earlier to Stockton, but recover to beat Ramapo in overtime at home. NJCU would have gone down based on the loss to Stockton; risen based on the win over Ramapo. Thus, they stay where they are. This might be one of the best defensive teams in the country right now even if they are not at full health. They've got a couple of good road tests coming up they need to survive.
13 – St. Norbert (Up 2)
14 – Endicott (Up 3)
15 – Salisbury (Down 1)
The Sea Gulls are starting to worry me. They seem to struggle to stay focused. Two losses in Las Vegas was shocking, but certainly understandable considering they played two of the better teams there. However, they could have also come out of South Point Arena 2-0. Then they show up at York (Penn.) who is playing without their best player inside and Salisbury rolls over. They should have dominated. Their team is designed to dominate squads like York who are rebuilding. I need to see Salisbury show they can take on all comer before I start thinking about bailing on what I think is a very talented squad.
16 – Guilford (Up 9)
I have been quietly watching the Quakers for weeks now. They, in return, have been quietly cruising through the ODAC and find themselves tied for first place. They have won eight straight including dominating Roanoke. I think a lot of voters don't know what to do with ODAC for good reason. The top has come back to earth a little bit, so it's hard to put a lot of faith in the teams at the top. However, Guilford's two losses are by a combined eight points and when they win, they tend to win easily. The true test may not come until January 28 against Virginia Wesleyan, but keep an eye on this week against Emory and Henry and Hampden-Sydney.
17 – Amherst (Down 12)
Guh. Talk about a bad week for the men's squad. The loss to Wesleyan, okay. But to compound it with a loss to Connecticut College? The former Lord Jeffs have now lost not only two in a row, but three of their last four and four of their last six! It's like the Babson game was all they were focused on. And it isn't going to get any easier. The next four are against Bowdoin, Colby, Williams, and Trinity who all spell blood in the water. I can't say for sure why Amherst struggled this past weekend, but rest assured the next four opponents have seen why and will try and exploit it as well.
18 – Hardin-Simmons (Up 1)
19 – Hope (Up 1)
20 – Washington Univ. (Unranked)
Ok. I finally voted for the Bears. I know a lot of voters thinking highly of WashU (thus why they are 11th despite my 20th place [previously not on my ballot] vote). I am not sure why. They are 11-3 which is obviously good, but they have lost to UW-Eau Claire by 14, Central by four, and Illinois Wesleyan by a point. They then needed overtime to beat a below-their-average Wooster squad, barely survived a tough Chicago team, and needed to comeback against an overrated (by me previously) Emory team. Yes, UWEC is in my Top 25 and IWU has been in and out (and, spoiler, still flirting). Prior to this weekend, the Bears just didn't excite me. However, they did beat Rochester on the road (the second game of the Atlanta-Rochester trip to boot) and that got me thinking: sometimes teams don't win pretty, they win ugly. Maybe WashU is one of those teams. Not sure how much we will learn in the next three weekends should they win (vs. NYU, vs. Brandeis; at Carnegie Mellon, at Case Western Reserve; vs. Carnegie Mellon, vs. Case Western Reserve). Lose? May answer my questions more fully. For now, I'm on the bandwagon. Hope it doesn't hurt as much as it did for St. Louis Cardinals fans on the Jason Heyward bandwagon last offseason (that's an inside joke).
21 – Marietta (Unchanged)
22 – Middlebury (Unchanged)
23 – Wesleyan (Unranked)
The Cardinals are either suffering from whiplash or learning to play the yo-yo. They went from tenth to unranked to 23rd on my ballot in three weeks. They went from ninth to unranked to 24th on the D3hoops.com poll. Wow, what a ride. But when you beat Amherst and close out the weekend ending your three-game losing streak with a second straight win at Trinity… it is bound to happen. Wonder where they land next week after playing Emmanuel, Tufts, and Bates.
24 – Benedictine (Down 8)
I seriously considered removing the Eagles from the Top 25. Yes, it was a single loss, but it was in conference where to be in the Top 25 they probably should be dominating. I realize it is hard to keep winning in any conference (which makes St. Norbert's run even more impressive), but I was very concerned with the loss to Concordia (Wis.). The only thing that stopped me from removing them was feeling I might have been too harsh, but more importantly not sure who I would replace them with. Plenty of candidates, that's for sure. Just not sure if any of them have proven anything more than Benedictine. We shall see.
25 – Neumann (Down 7)
I also nearly removed the Knights as well. This might have been one of the few times I expected a team to keep winning. Or more appropriately, I expected that if Neumann were to lose it would be to Cabrini or Gwynedd Mercy. Not to Rutgers-Camden who was previously 1-9 (now 3-11). Though, I did consider that Camden is playing far better now and nearly knocked off Ramapo as well. However, the last few weeks I have noticed that Neumann's leading scorer is missing. James Butler hasn't shown up on a box score in awhile.
Dropped Out:
Swarthmore (Previously 23)
The Garnet had a rough week. They lost two in a row and neither of the games were close. Johns Hopkins handled them 70-52 in Baltimore and Franklin & Marshall steamrolled the Garnet 83-66 at Swarthmore. Not sure what happened. I don't see any missing players. This was a chance for Swarthmore to take firm control of an okay Centennial Conference this season and instead it is has turned things into a free-for-all. Maybe I had put too much stock in the Garnet.
Carthage (Previously 24)
Speaking of free-for-all, the CCIW is shaping up that way as well. I thought Carthage was maybe turning into a Cinderella and setting themselves up nicely, but they then lose to Illinois Wesleyan. Not a bad loss, but IWU is without preseason All-American Trevor Seibring (back) right now. Add to the fact that the Red Men barely got past Illinois Tech and I start to see red flags. CCIW is always competitive and good, but maybe this year it doesn't have a dominating side like in years past.
So, there you go. An interesting week to say the least. There are already losses on my ballot like North Park who lost on Monday night to Manchester. I am sure the losses will mount up once again and I will be back to the drawing board again.
But I do enjoy this. My struggles to find the best 25 teams in Division III men's basketball means that there is plenty of good basketball to go around. Last March was awesome with how the tournament played out. I can't imagine this year's event will be just as exciting. We have a lot of good teams who put on a show each and every night. I am not complaining in the least. Gives us more to talk about.