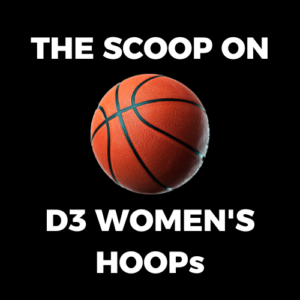 This is coming out a day later than I wanted it to, but regardless, it is crazy to think that we have just three days left of the 2022-23 D-III basketball season! What an amazing year…those games in November feel like an eternity ago and part of that is because the women's season has been extended by a couple weeks as compared to most years, with the D-III national championship being played in a combined setting alongside the D-I Final Four and D-II national championship game.
That matchup features the nation's top two "vote-getters" in terms of total points received in the year's 14 D3hoops.com Top 25 polls: #1 Christopher Newport and #2 Transylvania. Each carries a flawless record into Saturday's championship in Dallas, with Transy at 32-0 overall, and CNU, 31-0. Needless to say, this is the #1 vs. #2 battle we always hope for come tournament time, but rarely get, thanks to improbable upsets and geographical seeding.
Splitting this into two parts, I'm planning to take a look at both teams' offenses today, and follow that up with some notes on the defenses tomorrow. Then, Saturday morning I will have a post live from Dallas before tip-off. So stay tuned for all of that!
Transylvania … on offense
Personnel
In terms of scoring production, the Pioneers do not lack depth, with four players averaging double figures in points. Second Team D3hoops.com All-American Madison Kellione leads the way with 15.3 points per game, followed closely by Kennedi Stacy at 14.1. Dasia Thornton adds 12.2 per contest, and Laken Ball rounds out the group at 10.4. Not surprisingly, those four have started every game of the season for Transy, forming the backbone of the Pioneers' success.
On the boards
Transy averages just over 15 offensive rebounds per contest, with 484 this season. Thornton leads the way with 111 total. The Pioneers are not great on the offensive glass, but have athletic guards as well as two experienced post players in Thornton and Ball who can pull down an offensive board when needed.
Shooting-wise
As a team, Transy has shot above 48% from the field in its last two games, and on the season, is 42.5% from the field. The Pioneers have range when necessary, averaging 8.5 3-pointers per game, but tend to work the ball inside whenever possible, taking plenty of mid-range jumpers and shots at the rim. Against CNU's man-to-man pressure defense, that could obviously change slightly, but it worked for the most part against Smith, who employed a man-to-man defense throughout the national semifinal contest. Transy favored the one-on-one matchup between Thornton and a Smith defender in the post in the semifinal win, which led to 18 points and nine free throws for Thornton. Look for that to be a factor against CNU, especially with the Captains' limited depth in the post.
Final thoughts
Transylvania isn't a team that is going to dominate in transition. Rather than pushing the ball upcourt frequently and risking a turnover, the Pioneers tend to be more slow-paced when holding possession, focusing on making good passes and getting the ball to the paint when possible. They aren't afraid to pass the ball 10 times in order to get the best shot, which, as we saw against Smith, can make for a long day for the opposing defense, especially when that defense is running a man-to-man. Excited to see this disciplined and incredibly efficient offense in person.
Christopher Newport…on offense
Personnel
CNU may only have two double digit scorers on its roster (one of whom will be unavailable for the title game), but the Captains have exceptional depth and phenomenal shooters up and down the bench. Sondra Fan, a Fourth Team D3hoops.com All-American, leads the way with 14.4 points per game. Anaya Simmons, who averaged 13.7 PPG through 26 games injured her knee on the first weekend of the tournament and has been out for the remainder. Gabbi San Diego returned from an injury in the second half of this regular season, and displayed her shooting ability against Tufts in the Elite Eight, putting 32 points on the board. Both Fan and San Diego will be focal points for the CNU offense in Dallas. And while I'm mentioning those two, Gordon Mann of D3hoops.com wrote a fantastic piece on their long-lasting connection prior to the national semifinal game against Rhode Island College. Check that out here: https://www.d3hoops.com/playoffs/women/2023/cnu-playmates-before-teammates
In total, seven of the players expected to be available on Saturday average six points or more per game.
On the boards
The Captains have tallied 469 offensive rebounds per game this season, but 101 of those came from Simmons. Hannah Orloff is the next best rebounder offensively for CNU, with 59 this season. As a team, CNU has a number of guards who have pulled down a handful of offensive boards throughout the season, and that could very likely be the case on Saturday.
Shooting wise
CNU converts on 45.9% of this shooting attempts, the sixth-best mark nationally, and that consistency has contributed greatly to the Captains' perfect record this season. On average, the Captains tally 30.8 made field goals per game, and while they have a group of guards with plenty of 3-point range, CNU's aggressive attack on both ends of the floor results in plenty of drives to the basket. The Captains just have this ability to put their heads down and get to the rim, often drawing fouls along the way. They've been sent to the free throw line 20+ times in each of the last two games, and expect that to be a source of point production for CNU on Saturday.
Final Thoughts
CNU is a fun team to watch, because the guards and post players work so well together and they have a speed element to their offense that is very tough to defend. RIC held them to a shooting percentage of just 28.1% in the national semifinal, so CNU will obviously be looking for a better offensive showing in this one. They'll need it against Transy's defense, and I think we'll see it. As mentioned above, the Captains' fearless ability to get to the rim makes for exciting offensive possessions and can generate momentum in a hurry.
That's a look at both offenses! Hope it was informative and on-point as we get ready for this showdown on Saturday morning. They posted photos of the court today and man, it is a great venue for a basketball game. Looking forward to it!
For any questions/feedback/corrections email me at rileyzayas@gmail.com or DM me on Twitter (@ZayasRiley).