One of Saturday's big games was well-known, well-promoted, and lived up to the hype of 19,508 fans. The other was played in front of a little bit fewer people, and was hardly predicted. So when the Johnnies beat the Tommies, sure, we knew that would be a big deal — but when Birmingham-Southern knocked off No. 7 Berry …
Berry had two chances to get back into the game in the third quarter, but Birmingham-Southern held firm. We talked with Panthers coach Tony Joe White about his team's game plan, their star running back, and the mess created at the top of the Southern Athletic Association.
Plus, Keith gave his game ball to an offensive line, while one off-the-beaten path highlight was a Maine event. Someone threw nine touchdowns. UK soccer teams were cited. And rushing yards were a big negative. Plus, are the Johnnies a national title contender? Pat has seen them the past two weeks against top-notch competition and reveals where he moved SJU to on his Top 25 ballot.
This edition of the D3football.com Around the Nation podcast is sponsored by Gotta Have It: 3D Fan Foam Wall Signs for the D-III fan in your life.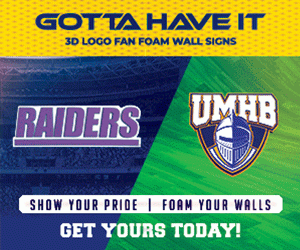 Pat and Keith talk about it all in the latest D3football.com Around the Nation Podcast. The D3football.com Around the Nation Podcast is a regular conversation between Pat Coleman and Keith McMillan and guests covering the wide range of Division III football.
Show links: Miracle in Mississippi
Hit play, or subscribe to get this podcast on your mobile device.
Full episode:

D3football.com Around the Nation Podcast
[ 59:54 ]
Play Now
|
Play in Popup
|
Download
You can subscribe to the Around the Nation Podcast in Apple Podcasts, and many other places. You can also get this and any of our future Around the Nation podcasts automatically by subscribing to this RSS feed: http://www.d3blogs.com/d3football/?feed=podcast
Here's how to find us on some of the major podcasting apps:
Theme music: DJmentos. Photo by Thomas Nettleton, d3photography.com.