Looking at big games in Texas, Wisconsin, Michigan, Virginia and Delaware, plus predictions on games from all across the map as we get you set for Week 8 of the 2019 Division III football season. We've got a few teams playing from positions they're not used to, either.
This week, we're joined by a couple of gunslingers in red and white — they are Cortland quarterback Brett Segala and St. John's quarterback Jackson Erdmann. Erdmann talks about what it's like to "break in" a new receiving corps full of sophomores, while Segala talks about the goals that Cortland has after missing out on a few close games in 2018.
Plus, Pat and Keith make up a rivalry trophy for a South Region game this week. Keith picks six winners and also picks a winner sight unseen, while Pat has to make up words. Totally on brand.
This edition of the D3football.com Around the Nation podcast is sponsored by Gotta Have It: 3D Fan Foam Wall Signs for the D-III fan in your life.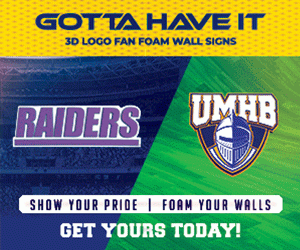 Pat and Keith talk about it all in the latest D3football.com Around the Nation Podcast. The D3football.com Around the Nation Podcast is a regular conversation between Pat Coleman and Keith McMillan and guests covering the wide range of Division III football.
Hit play, or subscribe to get this podcast on your mobile device.
Full episode:

D3football.com Around the Nation Podcast
[ 54:39 ]
Play Now
|
Play in Popup
|
Download
You can subscribe to the Around the Nation Podcast in Apple Podcasts, and many other places. You can also get this and any of our future Around the Nation podcasts automatically by subscribing to this RSS feed: http://www.d3blogs.com/d3football/?feed=podcast
Here's how to find us on some of the major podcasting apps:
Theme music: DJmentos. Cortland athletics photo by Darl Zehr Photography.