Highlights, reaction and analysis from across all parts of the bracket are what you find in this edition of the D3football.com Around the Nation podcast. That includes North Central coach Jeff Thorne's reaction to the Cardinals' epic win at Mount Union, and it also includes Jeff's father, John Thorne, who retired from the position after the 2014 season, with his postgame reaction.
Salisbury quarterback Jack Lanham talks about the team's balance between running and throwing the ball, and Union's Paul Chambers talks about defending the Sea Gulls' brand of triple option. St. John's Jackson Erdmann and coach Gary Fasching talk about what is next for the Johnnies and what they face at Wheaton, while Wheaton coach Mike Swider expresses his pleasure with the way his Thunder started the game against Central.
UMHB coach Pete Fredenburg talks about this week's most notable personnel change of the tournament: moving Jefferson Fritz from safety to linebacker. Why did he do it and what did it accomplish? And Muhlenberg linebacker Mickey Kober talks about one of the secrets to how the Mules have pitched back-to-back shutouts to start the playoffs. Note: The Union player who speaks in this podcast is misidentified. He is George Reed.
And if that's not enough, Pat has a story for everyone who wanted to kick Mount Union out of Division III for being too successful. Maybe also for MIAC presidents as well.
Plus, Pat and Keith rank the quarterfinal matchups. All that and more is covered in Podcast 264.
This edition of the D3football.com Around the Nation podcast is sponsored by Gotta Have It: 3D Fan Foam Wall Signs for the D-III fan in your life.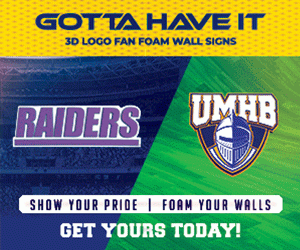 Pat and Keith talk about it all in the latest D3football.com Around the Nation Podcast. The D3football.com Around the Nation Podcast is a regular conversation between Pat Coleman and Keith McMillan and guests covering the wide range of Division III football.
Hit play, or subscribe to get this podcast on your mobile device.
Full episode:

D3football.com Around the Nation Podcast
[ 1:04:07 ]
Play Now
|
Play in Popup
|
Download
You can subscribe to the Around the Nation Podcast in Apple Podcasts, and many other places. You can also get this and any of our future Around the Nation podcasts automatically by subscribing to this RSS feed: http://www.d3blogs.com/d3football/?feed=podcast
Here's how to find us on some of the major podcasting apps:
Theme music: DJmentos. Photo by Steve Frommell, d3photography.com; Dan Poel, Ohiosi.com; Salisbury athletics.