I never look forward to three to four times of the year when I have to compile my Top 25 men's basketball ballot: preseason, week one, and one or two occasions during the season I practically start over. Preseason is a challenge for so many reasons, but in particular because you are guesstimating what a team will be like considering what they have lost, the target on their back, their schedule, coaching changes, etc. And I don't look forward to the first ballot in the season because I am either looking at my preseason poll and wondering what in the world I was thinking or I am trying to dissect every loss and win and trying to understand what that means for a team that has played between one and five games. Now don't get me wrong, I like the fact I have data to work with for the first ballot in terms of wins, losses, stats, etc., but it always results in being torn on how to move a team accordingly.
The first ballot after the 2013-14 season tipped off is just as brutal thanks in part to the fact nearly everyone lost at least one game. There aren't that many undefeated teams to move around, so you are stuck deciding what to do with teams that lost. In fact, some teams moved UP on my ballot even though they lost. Some teams moved down more than others who lost more games. The one thing I can tell you is that despite ten days of volatile action on the hard court, I am not nearly as volatile as clearly some voters were this week. I had the thinking that the more crazy things got as results came in, the more even keeled I had to be when assessing the teams.
I am done with my ballot and will once again provide insight into what I was thinking when it comes to my ballot each week. This is just to give you an idea of how one of the 25 voters is seeing the game and the teams across the country. This is by no means a be-all or end-all to who is the best and not. And especially at this time of the season, I may agree with many points of view because I have probably had those exact same thoughts while spending the hours putting my poll together.
First, let's start with what my preseason poll looked like:
1 – Amherst
2 – Illinois Wesleyan
3 – UW-Stevens Point
4 – Williams
5 – Wheaton (Ill.)
6 – St. Mary's (Md.)
7 – WPI
8 – Middlebury
9 – Cabrini
10 – North Central
11 – Randolph-Macon
12 – St. Thomas
13 – UW-Whitewater
14 – Calvin
15 – Mary Hardin-Baylor
16 – Wooster
17 – Whitworth
18 – Catholic
19 – Wittenberg
20 – Hampden-Sydney
21 – Alvernia
22 – Hobart
23 – Wash U.
24 – Augustana
25 – Trinity (Texas)
Now that you have that information… on to this week's ballot and my thinking on each team:
1 – Amherst – Unchanged
The Lord Jeffs didn't lose a game, though they didn't exactly play the most challenging three games to start the season. Certainly, there are valid reasons to start a bit slower out of the game and they did win when others were losing similar games, so there is no reason to move the defending national champions out of the #1 slot.
<strong?2 – UW-Stevens Point – UP 1
Not much else you can do here with the Pointers. They won their first three games of the season including to an 0-2 Hope squad, so they move up one spot to #2.
3 – Illinois Wesleyan – DOWN 1
The Titans surprisingly lost a game to start the season, but they also lost to current Top 25 nemecis Loras who also has another Top 25 victim this week. Considering who else lost this week and the opponent IWU lost to I can't knock them that much, so they are down just one spot to #3.
4 – Williams – Unchanged
Similiar story with Williams as with Illinois Wesleyan. The — lost their first game of the season to Southern Vermont, but it wasn't like there weren't some extenuating circumstance: Williams had to move their tournament to MCLA six miles down the road because the women's volleyball team was hosting an eight-team regional pod. Also, the NESCAC sometimes has these blemishes starting their practices on November 1. Considering all of the factors and the constant fact many teams won… I kept Williams at #4.
5 – Cabrini – UP 4
The Cavaliers couldn't have had a better start to the season. For a team that has Aaron Walton-Moss (one of the best players in the country) on its roster for the entire season to compliment Fran Rafferty and others, the Cavaliers were already looking like a very good team. However, they beat St. Mary's (Md.) and Salisbury at the Hoopsville Classic this weekend and did so in battles that showed they are ready to play NCAA tournament quality basketball early on. I can't help to think Cabrini will be making another trip to Salem this year.
6 – St. Mary's (Md.) – Unchanged
I am not going to punish the Seahawks for losing to Cabrini – who I had just three spots behind them in the preseason poll unlike the overall poll which had a spread of nine spots. St. Mary's looked pretty good in both games they played against Top 25 opponents at the Hoopsville Classic which both games were back and forth battles that could go either way depending on how much more time is on the clock. St. Mary's has more weapons than I think people realize and they are quick. I can't imagine they can't make a run for a final four in Salem, either.
7 – UW-Whitewater – UP 6
The Warhawks at least got out of the gate unscathed, which is more than you can say with a lot of the Top 25. They beat up on a Carroll squad and also got the best of a Hope team that faced two Top 25 teams in the opening week. Nothing else jumps out at me, but they do move up thanks to getting the job done when others couldn't.
8 – Calvin – UP 6
The Knights are up the same number of spots for much the same reason UW-Whitewater is… and thanks to the fact a number of teams in this part of the Top 25 took the biggest losses. Calvin certainly didn't play anyone as challenging as the Warhawks did, but they are a good team that got the job done.
9 – Wooster – UP 7
Wooster always has a good team and always has high expectations… will they live up to them this year? Who knows at the end of November, but they beat two good teams in the first three games including Wheaton and with all of the other teams not getting the job done… the Scots move up quickly.
10 – Wheaton (Ill.) – DOWN 5
Not a good week for the CCIW to start things and Wheaton wasn't even the worst offender. Wheaton did lose two games to the already mentioned Loras team and to Wooster. They also barely got past Wittenberg. However, those are really good teams (though, the jury is probably out on Loras) to start their season. I am not going to ding them nearly as hard as others for going after it and seeing where they stand. This start to the season could end up being a major plus come February or March.
11 – Mary Hardin-Baylor – UP 4
UMHB basically moves up because of what happened around them, not because of what they did. They played one team (Schreiner) and beat them easily. That doesn't tell anyone anything about the national runners up from last year who lost some key parts of that Atlanta team. I need more proof before I feel better for moving the Crusaders this far up my poll.
12 – St. Thomas – Unchanged
The Tommies are a strong team as they have proven year in and year out. Last week they lost to Pomonoa-Pitzer as part of a west coast swing and normally I would ding them for that… but again, stop me if you have heard me say this, lots of teams are losing so I decided to just leave them in the 12-spot and see what happens in the weeks to come.
13 – Middlebury – DOWN 6
After watching the Panthers against Stevenson on Friday at the Hoopsville Classic, I was ready to drop them into the 20′s at best. However, they played completely different on Sunday against St. Mary's and it had me rethinking things. Yes, they lost over 3,000 career points due to graduation, but they do have some key parts back. One of them is Joey Kizel, though he is pressing a lot in the early part of the season. I like the size they have inside, but they were out-rebounded by both Stevenson and St. Mary's who are smaller in the paint. I love the play from Coach Jeff Brown's nephew, but the younger Brown has to contain himself a little bit – but watch for him to be a difference maker in the future. I probably would have moved Middlebury down further, but someone has to ranked in the teens.
14 – Wash U. – UP 9
You can thank all of the losses for a big move up the poll for Wash U. I like this team and I always love Coach Mark Edwards. I do have questions about this team after last season and while I realize a lot of the team is back and they are always in the conversation, I just want to see what they do in the weeks ahead and entering UAA play before I reward them as much as other voters have already.
15 – WPI – DOWN 8
It is one thing to lose one game especially to Castleton State early in the season, but when you have lost arguably your biggest threat due to season-ending ankle surgery before the first game is even played… I take pause. I actually thought about moving WPI even lower in the poll because I don't think they are the same player without Marco Coppola (16.0 ppg last season), however you see teams all of the time adjust accordingly and sometimes play better when they are forced to go another direction. WPI did in fact win three games this week in the middle of that adjustment, so I will wait to see if they are going to be as dangerous as last year seemed to indicate.
16 – Hobart – UP 6
I love having another Mike Neer team to consider in the national poll, though I admit I am not sure if they are the #16 team in the country. They did beat Rochester and Ithaca to start the season which I consider a pretty good start, but Rochester and Ithaca may not compare to last year's squads. I am keeping my eye on Hobart and while I don't think they are Top 15, they deserve to be Top 25.
17 – Hampden-Sydney – UP 3
I have been down this road with Hampden-Sydney before… look good early, I raise them higher in my poll, they disappoint. I am very leary this season of the Tigers who at least got off to a good start. However, they have Wesley looking on Tuesday and before Springfield and another foe on the road in New England this weekend. The Tigers are certainly a top team in the always tough ODAC, but putting them higher in my poll always comes with a tilt of my head.
18 – Whitworth – DOWN 1
Could I just be struck on always assuming Whitworth is going to be good? I know Coach Logie does a great job, but I am starting to get this feeling like I am overrating the Pirates. The loss to Colorado College (who some think may win the SCAC this season) isn't bad, but it was at home. Whitworth had beaten Trinity (TX) handly a few nights earlier, so this loss makes me wonder what I was thinking in the preseason. That being said, I only moved them down one because Colorado is so highly talked about in the SCAC and … I may be assuming too much.
19 – Wittenberg – Unchanged
The talk surrounding Bill Brown's team is pretty unbelievable. Wittenberg is always in the conversation, but there are coaches in the conference, in the region and around the country and others who seem eager to watch Wittenberg this season. The early season loss to Wheaton isn't horrible, but since Loras beat Wheaton I was expecting Wittenberg to do the same. So, I left them where I had them in the poll and wait to see how they do after this… especially since Wooster is also looking really good in the NCAC this season. (By the way, congrats to Coach Brown for his 500th win.)
20 – Alvernia – UP 1
The Crusaders lose to Middlebury… and they move UP 1 spot. Yep… they did in my poll. They took Middlebury to the wire and then beat a hungry, though seemingly desperate, F&M squad to start the season. I like the Crusaders who I think have been underrated for awhile (beating St. Mary's in the tournament last year could have helped that). They do have Stevenson on the road to open the season (Stevenson of course beat Middlebury), so this isn't going to be an easy start for Alvernia. However, I think the MAC Commonwealth will still have to go through the Crusaders team and I think they play at a Top 25 level.
21 – New Jersey City – Unranked
The talk surrounding this team is pretty incredible. There are many saying this could be the team to beat in the NJAC, but I was going to wait a few weeks and see what they did. What they did was start the season on a roll which drew up even more talk including from one I trust who says this team is better than even he expected. So welcome to the Top 25, at least on my poll, New Jersey City. Here's hoping you guys continue to put on a show.
22 – Randolph-Macon – DOWN 11
Last year the Yellow Jackets were the best 0-3 team in the country and proved that true when they rallied to make the NCAA Tournament and were the story of the post season after knocking off WPI before travel and really good Amherst team were too much to deal with. I think Randolph-Macon is a darn good basketball team, but they started 1-2 and nearly dropped out of my poll. And while some may hate "history" playing a roll in Top 25 voters minds, I can't ignore the fact the Yellow Jackets are very well coached team who proved they will play some of the best teams in the country, take their lumps, and still come out looking good in the end.
23 – Augustana – UP 1
There is plenty of talk in the CCIW about this year's Viking's team and I am willing to listen to be sure. They did lose a game in the first week – but it seems the question would be who hasn't – and it was to a pretty good Platteville squad. So I moved them UP one spot, because they are a Top 25 team I think and there was room at the bottom for other teams I am questioning.
24 – Catholic – DOWN 6
What do I make of this Cardinals team this year? They lost their best player in Kearney which leaves the middle exposed, but they have so many other good players on this squad that stepped up last year often. The loss to Eastern Connecticut is a head-scratcher and there are plenty of people telling me this is not a good CUA team. However, they only lost one game and I know the talent on this squad is good. I am willing to keep watching the Cardinals, but I think they have a lot to prove to other voters.
25 – North Central – DOWN 15
I debated it throughout my process on voting and I am questioning my decision after submitting my ballot. I don't know if North Central is really a Top 25 team. They lost a lot from last year's squad and they lost two games to start the season (while beating two teams that any Top 150 team should beat). I love the play of Landon Gamble who I think will carry this team, but maybe I am giving that too much credence. Should North Central be in the Top 25? I really don't know. So, I put them 25th and the trigger on pulling them from my ballot is hair-thin.
No tags
I will freely admit that when collegiate women's basketball first starting experimenting with the ten-second violation, I was leery. Why would we change what is an interesting quirk in the women's game? I also contended that if they do add the violation they should consider changing the shot clock to 35-seconds like the men's game.
However, the more I thought about it and the more I talked to coaches in men's and women's basketball the more I realized it was crazy there wasn't a ten second violation! Women's college basketball is the only level of basketball that didn't have the violation. Of course the rule should be implemented! Now others have complained that the ten-second violation would increase the number of turnovers and make games between a superior and inferior teams even more lopsided. I haven't seen any of that and people seem to forget that women's basketball players were already playing with the ten-second violation in high school. They don't have to adjust to anything.
And so it has been done… and they didn't change the shot clock, either… and I am fine with that. In fact, I think we need to shorten the men's clock.
Say what?
Yeah. The men's shot clock is the longest in any level of basketball – NBA, international, high school and now even college. Why are teams being given five more seconds than at most levels to get the ball to the rim? The extra time isn't needed.
But the best reason may have come from some coaches I talked to in Atlanta last year. At the time the common conversation about the game and its rules was how scoring was way down and had been falling for years. Many suggested changes to improve this including the emphasis on calling hand checking and grabbing by defenders (something I fully support and will rant about in the coming weeks).
However, the shot clock idea really stuck out for me. If we want more scoring on the college level, take five seconds off the clock. That will add a number of additional possessions to most college games at all three divisions. Furthermore, it will reward good defenses by forcing offenses to take shots sooner or get the ball up the court faster.
How can you not be in favor of this? Why should the men's collegiate game be the slowest on any level? Why can't we boost scoring by adding more possessions to the game?
Some will argue, as they have prior to the women adding the ten-second violation, that it will only increase turnovers and make the game sloppy. How? These players have come up from the high school level where the shot clock is shorter. The same on the women's side with the ten-second violation: How will the new violation add to turnovers when the players are already used to the violation in the first place?
So let's embrace the idea of a ten-second violation in women's basketball and call for a 30-second shot clock in the men's game. And while we are at it, why in the world does men's and women's basketball have different rules? You know what, let's save that for another rant.
backcourt · basketball · Hoopsville · rant · violation
HAMPDEN-SYDNEY, Va. — One of the great things about college basketball at any level is the contrast in styles. The long shot clock allows coaches to adapt their pace and tactics to suit their personnel. Teams can slow it down and concentrate on defense, use the drive-and-kick to create open threes, or get it in to a big, athletic body to create points in the paint. Day 2 of the ACAC South Region Classic put a couple of differing ODAC styles on display, to different degrees of success.
—
One can't drive from our home base of Charlottesville to Hampden-Sydney without getting a sense of history. The signage reminds you of it constantly: "The Constitution Route"; "The James Madison Highway"; "Lee's Retreat Trail." These signs recall the important events that took place in Albemarle, Buckingham, and Prince Edward Counties, and Hampden-Sydney College has been around for all of it. Founded in 1775 and modeled after the institution that would become Princeton University, H-SC has continued its operations ever since. It has not strayed from its original mission to educate young men, remaining one of only three schools in the country to maintain an all-male enrollment. Understandably, it has an athletics history to go with it.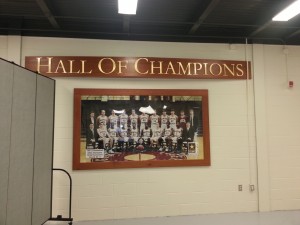 As we left the car, looking for Kirby Fieldhouse, we could sense the excitement on campus. After the Tigers' victory last week over their bitter rivals Randolph-Macon (more on that history in a later piece) to clinch the ODAC football championship, they were granted a surprising opportunity to host an NCAA playoff game. We arrived towards the end of the first half, but even as the game progressed across the street, the tailgating parties continued to be raucous. We could only hope those fans brought the same excitement to their Tigers' basketball game against North Carolina Wesleyan later that afternoon.
—
Before any of that, though, there was the first game of the day, between Shenandoah and Mary Washington.
Shenandoah basketball has fallen on hard times in the last fifteen years. The Hornets haven't made an NCAA appearance since 1996, and last year, their first season in the ODAC, they won no conference games (although they have since been awarded one against Bridgewater due to an eligibility controversy). That performance earned them twelfth of twelve in this year's ODAC preseason poll.
But the Hornets began this season a surprising 3-0, winning their Tip-Off Tournament at home, as well as game one of the South Region Classic against former USA South rival North Carolina Wesleyan (despite a four-hour postponement). Leading the way was senior Avery Green, bouncing back from an early injury last season, averaging 27 points per game, and earning the ODAC's first 2013-14 Player of the Week honors.
It soon became apparent that the Hornets were going to struggle against the Eagles, who had more talent across the board. This Mary Washington team had hung tough with #14 H-SC the night before and brought the same attitude to this game: trusting their starters to make plays from all spots on the floor. The Eagles' size and power inside gave them the edge on the boards, and they used that to create second chance opportunities to storm out to an early lead.
Meanwhile, the Hornets seemed to forget their bread and butter early on: let Avery Green drive into the paint and create a play. Instead, the Hornets settled for deep threes and contested jump shots, most of which clanged off the rim and into the hands of the Eagles. It didn't help matters that Shenandoah's best rebounder, Xavier Alston, pulled down only one offensive board in the half, and their next best shooter, Jared Carithers, couldn't buy a bucket. With 6:38 left, they were behind 28-12.
But then the Avery Green show started. The moves he made in the paint during the end of the first half, and the entirety of the second, were nothing short of spectacular. To close out the half, he went on an 11-3 run by himself, finished with 16 first-half points, and almost single-handedly closed the gap to eight. After another slow start to the second half, he burst out again, posting 21 more points in the frame. Unfortunately, the rest of the Shenandoah offense provided little help. Aaron Patterson had a nice day off the bench from beyond the arc, but his 15 minutes of effort weren't enough. Moreover, the Hornets couldn't create plays off the pass, finishing with just three assists (a stark contrast to the Eagles' 15). Green (37 points) made some history of his own, finishing with the 8th-best scoring day in Hornets' basketball history and making an early case for an All-Conference nod in the process. But man cannot live on Avery Green alone, and the Hornets fell by eight.
—
Then came the highlight event. By halftime of our undercard, the Tigers' football team had finished off their playoff opponent–the school's first-ever playoff victory, speaking of history. It was part of an all-around excellent weekend of athletics south of Farmville. The night prior, the Tigers had won on a miraculous comeback thanks to the efforts of the sharpshooting Greg Lewis, who drained two three-pointers in the final six seconds to erase a five-point deficit and sink Mary Washington. Given the excitement on campus, the crowd arrived loud and lively.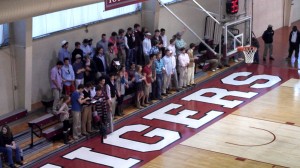 Greg Lewis immediately picked up where he left off the night before, missing his first three, but sinking two more shortly thereafter. The Tigers scored the first 13 points of the game, and never looked back. Their system made for a great counterpoint to SU's single-player style. The watchword for Dee Vick's team is balance: by the end of the first-half, the Tigers had no players in double figures, despite scoring 49 points. The drive-and-kick offense was anchored by senior big man and 2013 All-ODAC selection Khobi Williamson and the Tigers' pair of sharpshooting guards, Mike Murray and the aforementioned Lewis. Together, their ability to make plays (and turn busted plays into second-chance points) overwhelmed the Battling Bishops. By the half, the Tiger faithful had more to celebrate, leading 49-29. The Bishops held tough in the second, with nice play from Fola Branco, but never closed the halftime deficit. H-SC led by at least 16 points throughout the second, and finished off the Tigers' winning weekend with a 90-73 victory.
—
Final, Game 1: Mary Washington Eagles 77, Shenandoah Hornets 69
Final, Game 2: #14 Hampden-Sydney Tigers 90, NC Wesleyan Battling Bishops 73
Players of the Day: Avery Green (37 points, 5 steals); Khobi Williamson (14 points, 11 rebounds)
Mileage Tracker: 414 miles
Next Stop: Virginia Wesleyan at Bridgewater, January 8
Acknowledgments: Big thanks to Scott Harris, Assistant SID at Hampden-Sydney, and the entire Tigers Athletics staff for accommodating us in the press area.
Programming note: ODACcess will be on hiatus for the remainder of 2013. As much as we love covering college basketball, in our real lives we are law students, with busy exam schedules and holiday obligations. But don't worry, folks, we'll be back, just in time for the conference schedule to heat up in early January. See you then!
Hampden-Sydney · Mary Washington · North Carolina Wesleyan · Shenandoah
LYNCHBURG, Va. — Randolph College, formerly Randolph-Macon Woman's College, became coeducational in 2007. It began sponsoring men's basketball the same year. The WildCats won their first game in program history, against Christendom College of the USCAA, and even defeated the significantly more established cross-town Lynchburg Fighting Hornets on their way to a respectable 8-14 inaugural season. In 2007.
That makes this just the seventh year of competitive men's basketball for the Randolph WildCats. Think about that for a minute. The NCAA has sponsored Division III athletics since 1973; many of the colleges now competing at this level have been fielding teams for far longer than that. Fellow ODACian Hampden-Sydney produced its first basketball All-American way back in 1952.  Heck, this website has been covering D3hoops for 12 years longer than Randolph has been playing it.
In the context of that (lack of) history—and the school's enrollment, which barely tops 500 undergrads—it's pretty impressive that last season the WildCats earned their first trip to the NCAA Tournament, grabbing an at-large that surprised even coach Clay Nunley following a 21-6 campaign. Perhaps that can be attributed to the coach's intensity: one fan called Nunley "the Bobby Knight of D3 basketball" after the game. Nunley's squad lost their first tournament game on the road to Emory, but one must suspect that their experience was more thrilling than disappointing. One must also suspect that, for his returning players, it made them hungry for more.
—
One of the peculiar things about basketball is the run. It's a well-known maxim that, in the absence of an extreme mismatch, every team makes a run; every team finds its groove for at least a few minutes a game. Teams down by double-digits erase those deficits so quickly and so often that it's hard to listen to a game without hearing "and they've closed the gap!" at least once. The frequency with which teams beat the statistical odds, only to regress back to the norm a few minutes later, is one of the most exciting anomalies of this sport.
The run can also be misleading. When a team finds that groove out of the gate, as Randolph did on Monday—scoring the first nine points and jumping out to a 12-2 lead—one can think this statistical improbability is in fact the true nature of the contest. Frostburg State seemed so outmatched, so overpowered by WildCats driving the lane for an easy layup or kicking out for a wide-open three, it was easy to believe we had a blowout on our hands when the Bobcats took a timeout just four minutes into the game. The dismantling was so bad, even the home crowd tuned out for awhile; why cheer for every basket if the game isn't competitive?
Alas, every team makes a run, and soon it was the visitors' turn. Randolph's three-point attempts started clanking off the rim and its backcourt fell prey to FSU's full-court press, Frostburg's bench erupted for 22 points, and the first half came to a close with the WildCats clinging to a 33-27 lead.
—
The Randolph Athletic and Dance (RAD) Center is aptly named. In addition to its court—The Den—it features a pool, a dance center, and a relaxation area with a big-screen TV and pretty rad couches.
It's also tiny. Very, very tiny. But in this context, tiny can be a good thing. Randolph calls The Den "one of the loudest venues in the conference," and that may be an understatement. When the referees awarded an extra free-throw to Frostburg State following an officiating error (the first FT was declared null, but it had been missed), one fan's admonishment that "you can't let your screw-ups screw us!" boomed across the arena. When the next free-throw was missed, his sarcastic "Give him two more!" made the entire crowd burst out laughing. And those excellent acoustics aren't limited to the bleachers: as it echoed down to the court, I'm fairly certain even FSU coach Webb Hatch cracked a smile.
—
The Bobcats refused to go away in the second half. When Randolph scored eight of the half's first 11 points, they responded with 11 of the next 14. When they failed to take their first lead of the game after pulling within one, at 46-45, they kept battling, until finally they broke through. Aaron Bellamy and Kurt Gangler knocked down back-to-back treys with under four minutes on the clock to put the visitors up, 58-56.
Following a pair of Randolph free-throws, the Bobcats' Nick Smoot drilled a long two to reestablish the two-point lead with a minute to play. It was a huge shot and he knew it, throwing one arm in the air and pumping his chest with the other as he ran back on defense. Bellamy came down with a rebound on that Randolph possession, and Smoot had a chance to put away the home side for good, but he missed the jumper this time, and WildCat senior Mike Ehilegbu pulled down the board.
Nunley put the ball in the hands of Zach Desgain out of the timeout with under 11 seconds to make something happen. He delivered. Fouled hard on the dribble-drive, Desgain hopped right up and drained both from the line. Overtime.
Perhaps exhausted from 30 minutes of full-court pressing, perhaps deflated from failing to hold onto the lead they spend so long acquiring, Frostburg had nothing in the tank in OT. Randolph scored seven of the first nine, Desgain hit a dagger of a triple for a six point lead at 1:07, and Ehilegbu bookended that trey with a layup and two from the line to finish off the Bobcats.
—
Final: Randolph WildCats 75, Frostburg State Bobcats 64 (OT)
Photos: Frostburg State @ Randolph
Player of the Game: Mike Ehilegbu (16 points, 11 rebounds, 4 steals)
Mileage Tracker: 275 miles
Next Stop: ACAC Fitness and Wellness Center South Region Classic, November 23 (Hampden-Sydney, VA)
I am done. I have had enough.
Almost exactly a year ago I wrote an op-ed on Jack Taylor's 138-point "performance" in the opening week of the season. I indicated I didn't understand the point of the effort, it made me sick to my stomach and it flew in the face of everything I know to be the true spirit of sportsmanship. I also pointed out that a school of Grinnell's stature probably shouldn't be exploiting the accomplishment. Did I expect anyone at Grinnell to read the rant and change their tactic? Certainly not. However, I did think that since the record had been shattered and the attention had been garnered, they would shy away from their 15-minutes of fame.
I could not have been more wrong.
My first clue something was amiss was Friday night. As I arrived for the first game of the 2013-14 season and my 19th season as the public address announcer for Goucher College basketball, I read a retweet from D3hoops:
RT @gcpioneers: 14:22 remaining in the 1st half, Grinnell 20, Finlandia 5. Jack Taylor with 17 points #d3h

— D3hoops/Pat Coleman (@d3hoops) November 15, 2013
I have been around basketball long enough and I know the Grinnell system well enough to read into that very quickly. Taylor had 17 of the team's first 20 points. Anyone who knows the system knows that means they are just feeding the ball to Taylor. Usually the offense Grinnell utilizes, The System, would have plenty of players scoring and most likely you wouldn't have anyone with more than maybe eight or so points in the first 5:38 of the game. But Taylor had 14 of 20. Then at halftime:
At the half, Grinnell 70, Finlandia 47. Jack Taylor 42 pts (12-29), Pat Maher 9 pts, 6 reb (3-5). For Finlandia, K. Arnold 10 pts (3-4)

— Grinnell Athletics (@gcpioneers) November 16, 2013
Yep… 42 points of 70. He had cooled off, but he had clearly played nearly the entire half which is another example of Grinnell getting out of its offense because usually players don't tend to play much more than 15 to 20 minutes in an entire game as they rotate three sets of five players in and out of the game. Taylor finished with 71 and I figured that would be the end of it.
Boy, was I wrong, again.
Now the national media is flying around the story like flies on a piece of fruit in the hot sun. However, this time I am hearing more voices being critical. Deadspin resurrected their criticism from a year ago, though I disagreed with how they portrayed The System, an offensive scheme I actually have no problems with. My problem is how Grinnell gets out of their offense just to try and break a record while embarrassing their opponent in the meantime. To compound the problem this year… they tried to do this a second time after clearly Friday's attempt didn't work.
As I mentioned, more voices are being critical and one of the best articles I have read so far is from CBS Sports' Greg Doyel who did a lot more digging then many national media types did last year or have done since. He found some rather fascinating facts behind the recent record breaking attempt and alludes to some of the reasons probably behind these national headlines.
I have always wondered what was behind these record attempt plans and I can never get the answer from anyone at Grinnell (fans included) that adds up with reality. The usual explanation given to me on Hoopsville or off the air is that the record attempt isn't considered until halftime. As I did last year, I call BS. By getting out of the normal flow of substitution, equal distribution of the basketball and easy shots after attempted three-pointers, coach David Arseneault is actually stepping away from the tenants of The System he writes in books. Also, consider that last year the video commentators stated they knew a record was going to be broken that night. There are rumblings even the PA announcer has told the crowd of said efforts. Sorry, but the explanation the decision to go for the record was only made at halftime after looking at the box score is hogwash. Then it hit me… is he trying to sell books? Doyel makes the exact same conclusion, but he points a timeline on the fact. We didn't see these record attempts until books were being considered and published.
I also jokingly said to some that maybe Grinnell is paying teams to come to their gym to be a patsy, whether they knew it or not. Doyel tackles that as well and as a surprising answer: yes, in a way. Crossroads, the latest victim, was offered and paid $1,400 to come to Grinnell on the opening weekend of the season. They didn't know why, but they accepted because they needed the money. Then they saw last year's 138-point outbreak and got worried. However, they still needed the money.
This time of year, schools do pay teams to come to their gyms for games. But those games are for tournaments where the schools are enticing teams to take part in their event and help with the costs of hotels and transportation. In Division I, they pay lower-end Division I, Division II and Division III teams to play all the time, however have you ever seen a Division I team decide that their game against a Division III team is the perfect excuse to break a record? Not once.
Grinnell paid Crossroads to be a patsy. They paid Crossroads to come to their gym and ultimately humiliate them. Many Grinnell supporters indicate that the players and the opposing teams don't mind or don't care, but that isn't true. In Doyel's story, he talked to a Crossroads player who said they couldn't stop Taylor because the refs were being tight with their calls and they were worried about finishing the game with just four guys on the floor (they arrived with nine). In other words, they were trying to stop Taylor but short of actually taking him out and sending a message, they couldn't.
So I stand by everything I said in last year's rant and I applaud those like Greg Doyel who have clearly figured out this is a sham. And with that I tell you this… I have had enough. I am done talking about Grinnell. I am moving on the rest of the season and seasons to come and I won't mention them again. That's right… I won't talk about Grinnell online, in social media or on Hoopsville. They don't deserve the attention or the spotlight. I am also tired of giving a program that seems to think sportsmanship isn't a value worth respecting and upholding to its highest values attention.
But as the title indicates, there is an "unless." I will talk about Grinnell should they win their conference tournament and we are talking about their first-round game in the NCAA tournament. Then we will know they deserve the national attention. They have earned it in their conference and won the right to be recognized. Until then… no more talk. I won't even utter the school name.
I am doing what other teams for whatever reason can't… I saying I am done with…