This is where stuff gets tight. We already have some of our traditional season-ending rivalry games going on this weekend (Bronze Turkey, The Drum, Amherst-Williams) and the chase for the Walnut and Bronze is in full swing. We start by talking about the regional rankings, first with NCAA Division III football national committee chair Jim Catanzaro, where we ask him about some of the oddities at the bottom of the East and West Region rankings. Plus, his Lake Forest team essentially plays in a conference semifinal on Saturday against St. Norbert. Then Pat and Keith have a viewers' guide for everyone on the bubble. We'll tell you who you need to root for, or against, on Saturday.
Plus, Pat and Keith make up a rivalry trophy for a South Region game this week. Keith picks six winners and also has to mock a famous (or infamous) broadcaster, while Pat crosses the country to pick winners.
This edition of the D3football.com Around the Nation podcast is sponsored by Gotta Have It: 3D Fan Foam Wall Signs for the D-III fan in your life.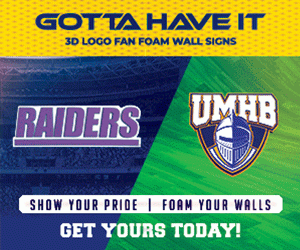 This edition of the D3football.com Around the Nation podcast is also sponsored by The National Bobblehead Hall of Fame and Museum and their limited-edition Mount Union football bobblehead.
Pat and Keith talk about it all in the latest D3football.com Around the Nation Podcast. The D3football.com Around the Nation Podcast is a regular conversation between Pat Coleman and Keith McMillan and guests covering the wide range of Division III football.
Hit play, or subscribe to get this podcast on your mobile device.
Full episode:

D3football.com Around the Nation Podcast
[ 1:11:06 ]
Play Now
|
Play in Popup
|
Download
You can subscribe to the Around the Nation Podcast in Apple Podcasts, and many other places. You can also get this and any of our future Around the Nation podcasts automatically by subscribing to this RSS feed: http://www.d3blogs.com/d3football/?feed=podcast
Here's how to find us on some of the major podcasting apps:
Theme music: DJmentos. Texas Lutheran athletics photo; Joe Fusco, d3photography.com.