We're on to the third round of the playoffs, and it's a round that looks a little less purple, a little more wide-open, and has a lot less for people to complain about.
Will any of the games be close? Can't say we know that for sure, but one thing we do know is that we have No. 2 through No. 9 in our Top 25 still playing, and that makes things fun.
On this edition of the podcast, we chat with Delaware Valley head coach Duke Greco. He's taking his team to face the darlings of the second round, North Central, in suburban Chicago. How has this team progressed since struggling to put points on the board in September against Wesley? Who are these guys up front wreaking havoc on defense for the Aggies? We talk about all that and more.
We go around the bracket and preview all four quarterfinal matchups. Who will score enough points in Texas? Do the Thunder have the firepower to outlast the Johnnies? Can the Delaware Valley defensive front keep Broc Rutter from finding the open receiver? How will Muhlenberg do defending the Salisbury option? Plus, Keith predicts who the top rusher and passer will be on Saturday and Pat ranks the defenses and offenses from least outstanding to outstanding. All that and more is covered in Podcast 265.
This edition of the D3football.com Around the Nation podcast is sponsored by Gotta Have It: 3D Fan Foam Wall Signs for the D-III fan in your life.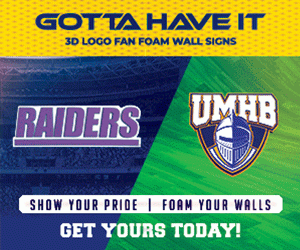 Pat and Keith talk about it all in the latest D3football.com Around the Nation Podcast. The D3football.com Around the Nation Podcast is a regular conversation between Pat Coleman and Keith McMillan and guests covering the wide range of Division III football.
Hit play, or subscribe to get this podcast on your mobile device.
Full episode:

D3football.com Around the Nation Podcast
[ 59:58 ]
Play Now
|
Play in Popup
|
Download
You can subscribe to the Around the Nation Podcast in Apple Podcasts, and many other places. You can also get this and any of our future Around the Nation podcasts automatically by subscribing to this RSS feed: http://www.d3blogs.com/d3football/?feed=podcast
Here's how to find us on some of the major podcasting apps:
Theme music: DJmentos. Photo by Steve Frommell, d3photography.com; Dan Poel, Ohiosi.com; Salisbury athletics.