We've often said in the course of writing about and covering Division III that you can find everything in Division III. That is definitely true in football, where when you have more than 110 games, there are bound to be interesting and unexpected performances.
For example, Pat and Keith this week bring you multiple games in which teams rallied from fourth-quarter two-touchdown deficits to win. But there are also big games that are not surprises, such as Wheaton and North Central playing another classic, and some that are, such as Texas Lutheran's unexpected prowess scoring with its defense.
Plus, the most surprising result for one of these two was a game in the MIAA, but not the one you think it is, and we have another classic no-broadcaster Division III highlight where anyone who knows the rules about offside can have a laugh, or shake their head. Plus, find out which Super Bowl head coach performed the ceremonial coin toss at a D-III school, and where, and we definitely invite you to assemble the Around the Nation Podcast drinking game. Or just give us a thumbnail sketch.
This edition of the D3football.com Around the Nation podcast is sponsored by Gotta Have It: 3D Fan Foam Wall Signs for the D-III fan in your life.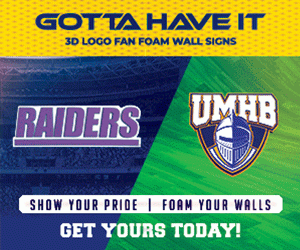 Plus, the guys hand out their game balls, find the off-the-beaten-path highlights and more from Week 5.
Pat and Keith talk about it all in the latest D3football.com Around the Nation Podcast. The D3football.com Around the Nation Podcast is a regular conversation between Pat Coleman and Keith McMillan and guests covering the wide range of Division III football.
Hit play, or subscribe to get this podcast on your mobile device.
Full episode:

D3football.com Around the Nation Podcast
[ 54:02 ]
Play Now
|
Play in Popup
|
Download
You can subscribe to the Around the Nation Podcast in Apple Podcasts, and many other places. You can also get this and any of our future Around the Nation podcasts automatically by subscribing to this RSS feed: http://www.d3blogs.com/d3football/?feed=podcast
Here's how to find us on some of the major podcasting apps:
Theme music: DJmentos. Photo by Union athletics