The final few weeks of the regular season get started, well, now, as we have key showdowns in the state of New York, and Iowa, and Pennsylvania, among others. Plus, if you are looking for a better understanding of how the mock regional rankings that we put together work, well, we welcome back our chief bracketologist, Greg Thomas. He'll tell you what goes into the mock rankings, and the real ones which we will see on Nov. 6, then Pat and Keith talk about how the field is selected and who the at-large teams might be at this point.
Plus, Pat and Keith make up a rivalry trophy for a North Region game this week. Keith picks six winners and also has to mispronounce school names, as if he were working for a national network, while Pat has to pick games in keeping with Thursday night's Halloween.
This edition of the D3football.com Around the Nation podcast is sponsored by Gotta Have It: 3D Fan Foam Wall Signs for the D-III fan in your life.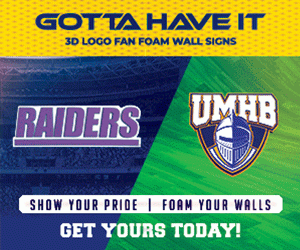 Pat and Keith talk about it all in the latest D3football.com Around the Nation Podcast. The D3football.com Around the Nation Podcast is a regular conversation between Pat Coleman and Keith McMillan and guests covering the wide range of Division III football.
Hit play, or subscribe to get this podcast on your mobile device.
Full episode:

D3football.com Around the Nation Podcast
[ 1:08:20 ]
Play Now
|
Play in Popup
|
Download
You can subscribe to the Around the Nation Podcast in Apple Podcasts, and many other places. You can also get this and any of our future Around the Nation podcasts automatically by subscribing to this RSS feed: http://www.d3blogs.com/d3football/?feed=podcast
Here's how to find us on some of the major podcasting apps:
Theme music: DJmentos. Cortland athletics photo by Darl Zehr Photography.