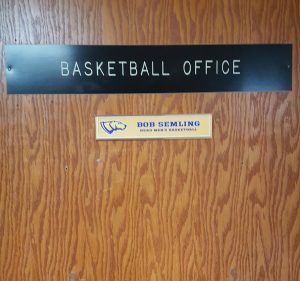 The investigation into the UW-Stevens Point men's basketball program has dragged on much longer than anticipated, longer than we were told to expect.
This is almost certainly a bad sign — not just for the obvious reasons, either.
It had been expected that the NCAA investigation into recent Pointers' seasons and preseason practices would wrap up by April, perhaps May. The fact that no resolution has been announced means that this cloud of suspicion, this uncertainty, continues to hang over the program, and did so through the recruiting season. But secondly, the timeline suggests that the school and the NCAA are trying to come to an agreement over what the punishment will be.
In the interim, the athletic department suspended coach Bob Semling for the final 13 games of the season, and kept the program out of the WIAC tournament. (The Pointers finished 14-10, 8-6 in the WIAC and would have otherwise been the fourth seed in the conference tournament.) This was the second self-imposed punishment for the same violation. .
Semling spoke recently with Alexis Geffen, of Stevens Point's WAOW 9, saying: "The final report's going to go through the committee … by the end of July. I would hope by the end of August, start of September, start of school, that we would find out that this is resolved."
Semling maintains that for the type of violation that has been described, suspending the coach is about as far as one would go. But with the same NCAA committee on infractions having stripped Thomas More of a national title in Division III women's basketball less than a year ago, it's fair to consider that a Pointers' national title could be at stake here as well. And if suspending the coach is sufficient, it's hard to understand what is holding this process up.
The NCAA committee could instead call for a show-cause ruling on Semling. This would require any school employing him to go through significant procedures and paperwork with the NCAA, all but ending his coaching career.
For now, four banners hang in Quandt Fieldhouse and four national championship trophies still sit in the trophy case outside the entrance. Semling's name is still on the door of the men's basketball head coach office. I was there at the end of May to confirm these were true. But for how long those all remain true, it's hard to know.