Forty years ago we played on a half-good, half-bad basketball team for a brand-new college. Forty years later a lot has changed.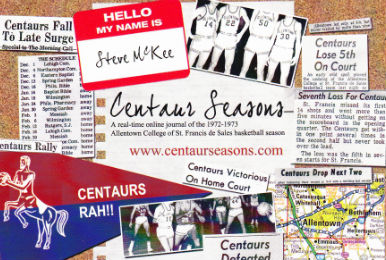 By Steve McKee
The problem is remembering what to call them. When I played we were the Allentown College of St. Francis de Sales Centaurs. These days they're the DeSales University Bulldogs.
Centaur-Centdog-Bultaur-Bulldogs. And the mascot and name aren't the only things that changed a dozen years ago.
When I showed up at the school in Center Valley, Pennsylvania, in the fall of 1970, the college had graduated two classes. There were five buildings, lots of cornfields, maybe 450 students. The barest of bones; a handful of majors. The entire place making itself up as it went along.
"It was the frontier days of the university," says Jim Naccarato, a guard on the team two years ahead of me and an Oblate of St. Francis de Sales seminarian. "Everyone was taking a gamble. There was real risk. It was an adventure."
The bet paid off. Today, DeSales University boasts dozens buildings, perhaps 1,700 undergrads, a full complement of majors, all the bells and whistles of a competitive college in the digital world.
As for the basketball teams. Well …
When I arrived the Centaurs' two-year record was 8-28, with losses of 20, 21, 22 (twice), 26, 27, 37, 41, 42, 61 and … 70. "Nobody was doing anything but trying to win, play the best they could," says Tom Junod, an under-sized center on those first two teams. "There was a lot of spirit among the people who were there. Everyone wanted the school to succeed. I don't think any of us felt like we were wasting our time, and I don't think any of us did. We wanted to win."
In my four years the Centaur went another 29-44. If you're scoring at home, for the first six years of the Centaur's existence, that's a combined 37-72.
"Wins meant so much to us," says Dave Glielmi, my roommate junior year. "We used to count them like they were jelly beans when you were a kid."
Meanwhile, this year's DeSales Bulldogs are right now 21-6. Saturday they lost to Delaware Valley in the MAC Freedom Conference championship game. On Wednesday they open against Moravian  as the No. 2 seed in the ECAC South Region tournament.  Coach Scott Coval's teams have won 20 or more games in nine of the last 11 seasons. There have been three appearances in the NCAA D-III postseason. These guys are good.
And here's the bonus: The better the Bulldogs are now, the better we Centaurs can believe we were then. Don't think we don't.
This past September I began posting at "Centaur Seasons." A "memory blog," it's about those early days of Allentown College of St. Francis de Sales and the certain something that I believe came with attending a brand-new school that was right then as much a concept as it was a college. Included in Centaur Seasons are the entries from an actual diary I wrote during the 1972-73 season, my junior year, posted 40 years later in "real" time. But mainly Centaur Seasons is about the striving. The trying to win but too-often losing. The playing in front of a handful of fans. The being there at the beginning. The not knowing what our efforts might bring, but knowing whatever it was we'd be long gone by the time it happened.
"We knew we weren't going to be the centerfold story in Sports Illustrated," says Chris Cashman. "We had no real expectations."
Cash, a year ahead of me, was the classic "last man cut" from his high school team. At Allentown as a 6-3 center-forward he played in every game his first three seasons. Then, senior year, on the first day of practice he ripped up his ankle — and with it the games-played streak.
"We were a Catholic start-up college fielding a start-up team," he says. "It was what it was. But what was magical about it was that A) we loved to play basketball, B) we grew to kind of love each other, and C) we took ourselves seriously enough not to run out there and knowingly take the chance that we were going to embarrass ourselves – even though, sometimes, we did embarrass ourselves."
Writing the Centaur Seasons blogs these past few month, I've had pleasant occasion to talk to many of my former teammates. It's been great to reconnect, to hear the old stories. But I've also asked them to help me try to get my hands around the certain something that I believe made going to Allentown College when we did a particular, unique experience. If only I can find it.
Tony Mazzeo offered this about the college, immediately. A three-sport letterman, Maz won all the MVPs (soccer, hoops and baseball) and was named the Varsity Athlete of 1971-72 my sophomore year.  "If there had been an Allentown College in the 1930s, would we have cared about it the way we did?" he asked me when we talked. And then he answered: "No." It's the fact that there was no Allentown College until we got there, until we made it so, Maz says, that makes our being there so special.  "I am absolutely convinced of this," he says.
Joe Thomson, meanwhile, suggested this about Centaur Basketball. "In a crazy way, in the purest sense of the word, it was just playing the game for the love of the game," he says. "There weren't a lot of externals. We weren't getting money, we weren't on scholarship. We didn't have to worry about who was getting all-conference. We just played. We didn't like the losing, but when we did we just got ready for the next game. To me it was pure sport. We were just a bunch of guys playing ball."
Joe was a pass-first junior point guard when I was a senior. I looked to him to get me the ball, which he did, consistently. As a result I, me, Steve McKee, and my 6-foot-8-inches and 165 pounds of pipecleaner body that had not played basketball in high school, became the hoops star I had long wanted to be. Even if just for one year. Even if just at brand-new Allentown College of St. So-On and So-Forth.
Joe told me about a visit to Center Valley a couple of years ago. "I went back and saw how beautiful the campus is," he said. "There's a soccer field right in the middle of the place now! I got choked up. We had not even a quarter of all this. I looked around – the beautiful facilities, the townhouses up on the hill, everyghing going on — and thought, Man, this is a real college now. But you know, what? We had a real college too."
Which is why I think this is telling: Not one of my teammates I've talked to has said they wished they were going to DeSales U now, playing for the Bulldogs at a packed Billera Hall, taking a run at conference titles, postseason play, league honors, all that.  No, thanks, we're fine.
"If we go back to a game now," says Dave Gleilmi, a 6-2 forward and arguably the best player of the Centaur Season era, "the place is called DeSales University and we're watching a team called the Bulldogs – that is obviously A LOT better than we used to be. But then we get together after and we have a few drinks and now we're the Centaurs again, we're Allentown College. And nobody's saying, 'Geez, I wish we were DeSales University.' That wouldn't be right. We were who we should have been, and we always will be."
The Centaur-Centdog-Bultaur-Bulldogs? They are who they should always be. As Jerry Wilkinson —  with Tony Mazzeo the co-captain of a half-good 8-8 Centaur team their senior year — wrote me in an email after some of us got together for a Bulldog game: "I do hope these kids today feel anywhere near the joy that we do that we played way back when."
Joy. Yes, that's the right word. Feel it forever, Bulldogs, forever.
This essay is drawn from the CENTAUR SEASONS posts Steve McKee has written since September. Most of the links here are to specific CENTAUR SEASONS  entries.  Steve worked for 14 years at The Wall Street Journal, where he was the first writer of the popular online sports blog, "The Daily Fix." He is the author of three books, including "COACH," an oral history of the sideline profession.