In other Division III sports, we often get to see schools experience the national championship event for the first time, and often get to see them come away a winner. In football, however, we haven't had too much of that. Mount Union, UW-Whitewater and Mary Hardin-Baylor have combined to win the previous 14 Stagg Bowls.
But on Friday night in Shenandoah, Texas, we got something new, something decidedly less purple, as North Central brought a new program to the Stagg Bowl, with new back stories and histories. And the Cardinals came away emphatically as champions, defeating UW-Whitewater 41-14.
In this podcast, Pat, Keith, Frank Rossi and Greg Thomas wrap up the game and wrap up the season. You can hear the debate and how we arrived at giving our three year-end awards to members of the College Conference of Illinois and Wisconsin. Plus, you'll hear the emotion in a proud dad's voice, a son who wanted to get his dad to hold the trophy, and a most outstanding player who tried to give his trophy away.
Plus, who should be No. 2? UW-Whitewater? Mount Union? Wheaton? Pat and Keith and Frank and Greg discuss that and more in Podcast 270. It's the final podcast of 2019.
This edition of the D3football.com Around the Nation podcast is sponsored by Gotta Have It: 3D Fan Foam Wall Signs for the D-III fan in your life.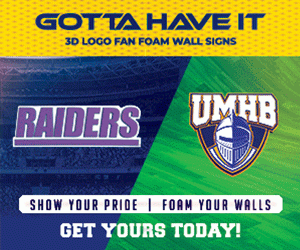 Pat and Keith talk about it all in the latest D3football.com Around the Nation Podcast. The D3football.com Around the Nation Podcast is a regular conversation between Pat Coleman and Keith McMillan and guests covering the wide range of Division III football.
Hit play, or subscribe to get this podcast on your mobile device.
Full episode:

D3football.com Around the Nation Podcast
[ 52:03 ]
Play Now
|
Play in Popup
|
Download
You can subscribe to the Around the Nation Podcast in Apple Podcasts, and many other places. You can also get this and any of our future Around the Nation podcasts automatically by subscribing to this RSS feed: http://www.d3blogs.com/d3football/?feed=podcast
Here's how to find us on some of the major podcasting apps:
Theme music: DJmentos. d3photography.com photos by Caleb Williams, Doug Sasse, Tom Nettleton, d3photography.com file.