There were picks early in the game in Allentown, and late in the game in Whitewater, as North Central and UW-Whitewater booked their tickets to Shenandoah by winning their national semifinals and advancing to Stagg Bowl XLVII.
We'll still have purple in the Stagg Bowl. And no, we won't get the shootout-style matchup of the two top quarterbacks in Division III, but we got to see Max Meylor have a breakout game on ESPN3 on Saturday afternoon. Was the running a surprise to him? Yes and no — he'll tell you more in this podcast.
How did UW-Whitewater get to St. John's quarterback Jackson Erdmann? The same way they do every time. Warhawks coach Kevin Bullis describes how the defensive philosophy of pressuring the quarterback has changed since he took over as head coach. (Hint: It hasn't.) And Wojciech Gasienica talks about his game-winning field goal, and we tell you how to pronounce his name.
North Central was asked if they have ever come up against anyone that can match their team speed. (Yes — there's a list.) How hard it is to defend that speed? Yeah … it's hard.
Pat and Keith were each at a semifinal and get you caught up on all the goings-on. Plus, we'll talk about what is coming up on D3football.com this week. That and more in Podcast 268.
This edition of the D3football.com Around the Nation podcast is sponsored by Gotta Have It: 3D Fan Foam Wall Signs for the D-III fan in your life.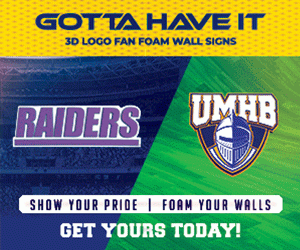 Pat and Keith talk about it all in the latest D3football.com Around the Nation Podcast. The D3football.com Around the Nation Podcast is a regular conversation between Pat Coleman and Keith McMillan and guests covering the wide range of Division III football.
Hit play, or subscribe to get this podcast on your mobile device.
Full episode:

D3football.com Around the Nation Podcast
[ 59:07 ]
Play Now
|
Play in Popup
|
Download
You can subscribe to the Around the Nation Podcast in Apple Podcasts, and many other places. You can also get this and any of our future Around the Nation podcasts automatically by subscribing to this RSS feed: http://www.d3blogs.com/d3football/?feed=podcast
Here's how to find us on some of the major podcasting apps:
Theme music: DJmentos. d3photography.com photos by Caleb Williams, Doug Sasse, Tom Nettleton, d3photography.com file.