Alright, folks — we're down to one week, 112 games and lurking out there in the final game of the night on Saturday is UW-Oshkosh, which can play chaos agent. If the Titans — or perhaps we should call them Agent UW-Zero — knock off UW-Whitewater, then so much hell will break loose in the virtual war room that is the NCAA committee's conference call.
So much hell. Oshkosh coach Pat Cerroni doesn't care whether you're rooting for the status quo or for chaos, though. We talk about that and more with the Titans' coach on this week's gameday podcast.
Plus, rivalry weekend doesn't have enough trophies, so Pat and Keith make up a rivalry trophy for a whole bunch of games this week. We've got previews of a bunch of big games, including the Showdown in the Meadowlands, and much more on the latest D3football.com Around the Nation Podcast.
This edition of the D3football.com Around the Nation podcast is sponsored by Gotta Have It: 3D Fan Foam Wall Signs for the D-III fan in your life.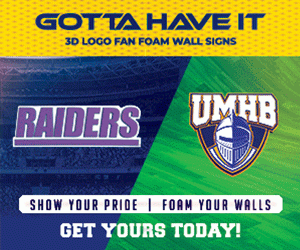 Pat and Keith talk about it all in the latest D3football.com Around the Nation Podcast. The D3football.com Around the Nation Podcast is a regular conversation between Pat Coleman and Keith McMillan and guests covering the wide range of Division III football.
Hit play, or subscribe to get this podcast on your mobile device.
Full episode:

D3football.com Around the Nation Podcast
[ 1:01:42 ]
Play Now
|
Play in Popup
|
Download
You can subscribe to the Around the Nation Podcast in Apple Podcasts, and many other places. You can also get this and any of our future Around the Nation podcasts automatically by subscribing to this RSS feed: http://www.d3blogs.com/d3football/?feed=podcast
Here's how to find us on some of the major podcasting apps:
Theme music: DJmentos. Photo by Steve Frommell, d3photography.com.