We finally have a bracket, the bracket, the one with the 32 teams on the road to the Stagg Bowl. While folks associated with John Carroll and Susquehanna don't understand why they aren't continuing on into the playoffs (can't say we didn't warn you), there actually is a lot to like in this bracket.
Did you see how Wheaton and North Central are on complete opposite sides of the bracket? Other potential conference rematches are pushed off toward the national semifinals. Now if Wheaton and North Central were somehow the two best teams in Division III, we could have a set of Little Brass Bell rivals in Shenandoah, Texas.
Do you have questions about how the bracket was put together? We talk to Jim Catanzaro, the Division III football committee chair, about how the at-large teams were selected, why Redlands and Mary Hardin-Baylor are playing in the first round, and much more.
Plus, Pat and Keith were at MetLife Stadium on Saturday for the super-sized Cortaca Jug showdown, and give their thoughts about the rivalry, the crowd and the performance of one Joe Germinerio.
This edition of the D3football.com Around the Nation podcast is sponsored by Gotta Have It: 3D Fan Foam Wall Signs for the D-III fan in your life.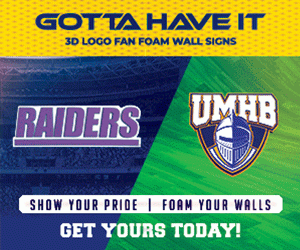 Pat and Keith talk about it all in the latest D3football.com Around the Nation Podcast. The D3football.com Around the Nation Podcast is a regular conversation between Pat Coleman and Keith McMillan and guests covering the wide range of Division III football.
Hit play, or subscribe to get this podcast on your mobile device.
Full episode:

D3football.com Around the Nation Podcast
[ 1:10:27 ]
Play Now
|
Play in Popup
|
Download
You can subscribe to the Around the Nation Podcast in Apple Podcasts, and many other places. You can also get this and any of our future Around the Nation podcasts automatically by subscribing to this RSS feed: http://www.d3blogs.com/d3football/?feed=podcast
Here's how to find us on some of the major podcasting apps:
Theme music: DJmentos. Linfield athletics photo by Kelly Bird.