We expected some great games. Some of the great games were unexpected. And if your team is 3-5, you might well get some mention in this podcast, even if you're not Concordia-Moorhead. Didn't we tell you that kicking would be an issue for St. John's? (Psst, we did, in Podcast 252.)
We check in on the big games in New York, where the Liberty League and Empire 8 had automatic bids up for grabs, including postgame interviews.
In addition, Pat and Keith talk about their teams on the rise. One of them gives a game ball to a player who threw as many interceptions as completions on Saturday. Keith talks about a Top 10 team he thinks is overranked. They'll help you make sense of results that don't make sense. And they go off the beaten path for highlights, spotlight their surprise results and more from Week 9.
This edition of the D3football.com Around the Nation podcast is sponsored by Gotta Have It: 3D Fan Foam Wall Signs for the D-III fan in your life.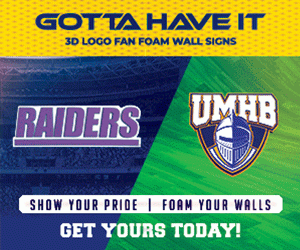 Pat and Keith talk about it all in the latest D3football.com Around the Nation Podcast. The D3football.com Around the Nation Podcast is a regular conversation between Pat Coleman and Keith McMillan and guests covering the wide range of Division III football.
Hit play, or subscribe to get this podcast on your mobile device.
Full episode:

D3football.com Around the Nation Podcast
[ 57:59 ]
Play Now
|
Play in Popup
|
Download
You can subscribe to the Around the Nation Podcast in Apple Podcasts, and many other places. You can also get this and any of our future Around the Nation podcasts automatically by subscribing to this RSS feed: http://www.d3blogs.com/d3football/?feed=podcast
Here's how to find us on some of the major podcasting apps:
Theme music: DJmentos. Photo by Union athletics.