This was shaping up to be a perfectly normal week with awesome Division III football games, and then the news broke, that UMHB was being told it had to give up the 2016 Division III football national title.
UMHB is appealing this decision. But it could well go through. We'll open with a sound bite from Randy O'Rear, the UMHB president, and a couple of quotes from coach Pete Fredenburg, and then Pat and Keith will run down the context, what it all means, whether it's right, and how it's not like when Thomas More vacated the NCAA Division III women's basketball title. (Even though it's being treated like it is.)
We also talk to Wheaton coach Mike Swider, whose team had a pretty big win last week against North Central. But his Thunder teams have beaten North Central before and then not run the table, so there are some things to talk about there. Swider talks about motivating his team, what motivates him beyond being a football head coach, and exactly how many Wheaton head coaches were upset by the injury to quarterback Spencer Peterson last Saturday.
This edition of the D3football.com Around the Nation podcast is sponsored by Gotta Have It: 3D Fan Foam Wall Signs for the D-III fan in your life.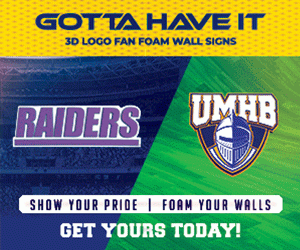 Plus, the guys make plenty of Subaru references, pick winners in about two dozen of Saturday's Division III games, and generally get you ready for 2019's Week 6 by trying to create an alternate trophy for a game which already has one..
Pat and Keith talk about it all in the latest D3football.com Around the Nation Podcast. The D3football.com Around the Nation Podcast is a regular conversation between Pat Coleman and Keith McMillan and guests covering the wide range of Division III football.
Hit play, or subscribe to get this podcast on your mobile device.
Full episode:

D3football.com Around the Nation Podcast
[ 1:04:44 ]
Play Now
|
Play in Popup
|
Download
You can subscribe to the Around the Nation Podcast in Apple Podcasts, and many other places. You can also get this and any of our future Around the Nation podcasts automatically by subscribing to this RSS feed: http://www.d3blogs.com/d3football/?feed=podcast
Here's how to find us on some of the major podcasting apps:
Theme music: DJmentos. Photo by Steve Frommell, d3photography.com.