Lots of eyes on this game. Lots of views on Twitter videos. Lots of people tying to knock down Mary Hardin-Baylor's game-winning field goal.
It's great that we live in an era when we can see all of this video in real time, and then over and over again afterward. So UMHB wins by one, but loses the No. 1 spot. All of this is worth a good amount of discussion, and that's what Pat and Keith give it.
In addition, Cortland nearly got derailed from an unbeaten run to the Cortaca Jug game, and The Streak turned 64. Plus, there was a rare daily double when it comes to giving out game balls, while one off-the-beaten path highlight was a washout. And we have another announcer-less highlight, because Division III. And also, more Maine.
This edition of the D3football.com Around the Nation podcast is sponsored by Gotta Have It: 3D Fan Foam Wall Signs for the D-III fan in your life.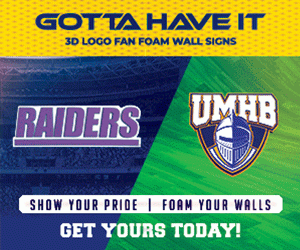 Pat and Keith talk about it all in the latest D3football.com Around the Nation Podcast. The D3football.com Around the Nation Podcast is a regular conversation between Pat Coleman and Keith McMillan and guests covering the wide range of Division III football.
Hit play, or subscribe to get this podcast on your mobile device.
Full episode:

D3football.com Around the Nation Podcast
[ 54:06 ]
Play Now
|
Play in Popup
|
Download
You can subscribe to the Around the Nation Podcast in Apple Podcasts, and many other places. You can also get this and any of our future Around the Nation podcasts automatically by subscribing to this RSS feed: http://www.d3blogs.com/d3football/?feed=podcast
Here's how to find us on some of the major podcasting apps:
Theme music: DJmentos. Photo by UMHB athletics.