Yes, this is podcast No. 250. At this point, the milestones come fairly frequently, so we won't bore regular listeners with too many old clips or stories about strange places we've recorded this podcast, but we couldn't let a round number go unmentioned.
This is the week Chapman played its way into the D3football.com Top 25, and Bethel nearly played itself out of the Top 10, and UW-Whitewater methodically got past UW-Platteville. But it's also the week where an off-the-beaten-path highlight meant a team that has struggled got to celebrate a win, and another team celebrated a win 8 seconds too early and had it cost them. Plus it's a week where one team had just five first downs and won, and an offensive juggernaut was held to 90-some yards passing, and there were four touchdowns in a 126-second span.
This edition of the D3football.com Around the Nation podcast is sponsored by Gotta Have It: 3D Fan Foam Wall Signs for the D-III fan in your life.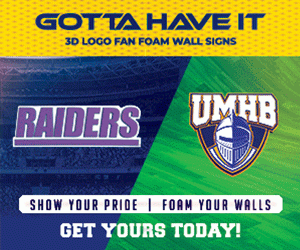 Pat and Keith talk about it all in the latest D3football.com Around the Nation Podcast. The D3football.com Around the Nation Podcast is a regular conversation between Pat Coleman and Keith McMillan and guests covering the wide range of Division III football.
Show links: Around the Nation Podcast No. 1
Football playoffs to feature welcome change
Hit play, or subscribe to get this podcast on your mobile device.
Full episode:

D3football.com Around the Nation Podcast
[ 59:59 ]
Play Now
|
Play in Popup
|
Download
You can subscribe to the Around the Nation Podcast in Apple Podcasts, and many other places. You can also get this and any of our future Around the Nation podcasts automatically by subscribing to this RSS feed: http://www.d3blogs.com/d3football/?feed=podcast
Here's how to find us on some of the major podcasting apps:
Theme music: DJmentos. Photo by Thomas Nettleton, d3photography.com.