There's a big game between huge rivals going on in Minnesota this weekend, but also another 115 games in Division III, including a battle of unbeatens in the NESCAC. We're going to give about the same amount of time to the St. John's-St. Thomas game as we will to Wesleyan-Middlebury, where the attraction is more than just the change of seasons and the fall colors visible from Middlebury's picturesque campus.
Bob Ritter, Middlebury head coach, is our guest on Podcast 251, and yes, for those who want to know, he talks about what NESCAC people really feel about not playing in the NCAA Division III playoffs.
Plus, Pat and Keith have to make up a rivalry trophy for another key East Region game this week. Keith picks six winners and also tells his D3football.com origin story. Pat has to rank games from least to most interesting and Keith has to pick numbers.
This edition of the D3football.com Around the Nation podcast is sponsored by Gotta Have It: 3D Fan Foam Wall Signs for the D-III fan in your life.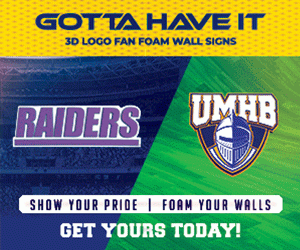 Pat and Keith talk about it all in the latest D3football.com Around the Nation Podcast. The D3football.com Around the Nation Podcast is a regular conversation between Pat Coleman and Keith McMillan and guests covering the wide range of Division III football.
Hit play, or subscribe to get this podcast on your mobile device.
Full episode:

D3football.com Around the Nation Podcast
[ 55:43 ]
Play Now
|
Play in Popup
|
Download
You can subscribe to the Around the Nation Podcast in Apple Podcasts, and many other places. You can also get this and any of our future Around the Nation podcasts automatically by subscribing to this RSS feed: http://www.d3blogs.com/d3football/?feed=podcast
Here's how to find us on some of the major podcasting apps:
Theme music: DJmentos. Photo by Will Frazier.