SALEM, Va. — It would be hard to imagine a more complete victory than this. Eighth-seeded Hampden-Sydney dominated on both sides of the ball en route to a 104-80 rout of #5 Eastern Mennonite, securing a berth in the ODAC championship game for the first time since 2007.
We were convinced that this would be a battle between H-SC's Khobi Williamson and EMU's David Falk, two of the strongest and most athletically gifted players in the ODAC. And while Williamson certainly did his part, recording a double-double with 28 points and 11 rebounds (both game-highs), Falk got into foul trouble early and was unfortunately a non-factor for the Royals. A day after setting an ODAC record by grabbing 28 boards against Lynchburg, Falk managed to pull down just four this evening in a season-low 18 minutes of game time.
Williamson added a transition block and three dunks, including a rim-shaking slam after he got his own miss on a free-throw attempt, to his line on the evening. Despite a performance that dwarfed anyone else on the court, Williamson was deferential to the efforts of EMU. "It was a battle," he took pains to note after the game.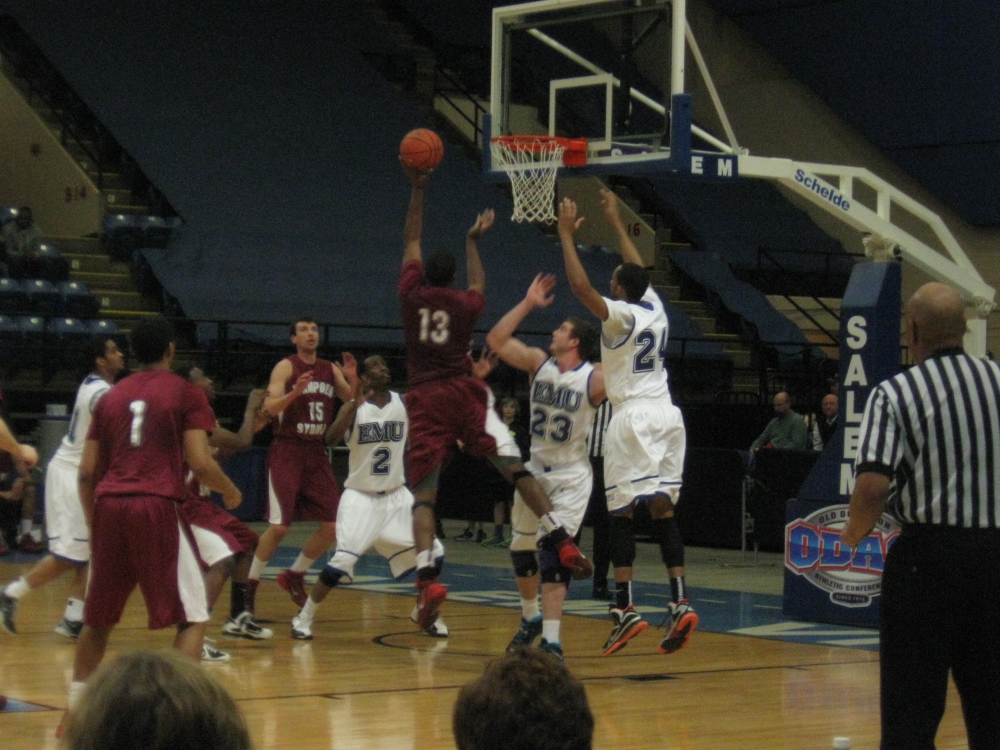 This one started out competitively enough, with six lead changes and two ties in the opening six minutes. The Royals looked like they would continue the strong play that led to their big quarterfinal win over the LC Hornets.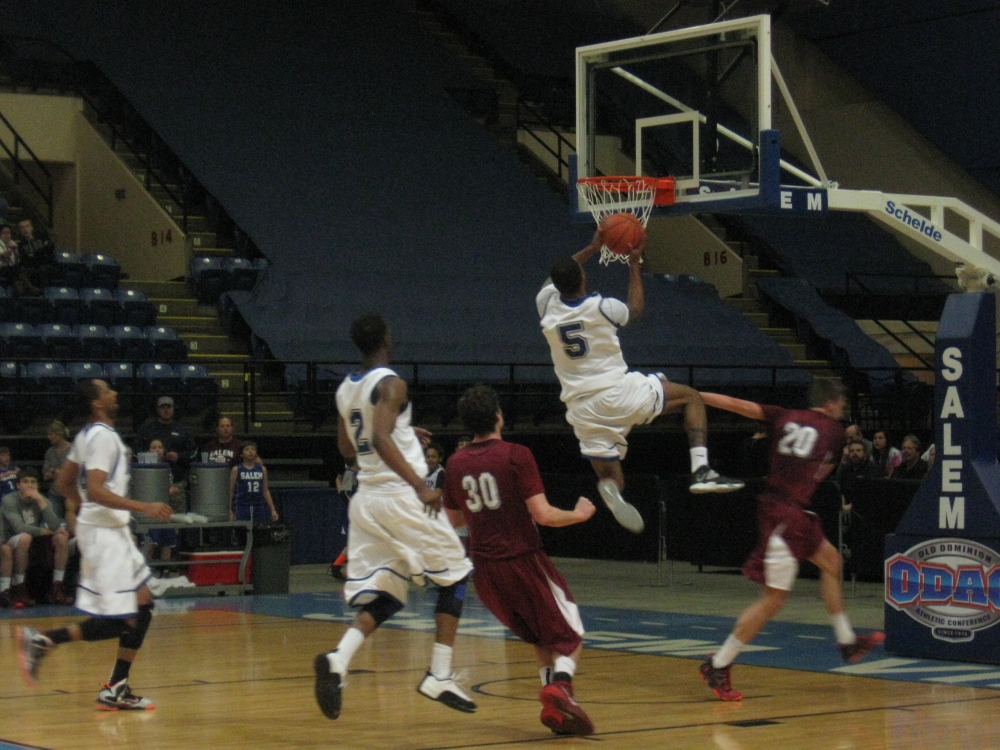 But Williamson's game-tying jumper at the 14:45 mark sparked a 17-7 run for the Tigers, and they never looked back.
The Royals sent Falk to the bench when he committed his second foul on a pump fake under the basket. "We told our guys, if you get around the basket, use your pump fakes, be wise, because [Falk] likes to block shots," said H-SC head coach Dee Vick. "Fortunately we did that and he picked up a couple."
"A loss is a loss. I'm not making any excuses," Falk, who picked up quick fouls the other two times he entered the game, stated. "We expected to win the ODAC Tournament and advance to the NCAAs, and it didn't happen, so we'll get back to work and make it happen next year."
The Tigers will have an opportunity to win that ODAC title, when they face off against the winner of tonight second semifinal between #2 Virginia Wesleyan and surprise semifinalist #11 Washington and Lee. H-SC knocked off top seed Randolph-Macon to advance to the semifinals.
—
Final: #8 Hamden-Sydney Tigers 104, #5 Eastern Mennonite Royals 80
Player of the Game: Khobi Williamson (H-SC) (28 points, 11 rebounds)