SALEM, Va. — According to Dave McHugh, host of Hoopsville, Virginia Wesleyan's chances at an at-large bid to the NCAA Tournament hinged on making the finals of the ODAC Tournament. The second-seeded Marlins needed at least 21 wins on the year to have a plausible argument for at-large consideration, McHugh reasoned, and they needed to take care of business against Bridgewater and Washington and Lee, both teams quite a ways down the ODAC regular-season standings from VWC, to get to those 21 victories.
Well take care of business they did, as the Marlins followed up a quarterfinal win over the BC Eagles with a semifinal victory over the #11 W&L Generals, 74-60, at Salem Civic Center on Saturday night.
Of course, Va. Wesleyan would prefer not to have to wait until Monday to find out if they're making the big tournament, and they can prevent that wait by cutting down the nets after tomorrow's tussle with eighth-seeded Hampden-Sydney. The Tigers knocked off #5 EMU earlier Saturday to set up the championship matchup.
But tonight's win, powered by Colby Heard's double-double off the bench–23 points on 13 shots to go with 11 rebounds– and featuring important contributions from ODAC Player of the Year DJ Woodmore (23 points, 5-of-9 on three-point attempts, 7 rebounds) and Rookie of the Year Khory Moore (10 points–eight in the second half–and three steals), puts the Marlins firmly in the conversation for an at-large should the Tigers prevail tomorrow.
Heard said he loved coming off the bench. "When I come in, I have something of an advantage, because everybody's kind of tired at that point, so I can just get up and down the floor easier."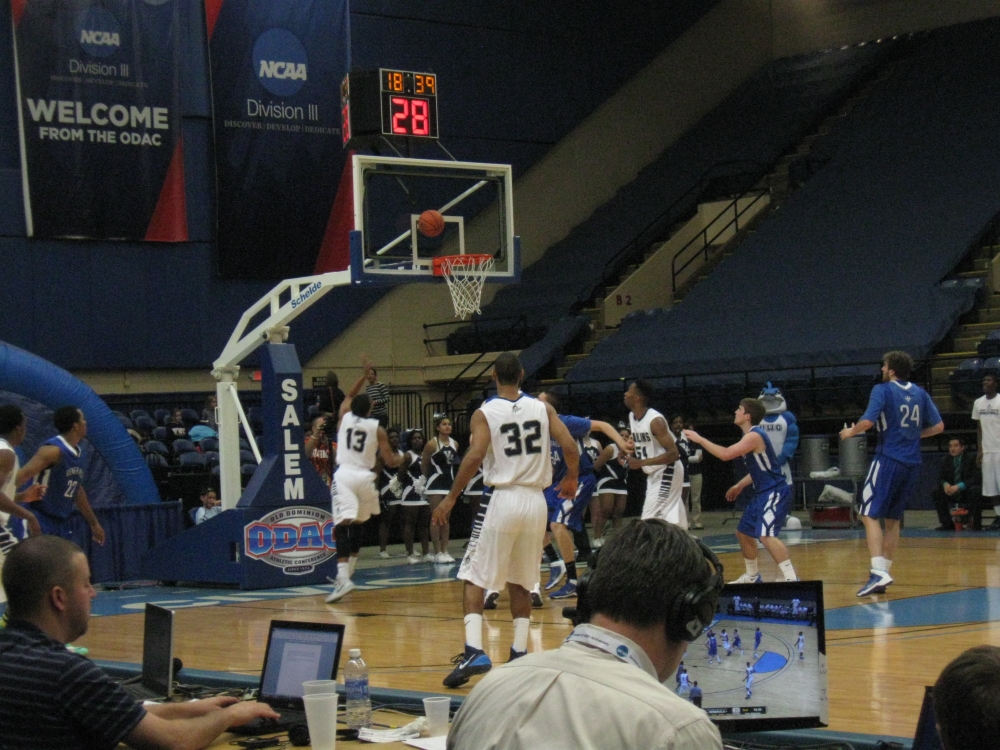 Generals' senior big man Drew Kimberly had another solid game, chipping in a team-high 19 points and collecting seven rebounds, but unlike the team's upset wins over Randolph and third-seeded Guilford, his squad was unable to outmatch the Marlins physically. VWC managed to pull down nine offensive boards and used quick hands, particularly from Moore, to accumulate 11 steals, which turned into 19 points by the end of the night.
"We wanted to dig down on Kimberly," Woodmore told us. "He's an all-conference player. We knew that he could be effective if he got open looks so we wanted to dig down on him, force him into some tough shots, force some turnovers, and just be active on defense."
Kimberly was nostalgic after the game. "I loved [playing for W&L]. No regrets. It's a long road, a lot of ups and downs. We were able to make it as far as I've ever made it this year, so I'm happy that we made it this far."
Looking ahead to tomorrow's final, Wesleyan won both meetings with the Tigers this season. Most recently, on February 12th, VWC overcame a 13-point second-half deficit to protect their home court.
"We always look forward to playing Hampden-Sydney, and I know they look forward to playing us each time," said Woodmore. "We got fortunate to beat them two times this year…. We know we're going to have to work hard on Khobi Williamson, he was a beast today, and we're going to have to cling to their shooters a little bit."
The second seed featuring the conference Player of the Year versus the giant-slayer which took down top-seeded Randolph-Macon: tomorrow's final will be worth watching. See you then.
—
Final: #2 Va. Wesleyan Marlins 74, #11 Washington and Lee Generals 60
Player of the Game: Colby Heard (VWC) (23 points on 13 shots, 11 rebounds)