"I am only one, but still I am one.
I cannot do everything, but still I can do something.
And because I cannot do everything, I will not refuse to do something that I can do."
― Edward Everett Hale
LEXINGTON, Va. — Fans often develop powerful feelings towards their favorite athletes, particularly when those athletes exhibit qualities we wish to emulate. But to emotionally invest in an athlete is to open oneself to heartbreak if that athlete crashes down to earth. For example, while the passage of time has allowed us to become detached baseball observers and somewhat rationally debate the Hall of Fame candidacies of McGwire, Bonds, Clemens, and so forth, for those of us who idolized these players in their steroid-fueled primes it is hard to forget how crushed we felt when we learned they had cheated. Even more disheartening is the disgraced athlete who inspired us. Lance Armstrong gave hope to millions afflicted with cancer, but rather than standing as a symbol of triumphant victory over a terrible illness, today Armstrong is shorthand for modern-day, Greek-tragedy-level hubris.
In light of these scandals, it is reasonable (though unfortunate) that many of us have built an emotional firewall between ourselves and narratives about athletes overcoming adversity. We have been burned one too many times. When one encounters a truly inspiring athlete, then, the challenge to one's carefully-developed emotional cynicism can be uncomfortable–at least at first.
This is the story of Washington and Lee captain Jim Etling. By the numbers, the 6-foot-7 junior is a pedestrian backup forward: 5.6 points and 2.6 rebounds in 14.7 minutes per game off the bench. His ODAC-leading 94.3% clip on free-throw attempts raises an eyebrow, particularly for a relative big man, but other than that Etling's statistical output is unremarkable. The fact that he gets on the court at all should be remarkable, though, because Etling, who was not recruited out of high school and proved himself enough on the practice squad to make the team as a freshman, has epilepsy.
Now, we don't want to oversell this. Etling himself played it down in his postgame interview, focusing more on his approach to balancing athletics with the rigorous academics at Washington and Lee than on the extra effort he has to take to manage his health. And at least some research has indicated that, rather than causing epileptic seizures as once assumed, contact sports may actually decrease seizure frequency for those at risk. However, the importance of Jim Etling to his team shines through in the words of Generals head coach Adam Hutchinson.
When ODACcess interviewed Hutchinson after the game, we began with the standard questions asked of a coach following a close loss. His replies were equally standard; for instance, he talked about how his team's desire to win caused a few mistakes down the stretch, and how he was proud of them for really caring whether they win or lose. His answers were calm, professional, and measured. When we asked the coach what Etling means to the team, however, his dispassionate demeanor changed.
Hutchinson paused for several seconds to find the right words. "Jim's one of those teammates that affects your heart when you watch him compete," he began, in a slow but subtly passionate tone evidencing the truth, the real emotion, behind his words.
"He inspires me with his commitment to his teammates, with his work ethic, with his mental toughness. And you know, there's a lot of guys who, when things are going right for them, or even right for the team, they're–yeah, you want them with you. Jim's a guy you want with you when stuff's going wrong."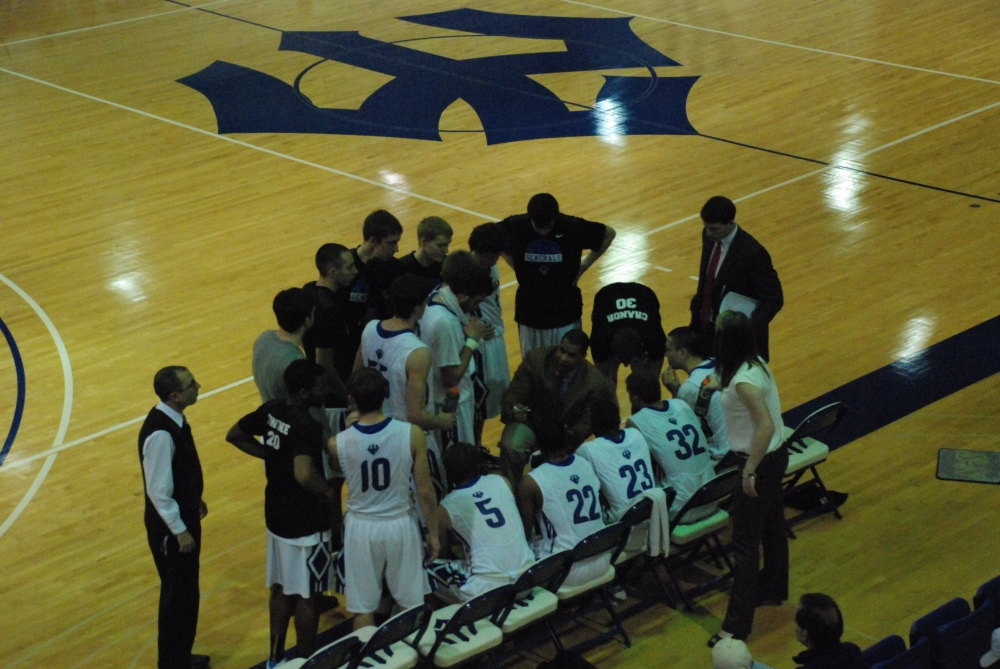 As he continued Hutchinson's body language became more expressive and his voice quickened, exuding a fervent earnestness. "He really believes in playing the game the right way. He is committed to doing it, and he does it. He does it without waver. First practice of the year, last practice of the year. Last minute of a game, first minute of a game. Jim Etling's the same guy. He's going to box out, he's going to rebound, he's going to communicate, take charges, et cetera."
"Honestly, I think everybody on our team is probably well-served modeling themselves after Jim." He smiled, pausing for effect. "And that includes our coaching staff."
The coach made no mention of Etling's condition. And for good reason: when a player–when a person–works so hard and contributes so many intangibles absent from the score sheet, while simultaneously being so unselfish, none of the background stuff should matter.
With under 15 seconds to play and the Generals trailing by six, Patrick O'Connor drove into the lane, drawing Lynchburg defenders into the paint before kicking it out to an open Etling beyond the arc. Etling–4-for-23 on three-point attempts entering the contest–swished his second trey of the afternoon on his second try. The Hornets were already in the double bonus, and so barring a quick steal or consecutive missed free-throws his shot wouldn't end up affecting who won (and it didn't). But you would never have known that from his teammates' reactions. The bench rose in unison and the players on the court enthusiastically slapped high fives with Etling as he was subbed out. In a way, this result is more befitting of our story than a Hollywood ending where the challenged underdog comes out on top, because from what we can gather, for Etling the goal is process–methodical, intense, yeoman-like process–not just outcome.
Jim Etling will never be a professional basketball player, but he will be an example for those who value dedication over making excuses, even when the excuse would be perfectly understandable. In short, he is a role model, stats and cynicism be damned.
—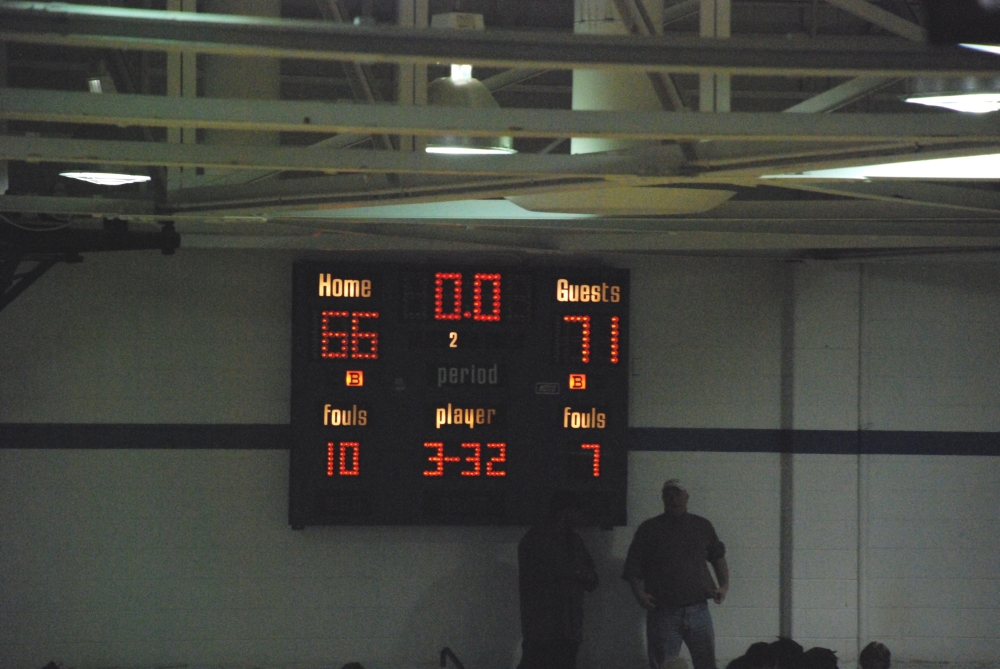 Final: Lynchburg Hornets 71 (11-4, 4-2 ODAC), Washington & Lee Generals 66 (5-10, 2-4)
Player of the Game: Drew Kimberly (W&L) (18 points, 8 rebounds, 2 blocks)
Relive the game from our seats: check out our @ODACcess livetweets on Storify and our photos on Flikr
Mileage Tracker: 1363 miles
Next Stop: Washington and Lee at Roanoke, January 25