LYNCHBURG, Va. — If an overmatched team is going to defeat a superior opponent in basketball, the underdog must generally do three things well. The team must rebound well, especially on the defensive end; it must shoot threes often and efficiently; and it must do whatever voodoo it has to do to make Lady Luck go its way. It's when all three click that you see the middling squad's fans storming the court after taking down the undefeated team in February.
Of course, when a team gets the formula wrong, games can get really, really ugly. So was the case the last time we saw Emory and Henry at Guilford two weeks ago. Sensing that they needed threes to compete with the then-undefeated-in-conference Quakers, the E&H Wasps jacked up 30 three-point attempts. But their shooters were off, to say the least–they made just 7 of those 30 tries, and missed 15 in a row at one point–and they ended up losing by 22 in a game that wasn't even that close.
Wednesday night in Lynchburg, though, was a different story. Just like the last time we saw them, the Wasps entered the night winless in the ODAC at 0-8. The Lynchburg Hornets, meanwhile, were tied for third in the conference at 6-2 and had won four in a row. This one shouldn't have been a contest. But the Wasps were hungry.
—
Emory and Henry came out firing from beyond the arc just as they had in the Guilford game, but this time they were connecting at a solid clip. Malcolm Green, in particular, was on fire in the first half, connecting on 3-of-4 attempts from three and adding a midrange jumper to post 11 points in just 12 minutes of action.
Despite having a moderate size disadvantage, the Wasps were also strong on the defensive glass, conceding just two Lynchburg offensive boards in the frame. They finished the half on a 7-2 run and took the lead, 38-35, into the locker room.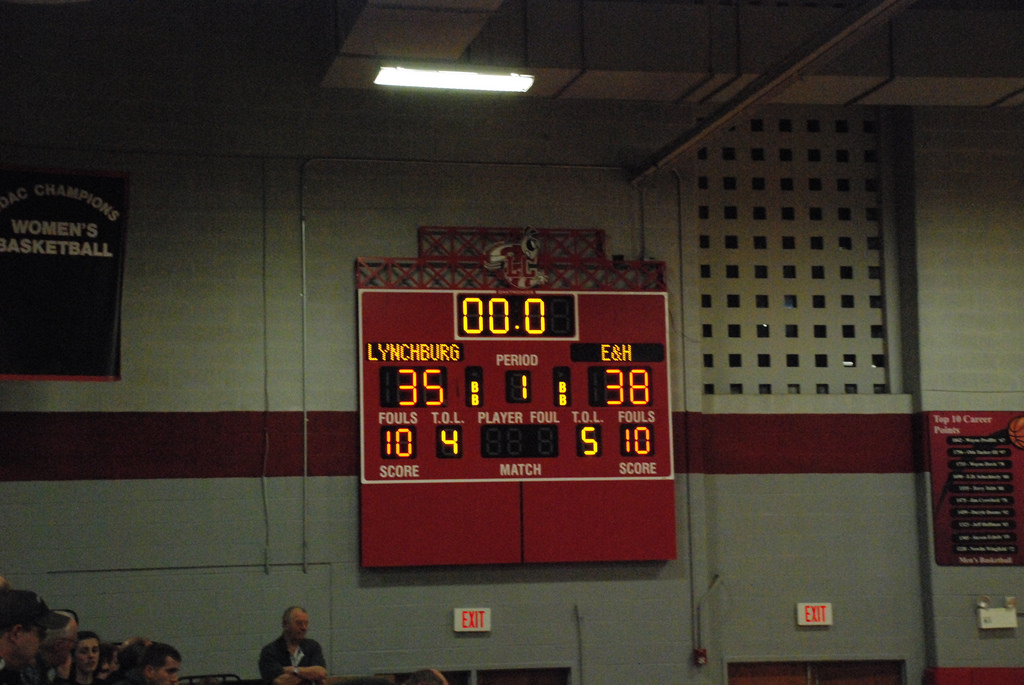 —
Taking one off coach Hillary Scott's team at home wouldn't be that easy, though, as the Hornets came out of the break with purpose. Kevin Anzenberger knocked down a triple for E&H to opening the second half scoring, but Lynchburg ripped off 10 of the next 12 points to take back the advantage. The teams traded buckets for a few minutes until Lynchburg seemingly started to pull away, as four layups and a pair of free-throws game LC its largest lead of the night at 64-51.
But E&H refused to go away. Anzenberger followed up a three-ball with a contested layup before Brett Pearmann launched into his own five-point swing to keep it close. A few minutes later, Green hit his fourth trey of the evening to make it a four-point game.
At this point, the once-rowdy LC crowd went silent. No more WWE-style chants, no more resounding applause and laughter for the little kid dancing in rhythm to the rap blasting out of the PA system. When Green swished his fifth triple, pulling the Wasps within one at 74-73 with 25 seconds to play, the only mood in the air was tension.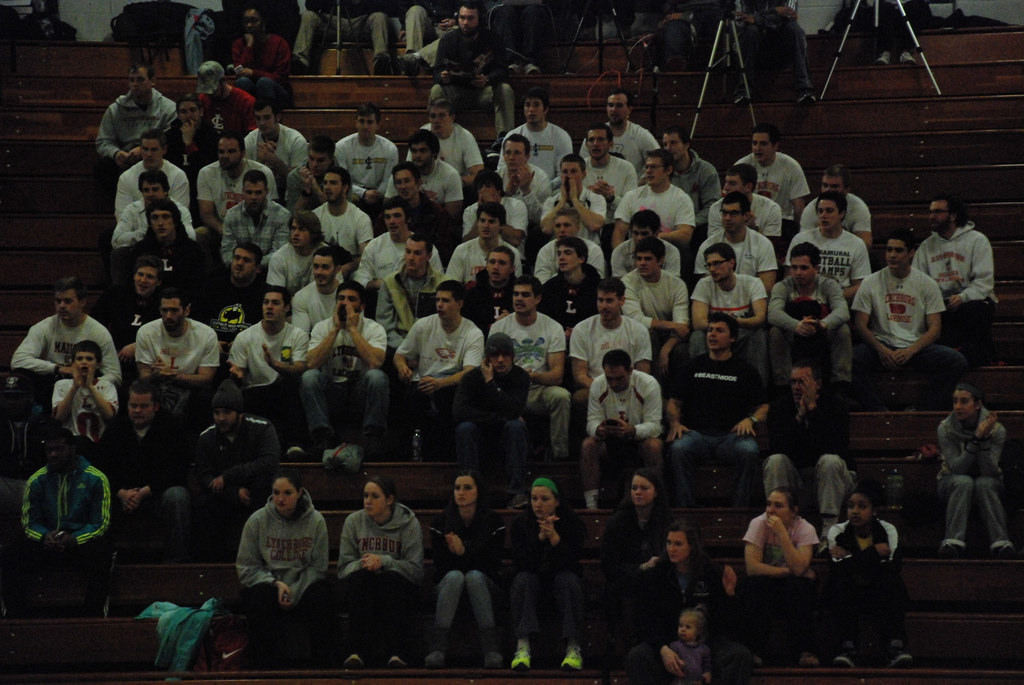 LC's Zach Burnett made 1-of-2 FTs to push the lead to two, and Emory and Henry moved down the floor with a chance to tie or take the lead. One Wasp had a open lane in the paint, but his attempt to drop it off on the baseline was mishandled. Fortunately for them, it kicked off a Hornet and out of bounds. E&H ball, 5.6 ticks to go.
We assumed at that moment that Wasp coach David Willson would get the ball in the sharpshooter Green's hands for the final shot, and he did. But Green's 5-footer careened off the side of the rim, Lynchburg's Alex Graves pulled down the board, and he hit both freebies to put it away.
Emory and Henry understandably looked glum as they slowly went to the locker room, but they should take solace in the fact that they played hard against a much better team and almost pulled out their first conference win. We visit Emory on February 8th, and maybe we'll get the chance to see them their first victory at home. After a game like this, they certainly deserve to win one this year.
Lynchburg, meanwhile, is now 7-2 in the ODAC, but its next three games are huge tests as they host Va. Wesleyan before traveling to Hampden-Sydney and Randolph-Macon. For the Hornets, it's their chance to show whether they'll be a serious team to reckon with come tournament time.
—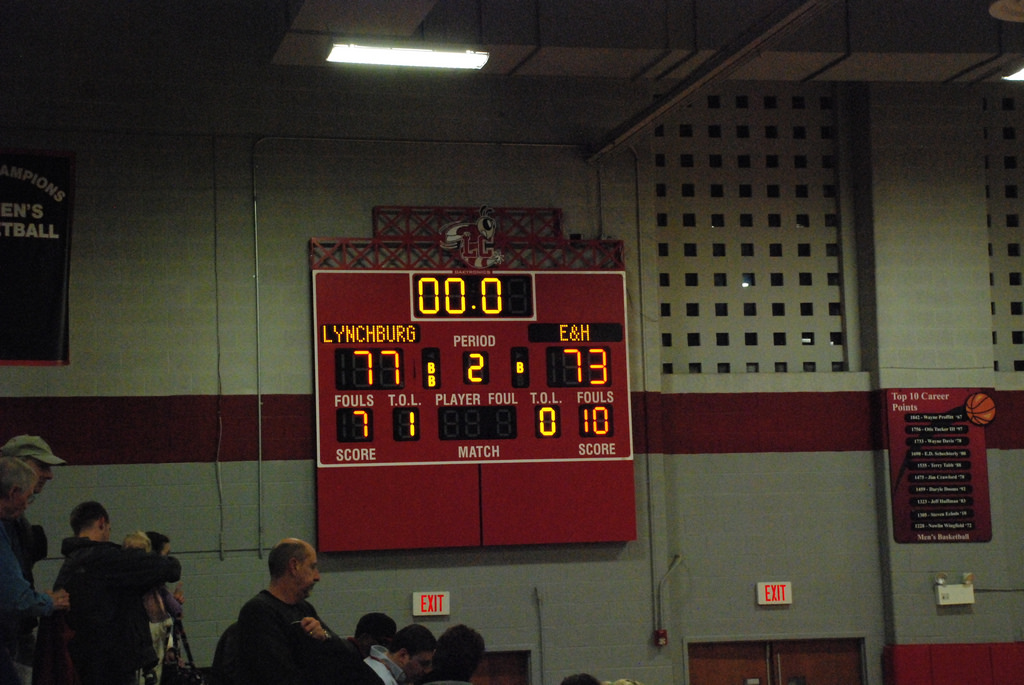 PROGRAMMING NOTE: Hopefully you all are listening to it already, but ODACcess will be on the D3hoopsville Super Show TONIGHT at 6:00 p.m. EST. Tune in for talk about the conference and our journeys, and while you're at it please consider donating to the Hoopsville Fundraising Project.
Final: Lynchburg Hornets 77 (14-4, 7-2 ODAC), Emory and Henry Wasps 73 (2-16, 0-9)
Player of the Game: Manny Hernandez (LC) (21 points)
Relive the game from our seats: check out our photos on Flikr and our @ODACcess livestream on Storify
Mileage Tracker: 1743 miles
Next Stop: Roanoke at Eastern Mennonite, January 29