SALEM, Va. — The Virginia Wesleyan Marlins are the 2014 Old Dominion Athletic Conference tournament champions. In the only truly competitive game from the quarterfinals on, VWC used timely three-point shooting and an 11-of-12 mark from the charity stripe down the stretch to outlast the Hampden-Sydney Tigers, 77-74, in an electric tournament final.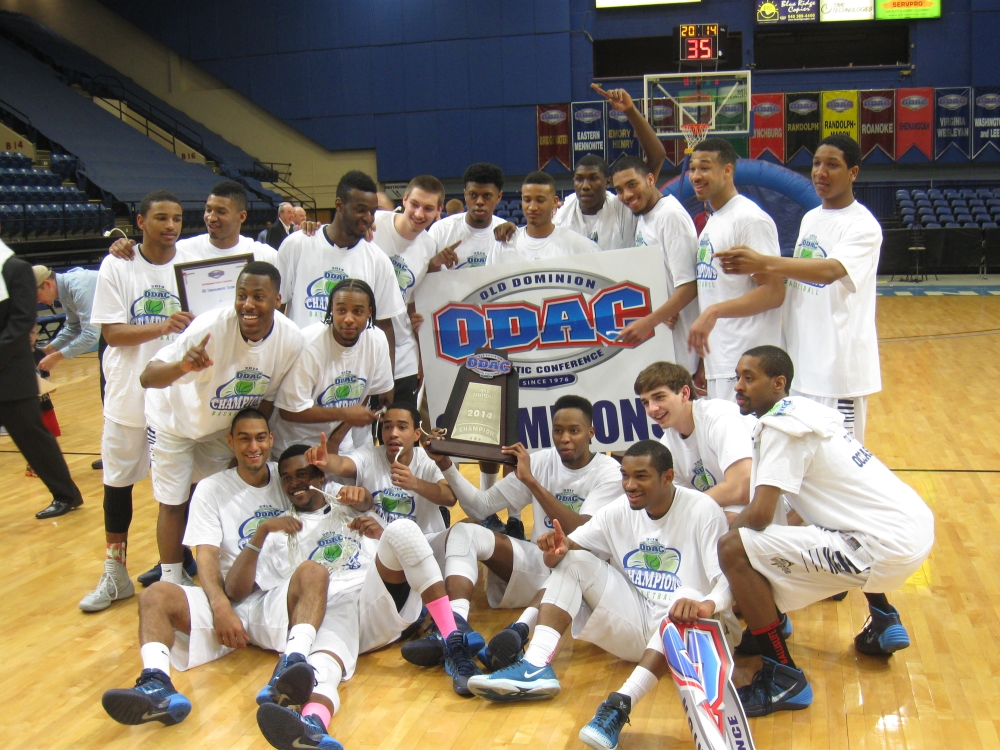 Khory Moore paced the Marlins in scoring with 21 points, DJ Woodmore finished an excellent tournament run with 15 points, six rebounds and three assists, and Aaron Clark contributed 15 points and six assists off the bench. H-SC's Mike Murray went off for 21 points and Khobi Williamson added a 14-point, 11-rebound double-double for the Tigers in the tough defeat.
The game was so tight throughout that to recap its important moments would be to go through the game play-by-play. Besides, you can read recaps from the perspective of the winners or the losers elsewhere. Instead, here are some of our highlights and observations:
1.  Forcing turnovers is Wesleyan's bread-and-butter, and while they got their share on the night, they also committed several uncharacteristic unforced errors themselves, including a 10-second violation on a slow walk up the court without a Tiger defender in sight. It was odd, and Woodmore said the team knew it.
"We turned the ball over a little bit late in the first, but we took a couple timeouts, we settled down and got after it," he said. "Once we started making shots, everything turns around once you start making shots."
Whatever Coach Macedo said in those timeouts, it worked. After recording seven turnovers through the five-minute mark in the first half, VWC took its second timeout and committed none for the remainder of the frame and only turned it over three times in the second.
2. Murray's 21 points were two shy of a season-high. He also filled the stat sheet, adding three rebounds, two steals, and two assists to the game-high-tying points mark. Murray played with a facemask for reasons that are still unclear to us, but it clearly didn't impact his performance–he was a huge reason why this one was even close. (UPDATE: An H-SC official tells us that Murray broke his nose during the Tigers' semifinal against Eastern Mennonite. Best wishes on a speedy recovery.)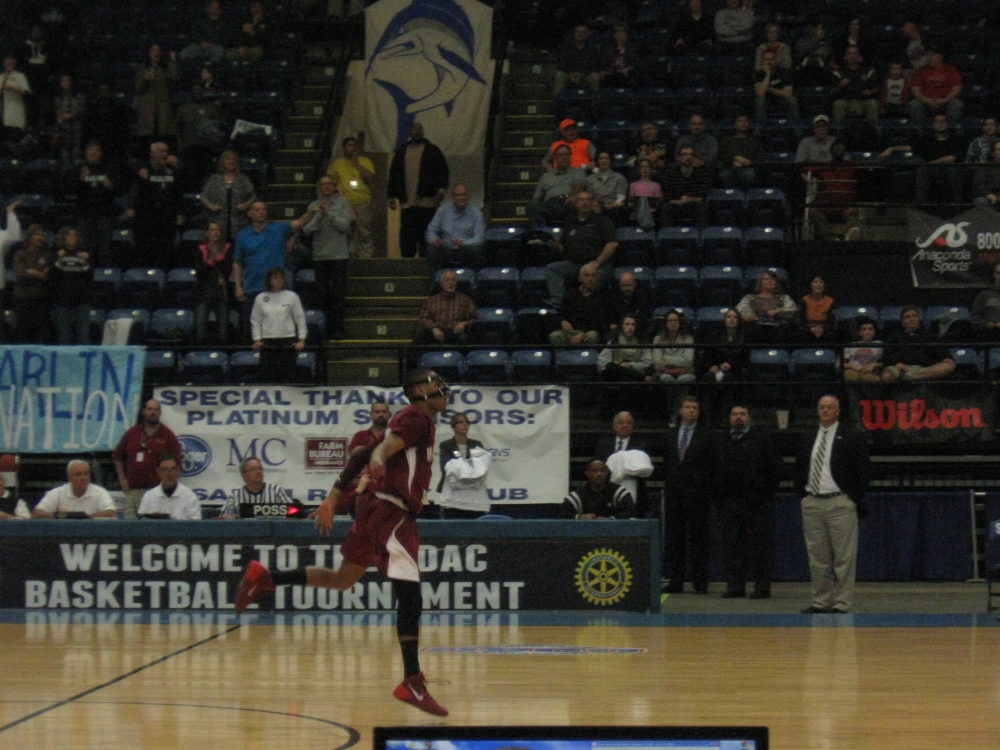 3. We named Colby Heard our player of the game in VWC's semifinal. He played well, though not exceptionally, on Sunday, but one moment stood out. After having a layup attempt blocked by Mitch Owens, Heard sprinted down the floor on VWC's next possession, accepted an outlet pass from Clark, and rose up for a powerful dunk. His expression afterwards made it clear he was frustrated by the block and was relieved make up for it in a big way.
4. Khobi Williamson set the ODAC record for made field goals in the conference tournament early in the second half. Unfortunately, he had to commit his fifth personal foul late in the game to prevent an easy Marlin layup with the Tigers trailing. It's unlikely that his presence would have changed the outcome–although it could have–but it's still a shame he had to watch the final 16 seconds of his final ODAC tournament from the bench, especially because he had been outstanding to that point.
5. Like a true pro, Woodmore stepped up his game when it mattered most, scoring 10 of his 15 points in the second half. Also like a true pro, Woodmore–who was named tournament Most Outstanding Player, a trophy he can add to his conference Player of the Year honors–thanked his teammates for setting the stage for his play. "I'm really proud of the way we fought today, and how we fought all season. We played great basketball today," he said.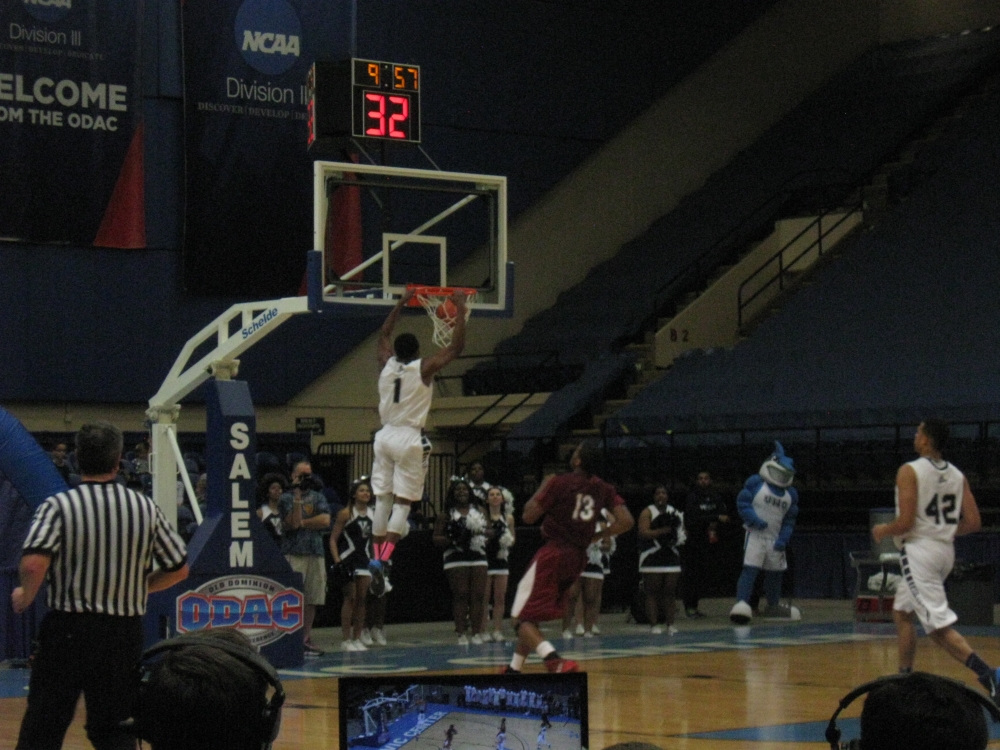 6. Woodmore, Heard, Moore, Williamson, and Murray were named as the All-Tournament team. Well deserved honors for each and every one of them.
7. The post-game reactions and ceremony were perfect. Words can't do it justice, so here's just a few pictures: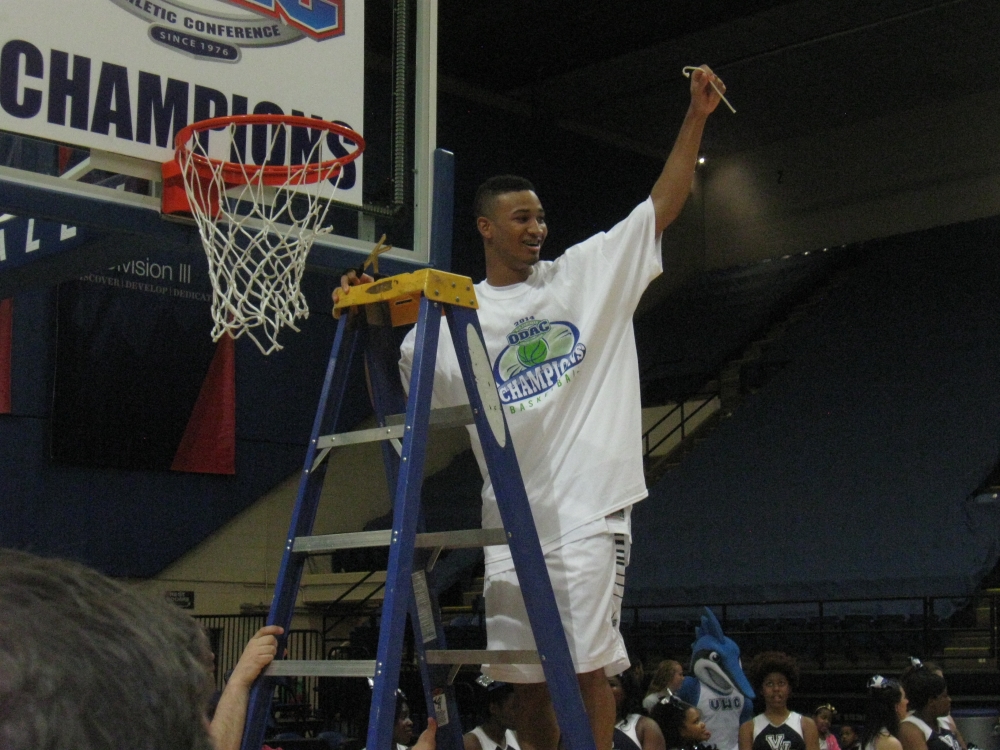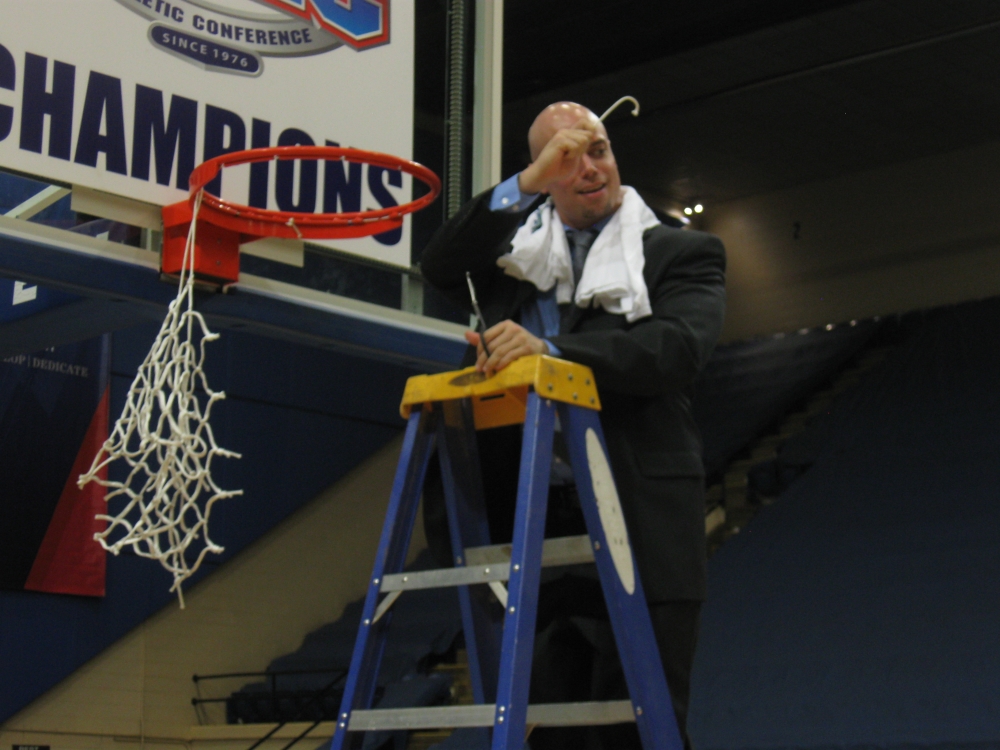 —
With the victory, VWC has advanced to the NCAA Tournament. They are joined by Randolph-Macon, the conference tournament's top-seed which fell to H-SC in the quarterfinals but did enough to earn an at-large bid from the NCAA.
Both teams will host first- and second-round games, both beginning on Saturday. The Marlins will play Johns Hopkins with the winner taking on the winner of Alvernia/Wesley in the second round. DeSales travels to Ashland for a matchup against R-MC; the winner faces the better of Mary Washington and Springfield. If the Marlins and Yellow Jackets can emerge from these difficult pods, they would meet in the third round.
ODACcess will attend at least one of the first-round games, but which one has yet to be determined. Stay tuned!
—
We waited a few days before posting this writeup both because we wanted to collect ourselves after a long weekend, and also to give some of this space to the teams we have seen this year which saw their seasons end during the tournament. Without further ado, a memoriam for the 2013-14 ODAC non-advancing teams:
To Guilford: It was so refreshing to see your team always hustling, no matter what the score. Your early tournament exit must have been disappointing, but watching you was a blast this year when we were able to. And we'd be remiss if we didn't thank the student staffer (you know who you are) who spotted us in the stands and invited us down to the scorer's table when we came to Greensboro.
To Lynchburg: Your fans are awesome, and your team has an admirable cohesiveness. Your pace, the fastest in the league, is always entertaining to watch. Coach Scott has a system in place, and it should bring you success in the coming seasons.
To Eastern Mennonite: We wish we could have seen you more. To say that we were surprised by your home crowd is an understatement–not only do fans come out to see you in droves, but they're some of the most passionate and energetic folks in the league. On the court, you're well-coached, high-flying, and fun. Oh yeah, and you were part of the most exciting game we witnessed this year, and possibly ever–it's a shame you had to lose, but it was a heck of a way to go down. Finally, just three words: David. Falk. Dunks.
To Randolph: You were the first ODAC team we watched play, and you got us off to a great start. You played hard even when outmatched by Division I's Liberty. We couldn't love the RAD Center more. The faint air of chlorine from the pool across the hall might be irksome to some people, but don't count us among them. It's charming.
To Bridgewater: You surprised the heck out of us when you took down then-#15 VWC in Harrisonburg. You ran the Marlins off the floor–almost literally, given the absurdly fast pace at which you played. It was a lesson in how tough every game in the ODAC can be. Wesleyan got its revenge in the tournament, but that game was one to remember.
To Hampden-Sydney: What to say here that hasn't been said. Your fight in the tournament was impressive throughout, especially your resolve when Randolph-Macon came within striking distance in your quarterfinal. It's a shame that Khobi Williamson won't end his career with a tournament berth, but he and your team played hard until the bitter end, and for that you've earned our respect.
To Roanoke: That EMU game! We can't say enough about how well your team handled that situation. In terms of Roanoke generally, we were impressed with your campus, and your home court in particular–extending the stands all the way down to the court is a nice touch. It feels intimate, homey even.  It's a great place to see a game.
To Shenandoah: With no disrespect to Woodmore, Williamson, Falk, or any of the other outstanding athletes we've seen, Avery Green was our favorite player this year. His craftiness and instincts with the ball in his hands are simply exquisite, and hard to encapsulate in such a small space as here. He's also a great guy: he will drop 30 points on the night with almost no help and then defer to his coach and his team as the reasons he played so well. Class act.
To Washington and Lee: Terrific run in the tournament. To say you punched above your weight would be an understatement of epic proportions. Your team is clearly dedicated to each other and their coach. In most other conferences, your regular season record would have kept you out of the tournament–but the ODAC gave a chance, and you seized it with aplomb.
Finally, to Emory and Henry: We saw you three times this season, but unfortunately missed your two conference wins. This wasn't your year, but you never let that get you down, fighting tooth-and-nail in every game. Best of luck to you and Coach Willson as you continue your rebuild.
—
It has been a great season of ODAC basketball. Will we have a full postmortem, complete with thanking the many, many people who have helped us along the way, once the NCAA Tournament is over. For now, thanks for reading. We truly appreciate your support.
Final: #2 Va. Wesleyan Marlins 77, #8 Hampden-Sydney Tigers 74
Player of the Game: Khory Moore (21 points on 11 shots; game-sealing free-throws with one second remaining)