I havent written a blog post about old gymnasiums in years, but I still enjoy walking through them and seek them out when I am on Division III campuses.
The Loras Fieldhouse still stands, overlooking the Rock Bowl, home to the school's field sports in Dubuque, Iowa. This gym was in use when D3hoops.com started and it remained in use until 2007, when it was replaced by a sparkling athletics center elsewhere on campus. But it's hard to picture college basketball being played here.
The cement balcony rings the playing surface. A 3-pointer from the corner was legimitately in danger of hitting the underside of the balcony, which juts pretty far out.
Partially neglected by deferred maintenance, the building is currently set up to host a band or orchestra concert. Football coach Steve Helminiak and his assistant, Jake Olsen, still have offices here, as does Sports Information Director Jim Naprstek. The banners reflect the time in which it was used — a women's basketball banner celebrates the team's NCAA Tournament trip in 2003. The banners for each team in the Iowa Conference do not include recent addition Nebraska Wesleyan, although they do reflect the departure of Upper Iowa and William Penn more than 15 years ago.
Seating is minimal. The listed capacity of 1,100 is hard to fathom. A fire marshall would likely have a fit over anything more than about 700 people here. And some of those would be standing.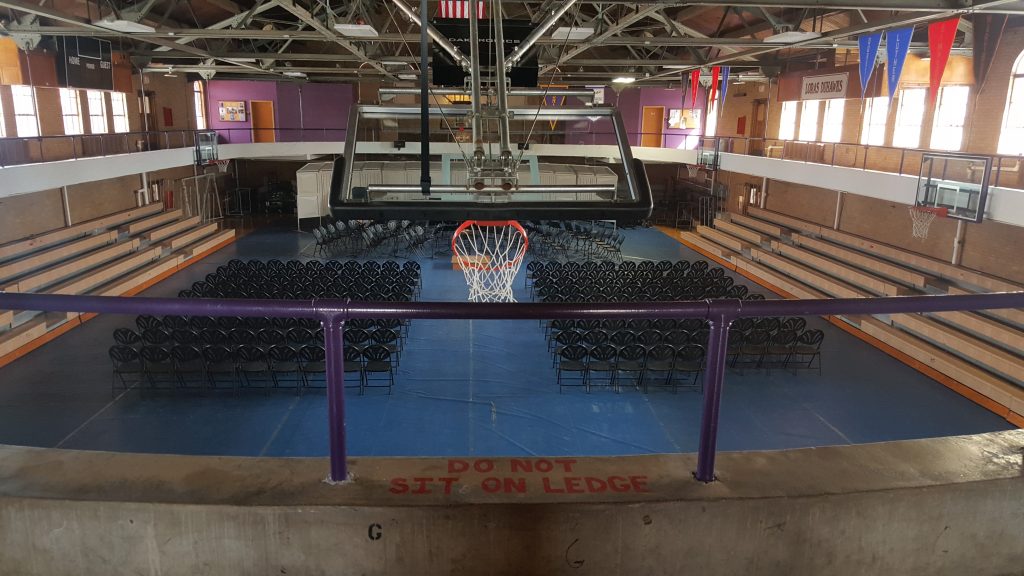 But for every flashy new building that we celebrate in Division III, somewhere there is, or was, a building like this. Converted into office space. Or an architecture studio. Or classrooms. Or recreational space.
This one, which opened in 1924, still stands.