ASHLAND, Va. — When those of us who love college sports are faced with criticism of the quality by professional fans, we're quick to cite the rivalries between schools as a mark in our favor. Every sport, every level, rivalries create intrigue, even when there's nothing but pride to play for. We fans love to name these rivalries (The Iron Bowl, Bedlam, The Civil War), but for the biggest of these rivalries no name is required. These are simply known as "The Game".
At the Division I level, Ohio State-Michigan and Yale-Harvard get the attention that their size and large fan bases demand. In D-III basketball, most would say that no rivalry matches Hope-Calvin. But across all sports, and in all manner of non-athletic comparisons, no rivalry at our level matches "The Game," between Randolph-Macon College and Hampden-Sydney College.
–
Our goal in starting this project was to go to every gym in the ODAC, and with our visit to Crenshaw Gym in Ashland we accomplished our goal. We've seen loud atmospheres in our travels (and some not so much), but until Wednesday night, we hadn't seen anything like what the Yellow Jackets faithful brought out to face the Tigers. As soon as you got onto R-MC's campus you could feel the buzz, and it only grew as you entered the gym for tip-off. The parking lots were full, the gym was sold out, and media outlets that don't usually cover Division III basketball (i.e. the NBC and CBS affiliates in nearby Richmond) sent their representatives.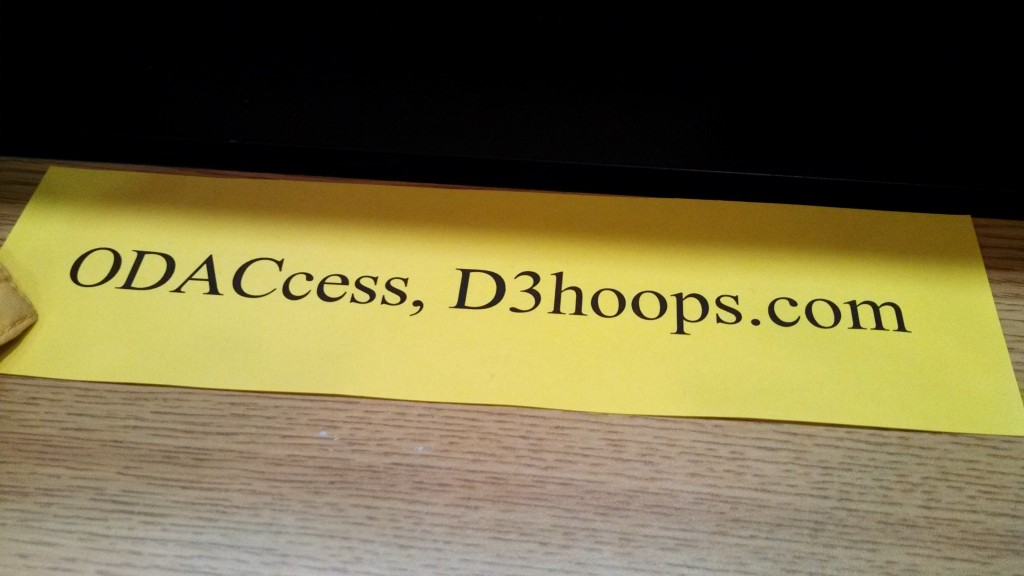 When the season started, this matchup looked like it might be for the ODAC regular season title. R-MC was the preseason favorite, H-SC close on their heels, and both had earned preseason top-25 nods. The season has not played out quite as expected for the Tigers, who lost their first tilt with Macon at home, and entered the rematch with a .500 conference record. As such, this matchup wouldn't have the same drama as their contests in 2003 and 2004 when they met as top 10 teams, even if Randolph-Macon could seal an ODAC title with a win. But when two rival schools meet up for their 138th matchup since 1956, the stakes cease to matter.
–
Unfortunately for the sizeable contingent of H-SC partisans in attendance, their Tigers didn't seem to play with the urgency the rivalry demanded. One notable exception was Khobi Williamson, who strengthened his case for another All-ODAC nod. He scored the first six Tiger points, before the entire team went into a prolonged funk. This wasn't entirely their fault, though. Coach Nathan Davis's squad was hounding the Tigers on defense, forcing turnovers and poor shot selection. They used this to jump out to a 16-7 lead with 14 minutes on the clock, on the back of a pair of Jamie Wilson treys.
But the shooting exhibition had not yet begun. At the 9:33 mark, Chris Hamilton entered the game. Hamilton is a role-player in the purest and least pejorative sense: he can shoot and shoot and shoot, and when you start to defend him deep, he'll ignore it at shoot some more. In his 12 minutes per game, he's established himself as one of the best sharpshooters in the conference (behind only Randolph College's Seth Wimbish). 40 seconds after entering, he hit his first three pointer, extending the Jackets' lead to 28-17.
–
In addition to being a rivalry game, this game was also the final Jackets regular season home game, and therefore was Senior Night for Andre Simon and Jamie Robinson. They both took the opportunity to show off, especially Simon, who unleashed a tremendous dunk to bring the house down, and later attempted another in windmill style (which impressed even as it clanged off the rim). Only Williamson seemed able to match the energy with which the Jackets played, but he was not able to carry the team. Especially with Hamilton about to enter the game again.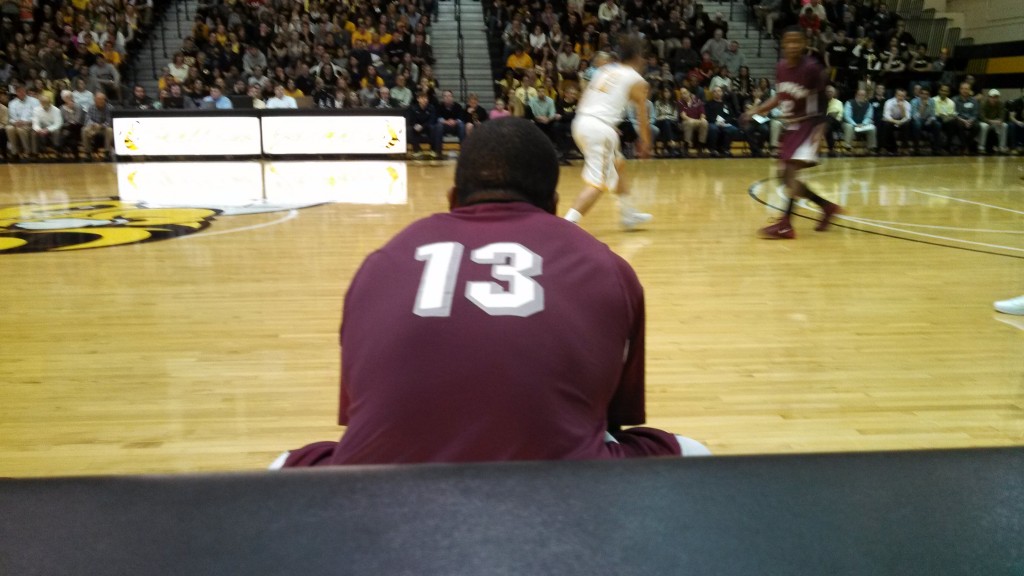 With under five minutes remaining, and sitting on a 10 point lead, Coach Davis decided to spell his starters, and prepare to go in for the half. Part of the relief was Chris Hamilton, already 1-for-1 on the night. After a Marcus Badger steal, Andre Simon found Hamilton with a pass and Hamilton drilled his second three. Then he drilled his third. And his fourth. With 13 ticks on the clock, he set up to attempt his fifth, before being fouled hard on the shot. After nailing all three free throws, the Tigers went to the locker room up 14 points, with Hamilton still perfect from the floor and the line, scoring 15 points in his 7 minutes.
–
Out of the break, Macon quickly went to work extending their lead, with Akeem Holmes and Connor Sulivan contributing 10 points as part of a 16-9 run. Chris Hamilton re-entered the game, and picked up right where he left off, hitting a pair of deep treys, in the process breaking his career high, all but sealing the victory for the Yellow Jackets. Despite Khobi Williamson's best efforts, the Tigers never recovered, trailing by at least 22 for the remainder of the game. Hamilton, to raucous applause, drilled two more three-pointers, capping off an 8-for-8 performance, before R-MC went to the end of their bench for the last few minutes.
We usually remember rivalries for their close contests, when the underdog steps up their game to play a hated foe. This was not one of those games, as Macon ended all doubt early. But the season's not over; there's a whole conference tournament remaining, and if last year is any indication, R-MC shouldn't rest on their laurels just yet. They remember upsetting the Tigers in Salem after being swept in their prior meetings. If anything, this loss could serve to fuel H-SC's quest for revenge, or maybe provide the boost a burgeoning contender like Randolph-Macon needs to make a deep postseason run. One season is just about over, but a new season is about to begin.
• Final: Randolph-Macon Yellow Jackets 90, Hampden-Sydney Tigers 67
• Player of the Game: Chris Hamilton (27 points, 8-8 on threes, 3-3 on free throws)
• Mileage Tracker: 2807 miles
• Next Stop: TBD, ODAC Tournament First Round (February 25)