The Penn State-Behrend men's basketball team is Brazil. Dom DiVito blogs:
After an early check out on Sunday morning we were off to play our last basketball game of the trip. When arriving to the gymnasium we knew we were in for a competitive game since the court was better kept than most in Brazil. The team we were facing was the best team we have faced thus far. We were extremely excited and ready for the challenge. The fans were surprisingly very loud and were very appreciative towards both teams.
Although we came up short in our game, it was a great learning experience for us and it will really help our team for our upcoming season.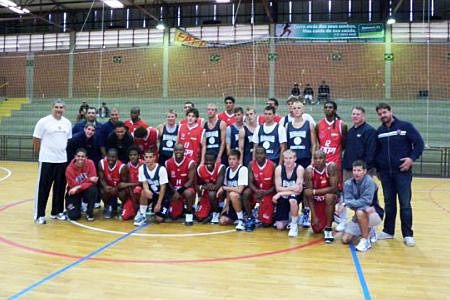 We received a shirt and postcards from the opposing team so we tried to make sure every player received some of our Behrend gear in return. It was tough to see a player from the other team wearing our jersey after he just scored 20 points against us … But that's what it is all about. Russ (the big fella) got hooked up with a uniform that is big even on him.
After leaving the game we had a five hour bus ride to Paraty. During those five hours, most of us were in and out of sleep. If you couldn't sleep you were lucky to see more beautiful mountains within the forest. Our highly skilled bus driver (Stocko) propelled us on the winding and dangerous roads without a concern in the world.
When arriving to the resort I was truly impressed with how nice the location was. There was a beautiful pool in the back with a river running behind the pool deck. If you are up early enough you can interact with the monkeys that jump from tree top to tree top over looking for bananas from the tourists.
The scenery in Paraty is a different experience from the other resorts we stayed at mostly because of the historical village. Little history lesson: Paraty was colonized by Portugal to be used to export the gold found deeper inland. The result is a beautiful village with stone roads and historical buildings at every corner.
Some of the buildings from the Historical Center were from the 1700s and the road remains the same as it was. Another unique intricacy about the village is that it is located at sea level. This means when the tide is high, some of roads in the historical village get washed with sea water.
I have been extremely impressed with the sites in Brazil and couldn't expect more. Fernando told us that 90% of the wealth in Brazil is owned by 9% of the population. We have seen the eye opening poverty areas as well as the picturesque areas, and we appreciate the experience from both.