BRIDGEWATER, Va. — We would like to begin this recap with an apology.
As the official car of ODACcess (a beat-up '04 Grand Am, RIP Pontiac) weaved in and out of innumerable Mack trucks on Interstate 81 en route to Bridgewater College on Wednesday evening, your hosts came to two seemingly logical assumptions about the game to come.
First, we'd see a blowout. The 15th-ranked Virginia Wesleyan Marlins (9-2, 2-0 ODAC entering the night) boasted the second-best scorer in the conference in D.J. Woodmore, a sniper averaging almost 24 points-per-game with a three-point percentage over 50%. Their only two losses had come at the hands of #14 Christopher Newport and #17 Mary Washington, and both of those strong squads needed overtime to do it. The hometown Eagles (6-4, 1-1), meanwhile, averaged 18 fewer points-per-game than the visitors and lacked a premier scoring threat. This one would be over by halftime.
Second, we'd be nearly alone in the bleachers. People will come see a midweek game, on a cold early January evening, during the students' winter break, against a vastly superior team? Hah! We'll be able to count the crowd on one hand.
Wrong and wrong. Nostra culpa, Bridgewater players and fans. We misjudged you. It won't happen again.
—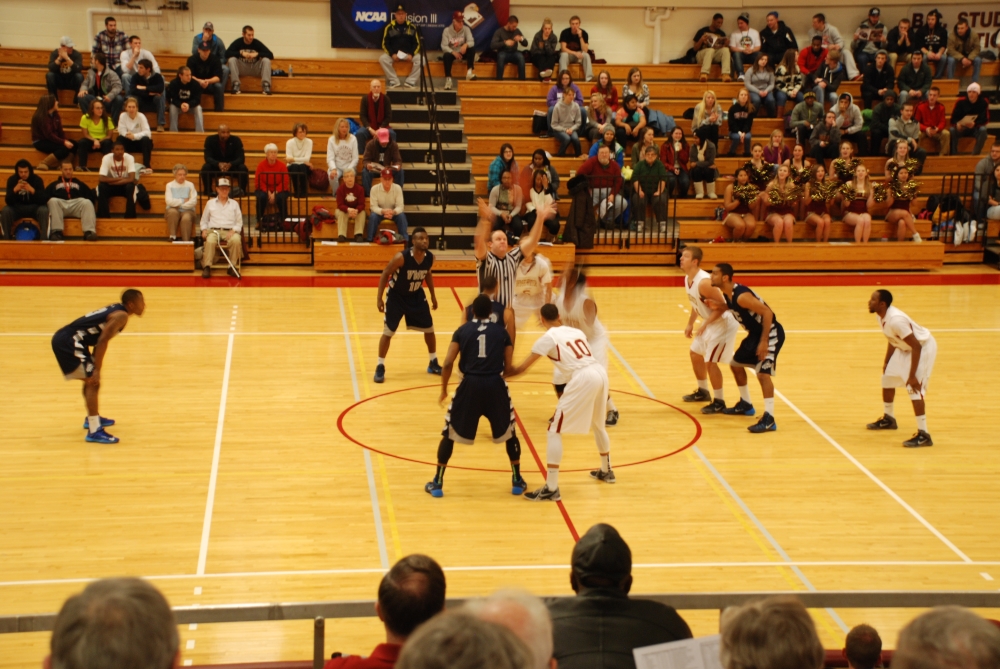 In a thrilling game from start to finish, an electrified, rowdy, and creative crowd propelled Bridgewater over Virginia Wesleyan, 78-65.
From the outset, the gameplan drawn up by Eagles coach Don Burgess was clear: push the pace, push the pace, push the pace. Their first three defensive rebounds were like carbon copies of each other: Tavis Stapleton pulls down a board, he outlets to a teammate streaking down the floor, and that teammate outruns whichever Wesleyan defender managed to get anywhere close to being in position before coasting in for an easy layup. Rinse and repeat.
Even from a set position, Bridgewater wasted no time. After noticing their NASCAR-like early pace, we randomly selected five offensive possessions to chart their tempo. In each, an Eagle shot with more than 20 seconds left on the shot clock, and they averaged just 12 seconds from start to shot. The team's obscenely uptempo pace has apparently seeped into their fans' subconscious: on one atypical possession, as Bridgewater set up its offense from the point with only 16 seconds to shoot, one yelled, "Do something with it!" (They would score before the clock reached single digits.)
The Eagles' plan worked–they built a double-digit lead in the first 10 minutes, going up 22-11–but their speed advantage wouldn't last forever. The Marlins countered with a full-court press, which succeeded in considerably slowing down the Eagles and disrupting their offensive flow, even if it failed to produce many turnovers. The visitors capitalized with an 8-2 run to pull within five. But the home side solved the press soon after, with a few tightly-whipped passes beating defenders in the backcourt and leading to easy buckets on the other end. They scored 11 of 16 points in the latter stages of the half to take an eight-point advantage, 37-29, into the locker room.
—
At halftime, we turned to two of the more boisterous Bridgewater fans seated near us to get a sense of just how well they thought their boys had handled the opening 20 minutes. First, though, we wanted to get a sense of why they, like the hundreds upon hundreds of others in attendance, had braved the cold to see the game. One of the gentlemen smiled. "Well, the coach is my son."
Oh.
Well then, we asked the elder Mr. Burgess, does your son's team always play so quickly? He smiled again. "Not always this fast, but when they run the floor this well, they've got a chance to beat anybody."
That might be a stretch, but one thing is certain: running the floor well can have the effect of hyping up the crowd. And hyped they were. Oh, and did we mention they were creative? In between heckling the refs for every close call that didn't go their way (and some that weren't so close to going their way) and generally hooting, hollering, and cheering on their team's offense, the student section found time to hurl some inspired taunts at Marlin shooters.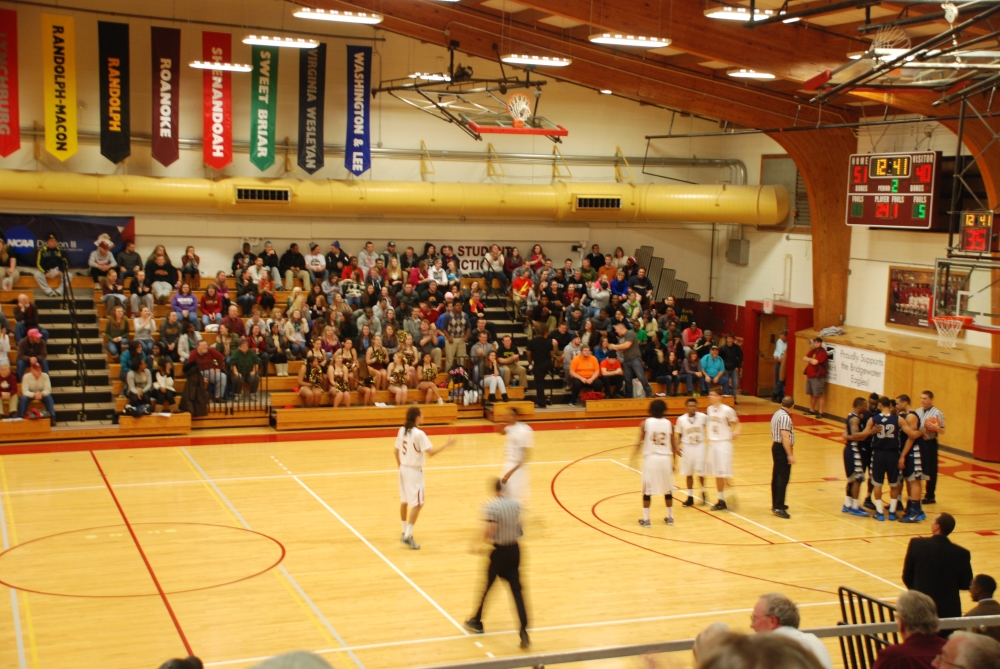 They warmed up with a melodic "Sed-ric! Sed-ric!" chant as Sedric Nady prepared to shoot free-throws. Their next target, senior forward Colby Heard, was greeted with a pithy "Why do you have shinguards!?" call. By the second half they were on fire, poking fun at Trent Batson's hairline and, in perhaps their strongest effort given the stakes, filled Nininger Hall with a chorus of "Over-rated!" when Woodmore bricked one of several ill-fated three-point attempts he took that night.
—
Bridgewater led throughout the second, but despite a healthy margin on paper for most of the half, it felt like the favored Marlins could take control at any minute. They hung around, never letting the deficit extend beyond 13 and slowly chipping away until Heard posted eight straight Wesleyan points, backing up two old-school three-point plays with another couple of free-throws, to pull Wesleyan within five with six minutes to play.
Then the Eagles woke back up. Ed Reddick countered with an and-one of his own before Stapleton and Ronnie Thomas drilled from outside the arc to push the lead back to 14. VWC's Khory Moore cut it to 10 at the 1:36 mark.
But any thoughts of a late comeback were quashed with a pair of free throws and an emphatic one-handed transition dunk by Aaron Adams, who picked Moore's pocket and–appropriately, given one proud father's halftime wisdom–ran the floor himself for the house-shaking slam. "That was a MAN'S dunk!" Mr. Burgess's companion gleefully bellowed to us, as the crowd young and old came to its feet in unison.
—
Woodmore would finish with 11 points on 5-of-12 shooting, but five of those points came in garbage time. Tomorrow, we'll trek to Virginia Beach to see if he and the Marlins can bounce back against Randolph College (and whether head coach Dave Macedo can earn his 300th career win). It will be our longest drive of this season so far, so we'll need plenty of conversation topics to pass the time. We'll hold off on prognosticating, though. Bridgewater taught us that lesson with a compelling performance on the court and deafening roars in the stands.
—
Final: Bridgewater (Va.) Eagles 78 (7-4, 2-1 ODAC), #15 Va. Wesleyan Marlins 65 (9-3, 2-1)
Player of the Game: Tavis Stapleton (Bridgewater) (19 points on 11 shots; 13 rebounds)
Mileage Tracker: 527 miles
Next Stop: Randolph College at Virginia Wesleyan, January 11