CAT | ODACcess
FREDERICKSBURG, Va. – While ODACcess was in Ashland last week, taking in the Yellow Jackets first round loss to DeSales, the ODAC champion Virginia Wesleyan Marlins were getting their tournament underway at home. They dominated their Friday matchup with surprise Centennial champ Johns Hopkins, and outlasted nationally-ranked Wesley the following night, despite an 0-for-7 performance from Rookie of the Year Khory Moore.
As we noted last time, Mary Washington dismissed Springfield in the first round, earning their first ever tournament win. In their second game, which, like their first, was played on a neutral court in theory, but was a home game in reality, they thoroughly trounced DeSales, holding them to 15 first half points. If you watched the Eagles in that first weekend of play, or at all during the course of the season, you knew that they were built around their long range shooters. Every one of their starters plays like a guard, from true guards like Bradley Riester to stretch players like Dylan Farinet. After the first weekend of NCAA play, Mary Washington ranked fifth in the nation in three-point attempts, and fourth in made threes. Right behind them were the Marlins, scheduled to meet in the round of sixteen. Thanks to fortuitous geography, and the early round loss of New York's Purchase College, Mary Washington found itself poised for another first: an NCAA tournament home game, in their sparkling new gym, the Anderson Center.
–
These two teams have something of a history. Senior Dylan Farinet spent his freshman year at Virginia Wesleyan, where he spent almost all of the year on the bench. He then transferred to Mary Washington, where he's blossomed into a primary contributor to Ron Wood's program. Dajon Daniel, another UMW starter, played for three years at Eastern Mennonite, playing against Virginia Wesleyan five times in those seasons. With this experience with Wesleyan, Coach Wood scheduled a home game with the Marlins for mid-December.
Both squads entered the game with only one tough loss on the season: Mary Washington to Hampden-Sydney at the buzzer, and VWC to regional rival Christopher Newport in overtime. Farinet and Riester led the way for UMW in the first half, opening up a 7 point lead over Wesleyan by halftime. The second half, as it has been all season, was the DJ Woodmore's time to shine, as he put up 21 points to lead the Marlins as they tied the game. In the second overtime, Wesleyan's threes failed to fall, and the Eagles pulled out a 95-87 win.
–
Unlike last week, we missed the undercard, a high-scoring affair between Williams and Albertus Magnus, which the Ephs won 110-92. By the time we arrived, only standing room only tickets were available, and the line for them stretched 30 feet out of the door. Inside, the arena was packed, the pep band in full force, and the student sections, both behind and across from the UMW bench, were boisterous.
Coach Wood had taken some lessons away from the closely fought contest, first among them that DJ Woodmore was always a threat, and had to be the focus of any defensive game plan against the Marlins. The Eagles committed Daniels to guarding Woodmore from the get go, hoping to contain his explosiveness from all areas of the court. Of course, the Marlins have other weapons, which Coach Macedo was sure to exploit. Specifically, Khory Moore, coming off of his terrible shooting night against Wesley, exploded in the first half for 20 points, including 4 from downtown.
Unfortunately, every other VWC scorer was effectively shut down by a pesky Eagles defense. They forced 11 first half turnovers, and limited the Marlins' second chance opportunities. On offense, Bradley Riester was continuing his dominance from long range, scoring on four of his own attempts for 17 points. His scoring was supplemented by Daniel, who contributed 11 of his own. A little run by the Marlins closed the gap going towards the half, but they still went in to the locker room down 11. It was still within range for VWC, but they needed to make some defensive adjustments in order to stay in it.
–
Coach Macedo knows his team, and he knows what his team needs to do differently. Coming out of the break, the Marlins changed their defensive mindset, taking a page out of Mary Washington's book. Khory Moore was given one defensive assignment: stopping Bradley Riester. By eliminating defensive switches, the Marlins cut down on Riester's open looks, and allowed them to turn the tide. Soon, after a 14-3 Marlins run, the game was tied for the first time since the first 9 minutes of the game.
Daniel was still containing Woodmore, but Colby Heard had taken a bigger role in the paint. His height advantage allowed him to dominate the shorter Eagles lineup, frequently scoring on dunks, layups, and free throws. The Marlins reemphasized ball security, while simultaneously using their quick hands to disrupt Eagles passing. Even without a tremendous showing from Woodmore, the Marlins had opened up a five point lead by the 8:50 mark. Soon thereafter, Coach Wood called time to regroup.
–
Out of the break, the Eagles clamped down in the paint to limit Heard's chances. The Marlins shifted back to perimeter shooting, but were unable to capitalize on their shots. The Wesleyan defense began to play more sloppily, allowing the Eagles to create and convert free throw opportunities. UMW closed the gap, and it remained close going into the final minutes.
With two minutes left, the game remained tied at 66. Taylor Johnson broke the tie for UMW with a layup, but Woodmore responded with two of his own from the line. On the ensuing possession, Dom Morra drove to the basket for the layup, and earned the and-one. He missed the free throw, leaving it a two point game, but VWC could not get the tying bucket. Aaron Clark elected to foul Morra in the backcourt, and send him to the line with 32 seconds on the clock. With a chance to extend to a two-possession game, Morra went only 1-for-2.
The Marlins' plan for the possession was clear: get the ball to Woodmore and allow him to work his magic. UMW's defense hounded the ball handlers as they came up the court, but Aaron Clark and Khory Moore managed to free up Woodmore for an open shot from his favorite spot off the left wing. As the ball left his hands, Woodmore said, he thought it was going in. Anyone who had seen Virginia Wesleyan play would think the same thing. But the ball fell short and to the left, missing the rim entirely, and bouncing out of bounds as the Anderson Center thundered.
At that point, it was all but over. A few free throws sealed it for the Eagles. Woodmore, along with fellow seniors Clark, Heard, and Trent Batson, were clearly emotional as they left the court. Woodmore, after the game, said that the emotions hadn't yet hit him, but he clearly held himself to blame for his missed game-tying shot. His awards and accomplishments (ODAC Rookie of the Year, three First-Team All-ODAC selections, including two Player of the Year honors, and a pair of conference titles) were nothing compared to his desire for a champion. But he was emphatic that this was not the end for him. He repeated words we'd heard from his coach months before: "Once a Marlin, always a Marlin."
–
The story out of tournament games is always the winner, especially when it's a team who is doing all of this for the first time like Mary Washington is. UMW may have been the host, and may have been nationally ranked, but no one would call them a favorite. Everyone loves an underdog story. Coach Wood was his bubbly self after the game, explicitly invoking the "Cinderella" imagery that is everywhere this time of year. And they're right to, because it gets no easier from here, with one of the strongest programs in Division III awaiting them in the next round.
But for us, the story has to be this Marlins team. A team that had tests throughout the season, and overcame them. They have a bond with their coach, their school, their fans, and their community that any program would like to emulate. They have the respect of their competitors. It's disappointing that a career like D.J. Woodmore's, or any of his fellow seniors', end in a game like this. But despite Woodmore's statement to the contrary, his team's accomplishments are important. This is why we love sports, even when our teams don't succeed. Each victory, each milestone, each story matters to the people who witness them.
–
With Virginia Wesleyan's elimination, the ODACcess Project as originally envisioned comes to an end. This is bittersweet, of course. We accomplished what we set out to do: visit schools, meet people, watch basketball, and tell stories. Through that, we grew connected with the ODAC players and schools we watched and covered. We don't know exactly what's in store for the Project, but we know it's not exactly over.
By the time this goes up, the Final Four will be set, and travel plans to Salem arranged. More stories are there for the telling, and we'll be there to tell them. It may not be "ODACcess" per se, but our love of basketball is not tied to a specific conference. ODACcess is about basketball, about the teams, the schools, the players and the fans, and those things are universal. And we'd be remiss if we didn't follow those things wherever they took us, especially to this level's biggest stage. ODACcess is dead, but long live ODACcess.
See you in Salem.
Final: Mary Washington 74, Virginia Wesleyan 70
Players of the Game: Bradley Riester (UMW) (23 points, 7 rebounds, 2 steals) and Khory Moore (30 points on 17 shots, 6-11 on threes)
Mileage Tracker: 3904 miles
Next Stop: NCAA Division III Men's Basketball Final Four, March 21-22, Salem, VA
No tags
ASHLAND, Va. – Going into Selection Monday, it wasn't at all clear that we'd be able to attend any NCAA Tournament action. After Randolph-Macon's early exit from the ODAC tournament, they'd taken a dent to their otherwise impressive resume, and while an at-large bid was almost guaranteed, hosting duties were no certainty. Meanwhile, Virginia Wesleyan had impressed on their run to the ODAC title, but geographic necessities were always working against them.
So of course it would turn out that both schools would be picked to host, and we would be faced with a difficult choice between the two. Ultimately, the decision for us, like for the NCAA selection committee, came down to one of geography. So it was off to Ashland, a couple hours closer to our base camp, for what might be our last ODACcess game of the season.
–
Of course, before any of that, of course, there was another game to watch. The NCAA tournament's system of pods often leads to undercards which, while often hotly contested, are played in front of empty stands. For this game, that was certainly not the case.
The University of Mary Washington has an impressive sports pedigree. Since the conference was founded in 1990, they have won more Capital Athletic Conference championships in all sports than any other member school. Their successes over the years, however, have not extended to men's basketball. Over the past 22 years, the Eagles had won the CAC title only once, and was followed by a quick exit from the NCAA tournament.
But this season was shaping up to be different. Senior guard Bradley Riester was coming off a two 2nd Team All-CAC selections, and the Eagles had made the CAC championship game the previous year. With the addition of perennial contender Christopher Newport to the conference, the opportunity was there for more success than Fredericksburg had seen in a while.
–
Early in the season, loyal readers may remember, we travelled to Hamden-Sydney to attend their early season tournament. In addition to the hosts, another ODAC school, Shenandoah, would be in attendance. Those were our attractions to Farmville that weekend, but we also got a chance to watch the UMW Eagles play, in an early road test. We only made it to the second day of competition, and were forced to watch a stream of their buzzer-beater loss to the Tigers. But we saw their dominating 77-69 win over Shenandoah. They were unable to contain Avery Green (who we named player of the game), but their offense clicked on all cylinders, with upperclassmen Bradley Riester, Dylan Farinet and Taylor Johnson leading the way.
After that, Mary Washington and ODACcess went our separate ways. In the meantime, the Eagles put up one of their best seasons under 18-year coach Ron Wood, going 12-4 in conference (including a sweep of unanimous conference favorites St. Mary's) and earning the #2 seed in the CAC tournament. After regular-season champ Wesley fell in the semis, the Eagles hosted the CAC title game, in which they dismissed Christopher Newport, securing their second NCAA berth.
Coach Wood had his sights set on hosting first-round games, but the NCAA decided against that, giving them the next best thing: a game in Ashland, only 42 miles down I-95, and in the backyard of many of the Eagles' players. No to mention that Coach Wood would be returning to his alma mater, where he led the Jackets to three NCAA berths in his four years.
–
The Springfield Pride were not so lucky. After losing the NEWMAC title game to MIT, they were left on the bubble. They waited through 18 of the 20 at large selections before their name was called on the NCAA selection show. The NCAA prefers not to send schools more than 500 miles for their first round games, to keep costs down. Still, the trip from central Massachusetts to central Virginia entailed a 459-mile, 9-hour bus ride. The trip was so long, in fact, that their initial bus driver was forced to stop, as he had exceeded his daily driving limit, and the team switched buses and kept going. Considering the distance, the atmosphere in Crenshaw Gymnasium seemed more like an Eagles' home game than a neutral court contest.
–
Eastern Mennonite transfer Dajon Daniel and Riester got the Eagles out to an early 7-0 lead, and never looked back. While the Pride narrowed the gap early, a 21-7 run for UMW, powered by Riester's stellar three-point shooting and a tenacious, ball-hawking defense, blew it wide open early. Riester was perfect from beyond the arc. Combined with 12 forced turnovers and a number of athletic moves by Daniel, who suffered with flu-like symptoms the entire game, the Pride were overwhelmed in the first half, and they went to the break down 37-28.
Out of the break, the Pride was more protective of the ball, creating more opportunities and cutting the lead to 5, thanks to poorer shooting by the Eagles. That, however, would be as close as they got. Asa Scott, a freshman guard from nearby Richmond, took some minutes for Daniel, who picked up his third and fourth fouls in the early minutes of the half. According to Coach Wood, "The difference in tonight's game is that we had a freshman step up. He's been ready to step up, and we've brought him along, but he stepped up big minutes." Late in the half, facing a possible Springfield comeback, Scott hit back-to-back threes to open up a double digit lead. The Eagles played methodically on offense all night, and up 14 with 3:35 left, it was all but over for the Pride.
After the game, Coach Wood was obviously overjoyed with his team, and being able to get his first win as a coach on the floor of his alma mater: "We've done something tonight that Mary Washington has never done before, and that makes me proud." He waxed nostalgic briefly, "This group, [former Randolph-Macon] Coach Nunnally would be proud of, and I'm as proud as I can be, because for the first time I'm able to come to Crenshaw Gymansium, and I'm not embarrassed to leave Crenshaw Gymnasium."
It was, then, easy to root for a narrative in the second game: for Macon to advance and play against their former star turned rival coach. Even Coach Wood suggested he was hoping for such a matchup, only the second of his tenure. Of course, the DeSales Bulldogs cared only about their own narrative: trying to win a national title.
–
Prior to this year, DeSales had made three appearances in the Tournament (once in their former incarnation as Allentown College). Their most recent appearance, in 2010, saw them win a pair of neutral site games, and advance to the Sweet Sixteen. There, they ran into a school from Ashland called Randolph-Macon, which was in the midst of its own impressive run. Macon defeated the upstart Bulldogs, on route to their first and so far only Division III Final Four. DeSales had not met Macon since, and after being drawn against them, Coach Scott Coval had to have thought back on that tough loss.
DeSales had once again put together an impressive season in the Middle Atlantic Freedom Conference, earning both the conference's regular season and tournament titles, and rolling into the NCAA tournament with momentum from a nail-biting overtime win against Misericordia. Macon, on the other hand, had put together a dominant conference season, locking up the regular season title with a win over Hampden-Sydney on their home court. But the ODAC tournament in Salem saw them scuffle against that same Sydney team, leading to an early exit for the favored Jackets.
–
The NCAA tournament provides an opportunity for teams to put all that behind them, but it comes with a demand of perfection. When we saw Macon play H-SC, they were operating at perfection, and Chris Hamilton embodied that: a sharpshooting role-player exploding for 27 points on a perfect shooting night. But the foundation for the Jackets was always with its big men: Joe Hassell, Akeem Holmes, and most of all, Andre Simon, who before the end of January had joined Macon's 1,000-point club. During the regular season, these players made plays inside on offense and defense. In their loss to H-SC, they had no answers for Khobi Williamson in the second half, and that led to their early exit.
So it made sense for DeSales to focus on taking away those opportunities. For the first half, much of R-MC's offense came off the bench. Jamie Wilson took over Hamilton's sharpshooters role, hitting two threes in the first. But the starters, including Hassell and Simon, accounted for only 6 points, effectively contained by the Bulldog's defense. By virtue of 6 first half turnovers, and impressive shooting early, the Jackets opened up a 27-18 lead on a 9-2 run, capped by a pair of rare Hamilton layups. It seemed like the game might soon get out of hand, so DeSales called timeout.
Out of the break, the defenses for both teams held solid, and eventually DeSales managed to convert from the line for the first time in the game. DeSales started 7-0 run of their own going into the break, leaving the Bulldogs within range, down only 27-25.
–
It was hard to tell what to make of the game coming out of the break. The referees' whistles seemed to come in quicker, the crowd grew a little more anxious than they had been. For the first six minutes, the squads traded buckets and fouls. With 14:12 left on the clock, Simon went to the line to shoot two, and missed them both. DeSales' All-Conference guard Mike Coleman grabbed the rebound, ran the floor, and scored on the lay up to tie the game for the first time since it was 4-4, with 16:18 on the clock in the first.
And Coleman was by no means done. From that point on, he began an impressive run of dominance from the floor and free throw line, assisted by Kyle Hash, to extend the Bulldogs' lead. The Jackets' shooting, especially from beyond the arc, continued to suffer, while on defense they seemed unable to contain Coleman and Hash. A pair of threes from Hash and Paul Pammer extended the DeSales lead to 8 with under five minutes to play, and Coach Nathan Davis was forced to call time.
As play resumed, the Jackets drew more contact, but left points at the line, keeping some pressure off of DeSales. Coleman extended the lead back to five from the line, and and after a couple empty trips each way, there was only a minute left, and a 60-55 Bulldogs lead. Trent Walker pulled down the rebound from an errant Hash three, and was fouled driving into the paint. His ensuing free throws cut the lead to 3, and put the pressure on DeSales to put the game on ice.
The Macon defense pressured the ball handlers persistently, almost forcing a turnover after trapping Cody Deal along the sideline. Eventually, hounded by defenders, Mike Coleman through up a desperate three from 25+ feet, which missed. The Jackets corralled the rebound and called timeout to map out a play with only 11.9 ticks on the clock, still down three.
Coach Davis called upon a play he'd been running since his tenure as a Bucknell assistant, feeding the ball to Jamie Wilson. He drew the defender slightly off of Chris Hamilton, and passed the ball over to him on the right wing. With the clock winding down, Hamilton put up a hurried, contested, and off-balance shot to the tie the game, and it found the bottom of the net. Crenshaw roared with excitement, the mascot ran all over the place, and any students who had been sitting down got to their feet. A last second Coleman shot to win clanged off the rim, and the clock hit zero.
–
Once again, it was easy to fall into the narrative trap: the home team putting together an incredible last minute comeback, using that energy to dominate the extra period. The DeSales Bulldogs were too well coached to allow Hamilton's incredible shot to demoralize his squad. They came back from the brief intermission playing the same intense defense and crashing the boards. Once again, Coleman led the way, sinking two huge jumpers halfway through to open up a 69-62 lead. The Jackets were unable to convert the Hamilton three into a boost for their shooters. Eventually forced to foul, the Coleman was clutch down the stretch from the line, putting the game away. The Jackets fans who had been so delirious just minutes before began to trickle out, as the small DeSales crowd sang them out.
–
The magic and the curse of the NCAA tournament is that anything can happen. On the one hand, we get crazy upsets and wonderful stories. On the other, one off night for a talented team, as the 2013-14 Randolph-Macon Yellow Jackets undoubtedly were, and the journey is over. For all their dominance over their ODAC opposition, it translated into only one postseason game in a packed Crenshaw. Of course, their loss is another's gain. DeSales gets revenge for their loss in 2010. Mary Washington makes program history. And you can be sure that, even with the hosts eliminated, Crenshaw will not be empty tonight.
Far to the east, the Virginia Wesleyan Marlins did take care of business in their first round game, as we saw them take care of business last weekend in Salem. They alone carry the ODAC banner in the tournament, as they take on Wesley. We're not ashamed to say we'll be rooting for the Marlins: you can't follow a conference for a year like we have, and not develop a bond with the teams and players you watch. But know that no matter the result, the tournament will never fail to produce as much excitement, joy and sorrow as any sporting event out there. The road to Salem is not easy, but damn is it fun.
No tags
SALEM, Va. — The Virginia Wesleyan Marlins are the 2014 Old Dominion Athletic Conference tournament champions. In the only truly competitive game from the quarterfinals on, VWC used timely three-point shooting and an 11-of-12 mark from the charity stripe down the stretch to outlast the Hampden-Sydney Tigers, 77-74, in an electric tournament final.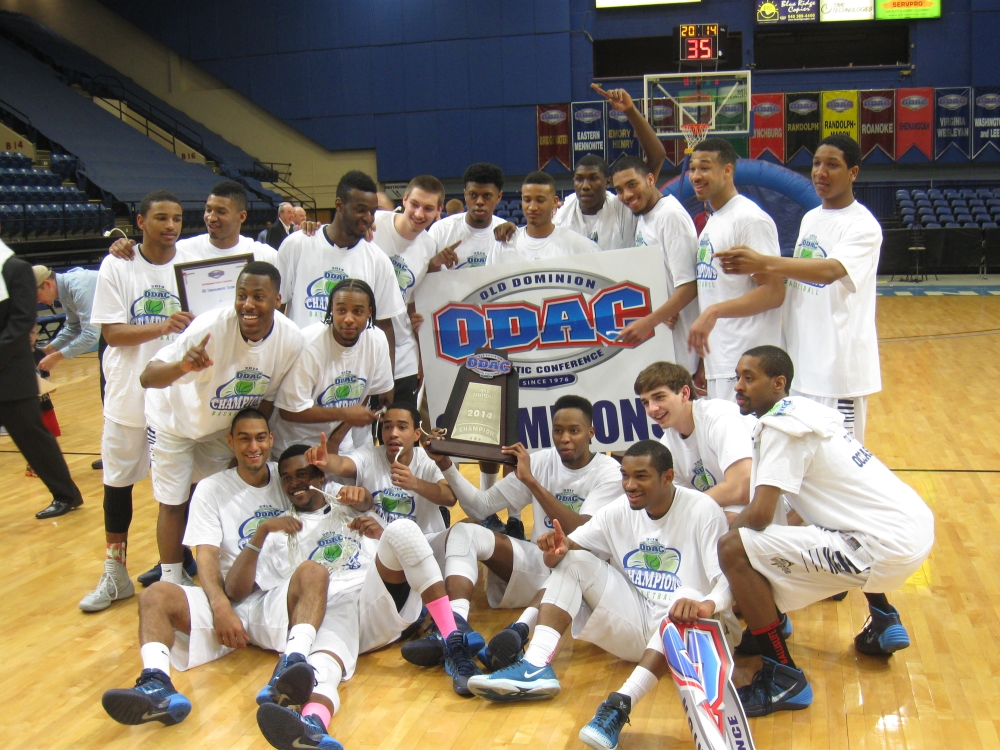 Khory Moore paced the Marlins in scoring with 21 points, DJ Woodmore finished an excellent tournament run with 15 points, six rebounds and three assists, and Aaron Clark contributed 15 points and six assists off the bench. H-SC's Mike Murray went off for 21 points and Khobi Williamson added a 14-point, 11-rebound double-double for the Tigers in the tough defeat.
The game was so tight throughout that to recap its important moments would be to go through the game play-by-play. Besides, you can read recaps from the perspective of the winners or the losers elsewhere. Instead, here are some of our highlights and observations:
1.  Forcing turnovers is Wesleyan's bread-and-butter, and while they got their share on the night, they also committed several uncharacteristic unforced errors themselves, including a 10-second violation on a slow walk up the court without a Tiger defender in sight. It was odd, and Woodmore said the team knew it.
"We turned the ball over a little bit late in the first, but we took a couple timeouts, we settled down and got after it," he said. "Once we started making shots, everything turns around once you start making shots."
Whatever Coach Macedo said in those timeouts, it worked. After recording seven turnovers through the five-minute mark in the first half, VWC took its second timeout and committed none for the remainder of the frame and only turned it over three times in the second.
2. Murray's 21 points were two shy of a season-high. He also filled the stat sheet, adding three rebounds, two steals, and two assists to the game-high-tying points mark. Murray played with a facemask for reasons that are still unclear to us, but it clearly didn't impact his performance–he was a huge reason why this one was even close. (UPDATE: An H-SC official tells us that Murray broke his nose during the Tigers' semifinal against Eastern Mennonite. Best wishes on a speedy recovery.)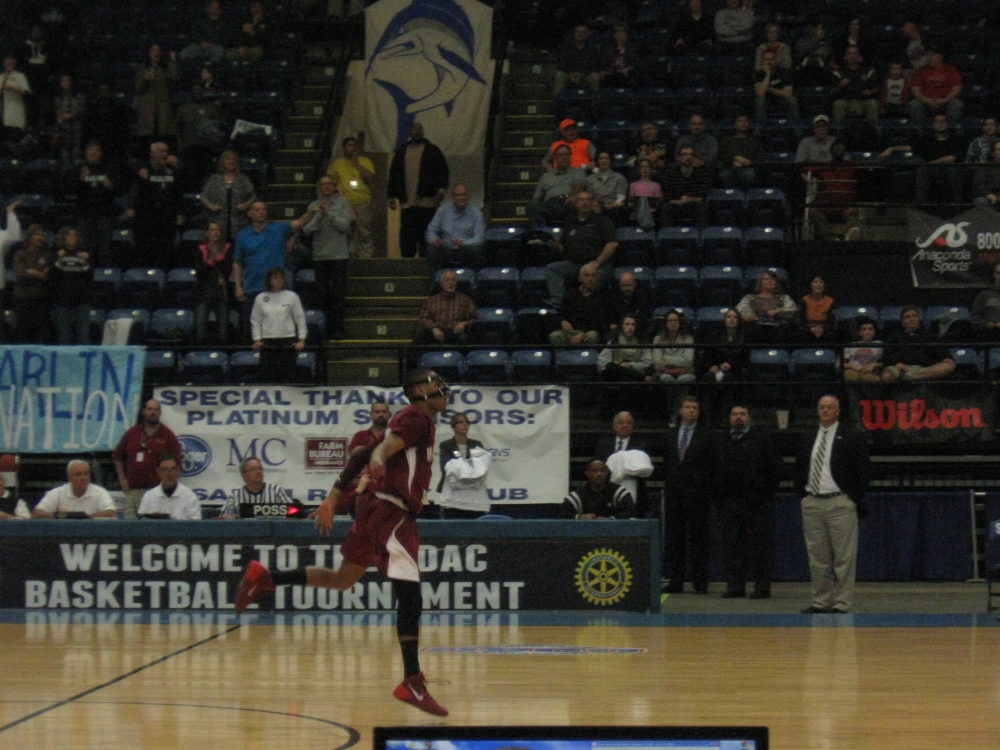 3. We named Colby Heard our player of the game in VWC's semifinal. He played well, though not exceptionally, on Sunday, but one moment stood out. After having a layup attempt blocked by Mitch Owens, Heard sprinted down the floor on VWC's next possession, accepted an outlet pass from Clark, and rose up for a powerful dunk. His expression afterwards made it clear he was frustrated by the block and was relieved make up for it in a big way.
4. Khobi Williamson set the ODAC record for made field goals in the conference tournament early in the second half. Unfortunately, he had to commit his fifth personal foul late in the game to prevent an easy Marlin layup with the Tigers trailing. It's unlikely that his presence would have changed the outcome–although it could have–but it's still a shame he had to watch the final 16 seconds of his final ODAC tournament from the bench, especially because he had been outstanding to that point.
5. Like a true pro, Woodmore stepped up his game when it mattered most, scoring 10 of his 15 points in the second half. Also like a true pro, Woodmore–who was named tournament Most Outstanding Player, a trophy he can add to his conference Player of the Year honors–thanked his teammates for setting the stage for his play. "I'm really proud of the way we fought today, and how we fought all season. We played great basketball today," he said.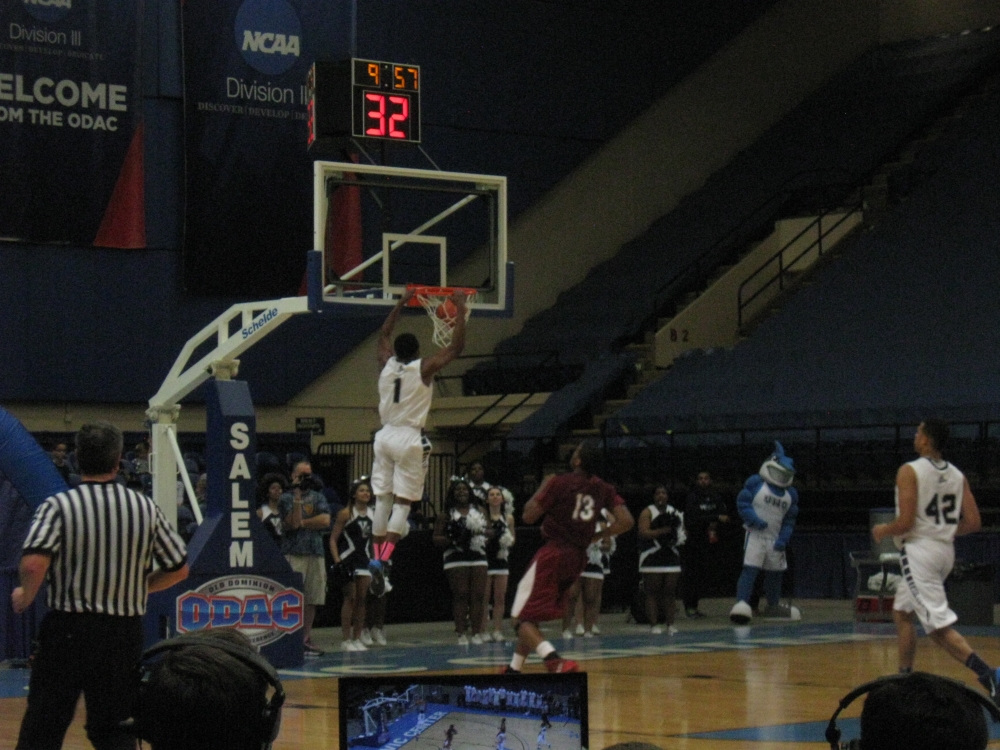 6. Woodmore, Heard, Moore, Williamson, and Murray were named as the All-Tournament team. Well deserved honors for each and every one of them.
7. The post-game reactions and ceremony were perfect. Words can't do it justice, so here's just a few pictures: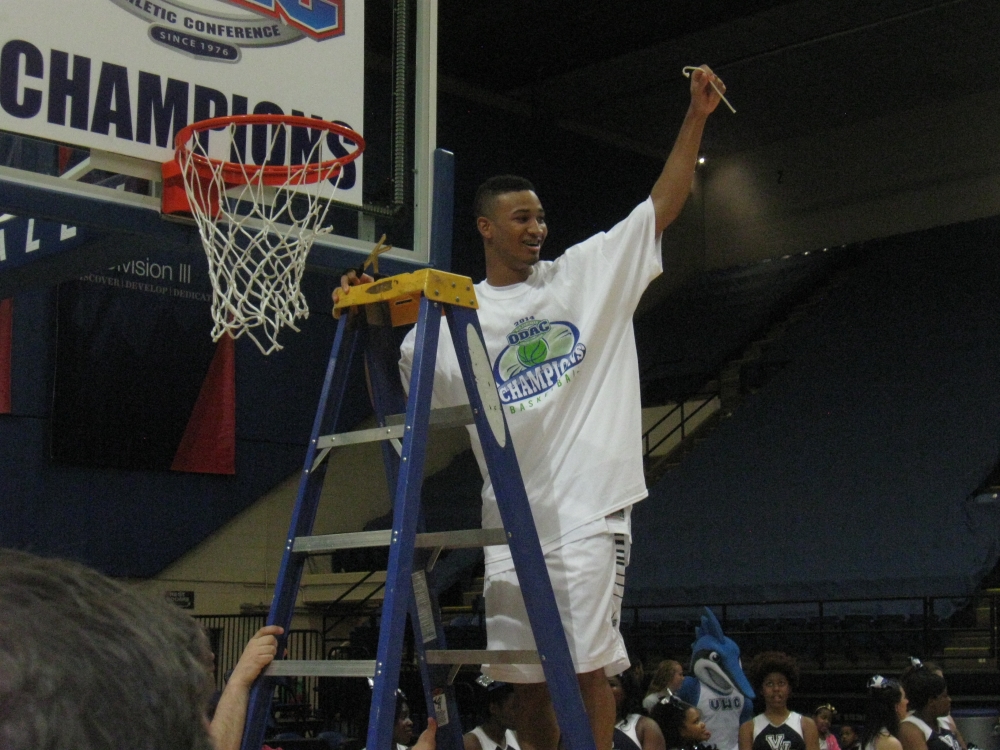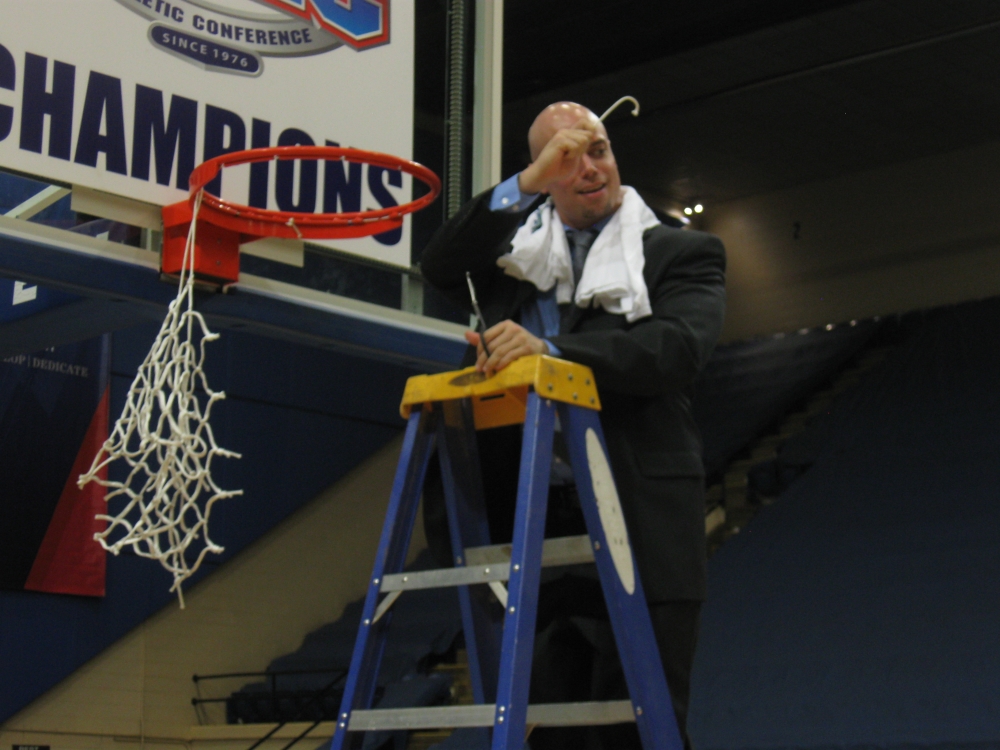 —
With the victory, VWC has advanced to the NCAA Tournament. They are joined by Randolph-Macon, the conference tournament's top-seed which fell to H-SC in the quarterfinals but did enough to earn an at-large bid from the NCAA.
Both teams will host first- and second-round games, both beginning on Saturday. The Marlins will play Johns Hopkins with the winner taking on the winner of Alvernia/Wesley in the second round. DeSales travels to Ashland for a matchup against R-MC; the winner faces the better of Mary Washington and Springfield. If the Marlins and Yellow Jackets can emerge from these difficult pods, they would meet in the third round.
ODACcess will attend at least one of the first-round games, but which one has yet to be determined. Stay tuned!
—
We waited a few days before posting this writeup both because we wanted to collect ourselves after a long weekend, and also to give some of this space to the teams we have seen this year which saw their seasons end during the tournament. Without further ado, a memoriam for the 2013-14 ODAC non-advancing teams:
To Guilford: It was so refreshing to see your team always hustling, no matter what the score. Your early tournament exit must have been disappointing, but watching you was a blast this year when we were able to. And we'd be remiss if we didn't thank the student staffer (you know who you are) who spotted us in the stands and invited us down to the scorer's table when we came to Greensboro.
To Lynchburg: Your fans are awesome, and your team has an admirable cohesiveness. Your pace, the fastest in the league, is always entertaining to watch. Coach Scott has a system in place, and it should bring you success in the coming seasons.
To Eastern Mennonite: We wish we could have seen you more. To say that we were surprised by your home crowd is an understatement–not only do fans come out to see you in droves, but they're some of the most passionate and energetic folks in the league. On the court, you're well-coached, high-flying, and fun. Oh yeah, and you were part of the most exciting game we witnessed this year, and possibly ever–it's a shame you had to lose, but it was a heck of a way to go down. Finally, just three words: David. Falk. Dunks.
To Randolph: You were the first ODAC team we watched play, and you got us off to a great start. You played hard even when outmatched by Division I's Liberty. We couldn't love the RAD Center more. The faint air of chlorine from the pool across the hall might be irksome to some people, but don't count us among them. It's charming.
To Bridgewater: You surprised the heck out of us when you took down then-#15 VWC in Harrisonburg. You ran the Marlins off the floor–almost literally, given the absurdly fast pace at which you played. It was a lesson in how tough every game in the ODAC can be. Wesleyan got its revenge in the tournament, but that game was one to remember.
To Hampden-Sydney: What to say here that hasn't been said. Your fight in the tournament was impressive throughout, especially your resolve when Randolph-Macon came within striking distance in your quarterfinal. It's a shame that Khobi Williamson won't end his career with a tournament berth, but he and your team played hard until the bitter end, and for that you've earned our respect.
To Roanoke: That EMU game! We can't say enough about how well your team handled that situation. In terms of Roanoke generally, we were impressed with your campus, and your home court in particular–extending the stands all the way down to the court is a nice touch. It feels intimate, homey even.  It's a great place to see a game.
To Shenandoah: With no disrespect to Woodmore, Williamson, Falk, or any of the other outstanding athletes we've seen, Avery Green was our favorite player this year. His craftiness and instincts with the ball in his hands are simply exquisite, and hard to encapsulate in such a small space as here. He's also a great guy: he will drop 30 points on the night with almost no help and then defer to his coach and his team as the reasons he played so well. Class act.
To Washington and Lee: Terrific run in the tournament. To say you punched above your weight would be an understatement of epic proportions. Your team is clearly dedicated to each other and their coach. In most other conferences, your regular season record would have kept you out of the tournament–but the ODAC gave a chance, and you seized it with aplomb.
Finally, to Emory and Henry: We saw you three times this season, but unfortunately missed your two conference wins. This wasn't your year, but you never let that get you down, fighting tooth-and-nail in every game. Best of luck to you and Coach Willson as you continue your rebuild.
—
It has been a great season of ODAC basketball. Will we have a full postmortem, complete with thanking the many, many people who have helped us along the way, once the NCAA Tournament is over. For now, thanks for reading. We truly appreciate your support.
Final: #2 Va. Wesleyan Marlins 77, #8 Hampden-Sydney Tigers 74
Player of the Game: Khory Moore (21 points on 11 shots; game-sealing free-throws with one second remaining)
SALEM, Va. — According to Dave McHugh, host of Hoopsville, Virginia Wesleyan's chances at an at-large bid to the NCAA Tournament hinged on making the finals of the ODAC Tournament. The second-seeded Marlins needed at least 21 wins on the year to have a plausible argument for at-large consideration, McHugh reasoned, and they needed to take care of business against Bridgewater and Washington and Lee, both teams quite a ways down the ODAC regular-season standings from VWC, to get to those 21 victories.
Well take care of business they did, as the Marlins followed up a quarterfinal win over the BC Eagles with a semifinal victory over the #11 W&L Generals, 74-60, at Salem Civic Center on Saturday night.
Of course, Va. Wesleyan would prefer not to have to wait until Monday to find out if they're making the big tournament, and they can prevent that wait by cutting down the nets after tomorrow's tussle with eighth-seeded Hampden-Sydney. The Tigers knocked off #5 EMU earlier Saturday to set up the championship matchup.
But tonight's win, powered by Colby Heard's double-double off the bench–23 points on 13 shots to go with 11 rebounds– and featuring important contributions from ODAC Player of the Year DJ Woodmore (23 points, 5-of-9 on three-point attempts, 7 rebounds) and Rookie of the Year Khory Moore (10 points–eight in the second half–and three steals), puts the Marlins firmly in the conversation for an at-large should the Tigers prevail tomorrow.
Heard said he loved coming off the bench. "When I come in, I have something of an advantage, because everybody's kind of tired at that point, so I can just get up and down the floor easier."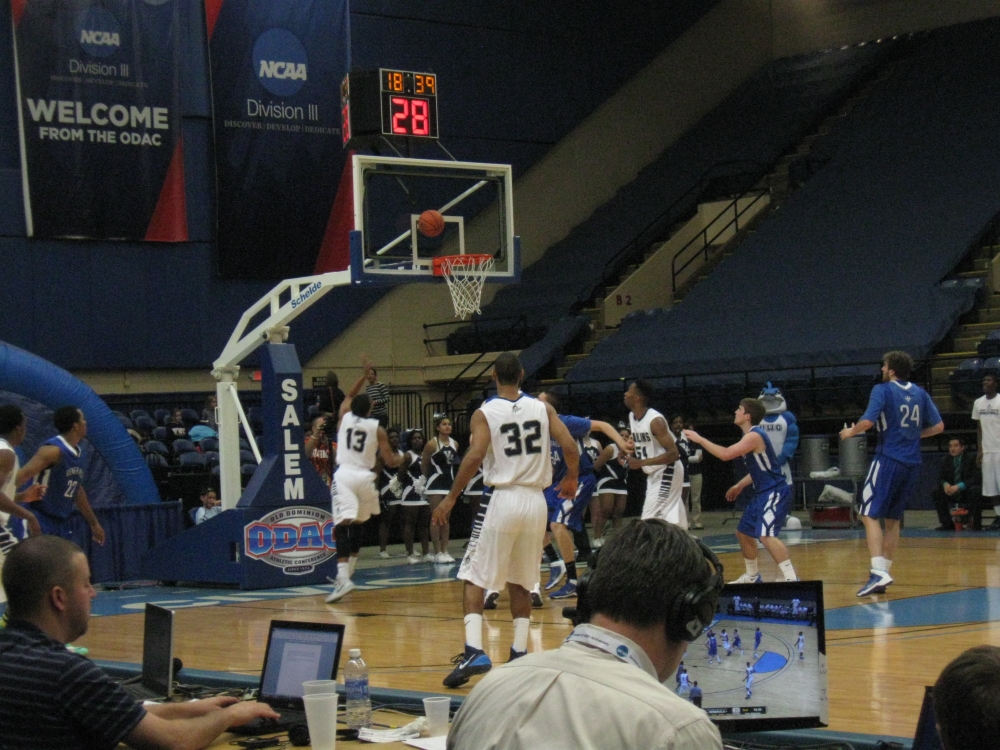 Generals' senior big man Drew Kimberly had another solid game, chipping in a team-high 19 points and collecting seven rebounds, but unlike the team's upset wins over Randolph and third-seeded Guilford, his squad was unable to outmatch the Marlins physically. VWC managed to pull down nine offensive boards and used quick hands, particularly from Moore, to accumulate 11 steals, which turned into 19 points by the end of the night.
"We wanted to dig down on Kimberly," Woodmore told us. "He's an all-conference player. We knew that he could be effective if he got open looks so we wanted to dig down on him, force him into some tough shots, force some turnovers, and just be active on defense."
Kimberly was nostalgic after the game. "I loved [playing for W&L]. No regrets. It's a long road, a lot of ups and downs. We were able to make it as far as I've ever made it this year, so I'm happy that we made it this far."
Looking ahead to tomorrow's final, Wesleyan won both meetings with the Tigers this season. Most recently, on February 12th, VWC overcame a 13-point second-half deficit to protect their home court.
"We always look forward to playing Hampden-Sydney, and I know they look forward to playing us each time," said Woodmore. "We got fortunate to beat them two times this year…. We know we're going to have to work hard on Khobi Williamson, he was a beast today, and we're going to have to cling to their shooters a little bit."
The second seed featuring the conference Player of the Year versus the giant-slayer which took down top-seeded Randolph-Macon: tomorrow's final will be worth watching. See you then.
—
Final: #2 Va. Wesleyan Marlins 74, #11 Washington and Lee Generals 60
Player of the Game: Colby Heard (VWC) (23 points on 13 shots, 11 rebounds)
SALEM, Va. — It would be hard to imagine a more complete victory than this. Eighth-seeded Hampden-Sydney dominated on both sides of the ball en route to a 104-80 rout of #5 Eastern Mennonite, securing a berth in the ODAC championship game for the first time since 2007.
We were convinced that this would be a battle between H-SC's Khobi Williamson and EMU's David Falk, two of the strongest and most athletically gifted players in the ODAC. And while Williamson certainly did his part, recording a double-double with 28 points and 11 rebounds (both game-highs), Falk got into foul trouble early and was unfortunately a non-factor for the Royals. A day after setting an ODAC record by grabbing 28 boards against Lynchburg, Falk managed to pull down just four this evening in a season-low 18 minutes of game time.
Williamson added a transition block and three dunks, including a rim-shaking slam after he got his own miss on a free-throw attempt, to his line on the evening. Despite a performance that dwarfed anyone else on the court, Williamson was deferential to the efforts of EMU. "It was a battle," he took pains to note after the game.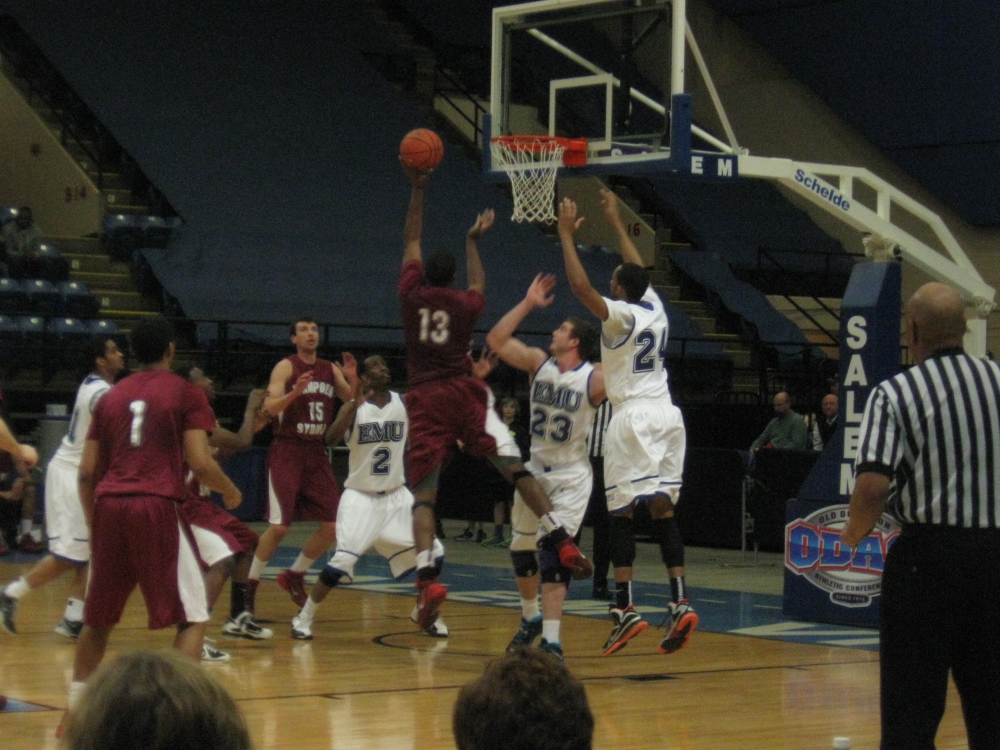 This one started out competitively enough, with six lead changes and two ties in the opening six minutes. The Royals looked like they would continue the strong play that led to their big quarterfinal win over the LC Hornets.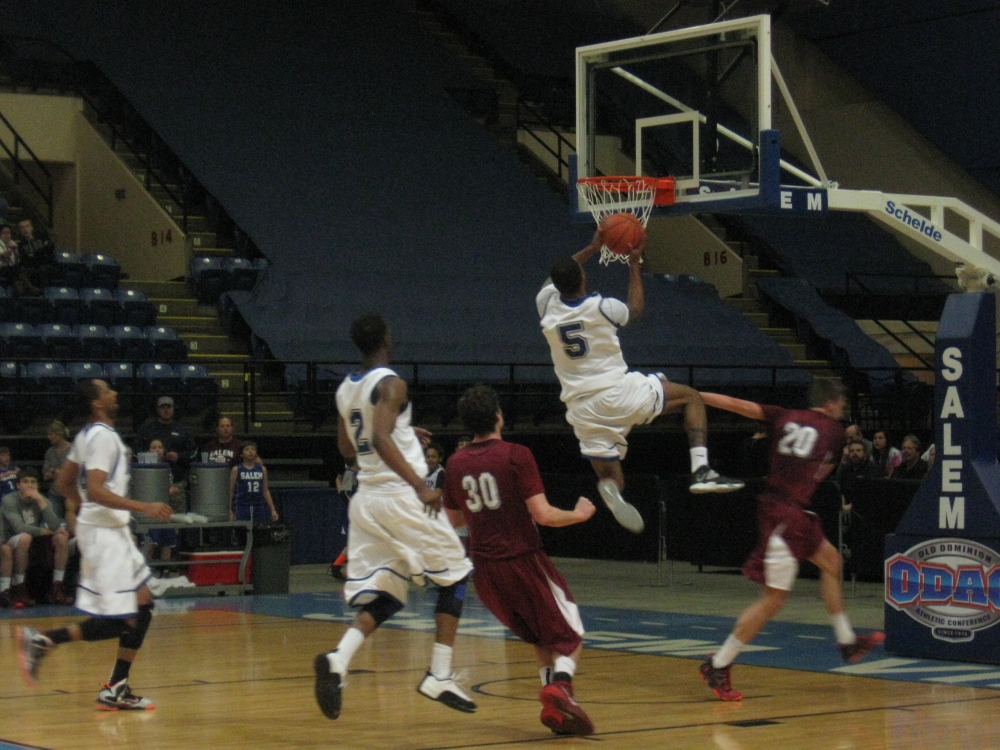 But Williamson's game-tying jumper at the 14:45 mark sparked a 17-7 run for the Tigers, and they never looked back.
The Royals sent Falk to the bench when he committed his second foul on a pump fake under the basket. "We told our guys, if you get around the basket, use your pump fakes, be wise, because [Falk] likes to block shots," said H-SC head coach Dee Vick. "Fortunately we did that and he picked up a couple."
"A loss is a loss. I'm not making any excuses," Falk, who picked up quick fouls the other two times he entered the game, stated. "We expected to win the ODAC Tournament and advance to the NCAAs, and it didn't happen, so we'll get back to work and make it happen next year."
The Tigers will have an opportunity to win that ODAC title, when they face off against the winner of tonight second semifinal between #2 Virginia Wesleyan and surprise semifinalist #11 Washington and Lee. H-SC knocked off top seed Randolph-Macon to advance to the semifinals.
—
Final: #8 Hamden-Sydney Tigers 104, #5 Eastern Mennonite Royals 80
Player of the Game: Khobi Williamson (H-SC) (28 points, 11 rebounds)